Thread Rating:
Obama to bring Osama bin Laden to justice
06-19-2008, 03:57 PM,
drummer
Posting Freak


Posts: 2,134
Threads: 1,575
Joined: Aug 2006
Obama to bring Osama bin Laden to justice
Thursday June 19,2008
Democratic White House hopeful Barack Obama said he would bring Osama bin Laden to justice in a way that would deny the al Qaida leader the chance to become a martyr.
Mr Obama's comments, following a meeting with his new team of national security advisers, marked another push by the first-term Illinois senator to battle criticism by presidential rival John McCain and other Republicans that he lacked the national security expertise needed to become president.
Mr McCain has highlighted his own experience as a long-time senator and former prisoner-of-war in Vietnam.
Mr McCain focused his attention on tackling the surging petrol prices that have become a key concern among Americans already worried about the country's economic woes.
The presumptive Republican nominee, who a day earlier had proposed opening US offshore regions to oil and gas exploration - another in his calls for lesser dependence on foreign oil imports.
Meanwhile, Mr Obama told reporters that if Bin Laden were found during his watch, he would bring him to justice in a way that wouldn't allow the terrorist mastermind to become a martyr, but he may be killed if the US government finds him.
"First of all, I think there is an executive order out on Osama bin Laden's head," Mr Obama said at a news conference. "And if I'm president, and we have the opportunity to capture him, we may not be able to capture him alive."
Mr Obama's campaign said he was referring to a classified Memorandum of Notification that President Bill Clinton approved in 1998 - revealed in the 9/11 Commission report - that would allow the CIA to kill Bin Laden if capture were not feasible.
He said he would not discuss what approach he would take to bring Bin Laden to justice. But he said the Nuremberg trials for the prosecution of Nazi leaders are an inspiration because the victors acted to advance universal principles and set a tone for the creation of an international order.
"What would be important would be for us to do it in a way that allows the entire world to understand the murderous acts that he's engaged in and not to make him into a martyr, and to assure that the United States government is abiding by basic conventions that would strengthen our hand in the broader battle against terrorism," Mr Obama said.
http://www.dailyexpress.co.uk/posts/view/48983
"Everything Popular Is Wrong" - Oscar Wilde
06-19-2008, 04:13 PM,
alibasho
Junior Member


Posts: 20
Threads: 3
Joined: Jul 2007
Obama to bring Osama bin Laden to justice

Probably he got a new deal from the don... a deal that he cannot reject!


06-21-2008, 09:03 AM,
standvast
Kaputalist.


Posts: 1,724
Threads: 110
Joined: Aug 2006
Obama to bring Osama bin Laden to justice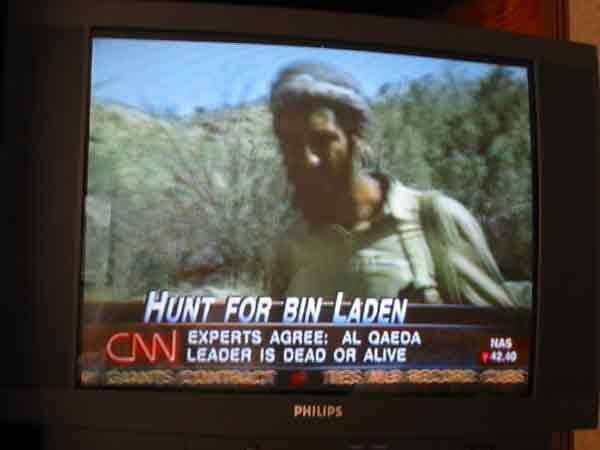 If Thine I that I spy with my own little I Doeth Offend thee ; Pluck It out.
Possibly Related Threads...
Thread
Author
Replies
Views
Last Post
Via Iran's PressTV: US soldier accused of trying to kill Obama, overthrow government
h3rm35
0
493
09-26-2012, 01:31 AM
Last Post: h3rm35
Obama Admin Refuses To Offer ANY Proof Al Awlaki Was Involved In Terrorist Activity
drummer
0
545
10-03-2011, 09:41 PM
Last Post: drummer
Osama bin Laden appoints new commander to spearhead war on West
TriWooOx
1
679
11-11-2010, 04:23 PM
Last Post: SiLVa
Osama bin Laden issues warning to France over Afghanistan war
TriWooOx
0
451
10-27-2010, 05:46 PM
Last Post: TriWooOx
Bin Laden 'personally approved' attacks on Europe
TriWooOx
0
448
10-02-2010, 10:42 AM
Last Post: TriWooOx
Osama bin Laden 'behind plot to attack European cities'
TriWooOx
3
847
10-02-2010, 12:10 AM
Last Post: Easy Skanking
Mumbai attack masterminds 'will never be brought to justice'
TriWooOx
1
485
05-01-2010, 10:25 AM
Last Post: ---
Osama bin Laden tried to watch 9/11 bombings live on TV but satellite failed
TriWooOx
3
708
04-17-2010, 09:39 AM
Last Post: h3rm35
Osama Bin Laden threatens retaliation over 9/11 trial
TriWooOx
1
634
03-25-2010, 05:58 PM
Last Post: h3rm35
Osama bin Laden was within grasp of US soldiers months after 9/11
TriWooOx
0
402
11-29-2009, 09:10 PM
Last Post: TriWooOx
Users browsing this thread: 1 Guest(s)