Thread Rating:
GMO Researchers Attacked, Evidence Denied, and a Population at Risk
09-10-2012, 04:56 PM,
(This post was last modified: 09-20-2012, 10:23 PM by h3rm35.)
h3rm35
enemy of exceptionalism


Posts: 3,938
Threads: 1,191
Joined: Dec 2009
GMO Researchers Attacked, Evidence Denied, and a Population at Risk
I had been considering writing something similar to this over the las week or so since I could find one elsewhere...
Promoting "Healthy" GMO Food. Agri-Business' "Anti-Organic" Campaign
By Tony Cartalucci
Global Research, September 09, 2012
Land Destroyer
Anti-organic "study" is not news, rather, coordinated propaganda campaign.
Harry Wallop of the London Telegraph ends his
anti-organic food editorial
with the following sentence:
"Tomorrow, the baby is going to get an extra dollop of pesticide-sprayed carrots."
Whether or not Wallop is as brain-addled as he leads on to being, the point of his editorial is to encourage similar attitudes amongst the Telegraph's readership, attempting to manipulate public perception in the wake of a recent Stanford "study" regarding organic food.
Whether or not readers of the Telegraph will put their own health and that of their children at risk for the sake of protecting big-agri's bottom line and the faltering paradigm that big-agri products are safe for human consumption simply because Harry Wallop thinks its good to feed his baby with pesticide-sprayed carrots remains to be seen.
The London Telegraph, when not fabricating news to support England's latest imperial adventures overseas, is at the forefront of many of the largest corporate-financier funded lobbying campaigns. Recently, someone has splurged, and splurged big on anti-organic food lobbying built atop a suspect Stanford study.
A Flawed "Study"
When entire news cycles are dominated by headlines built on a single university study, with editorials attempting to hammer in big-agri talking points, a lobbying effort is clearly afoot.
Two news cycles have already been dedicated to trashing organic food. Organic food is free of pesticides and genetic manipulation, both of which are proven to cause learning disabilities, decreased IQ, sterility, and a myriad of other health problems including a wide variety of cancers.
This most recent anti-organic food campaign began with
a Stanford study
out of
its Center for Health Policy
(a subsidiary of Stanford's Freeman Spogli Institute for International Studies), examining the nutritional value of organic food versus non-organic. Food with pesticides on it had nearly the same nutritional value, the study claims, as organic food – completely skipping over the whole point of eating organic.
Indeed, the nutritional value would be similar – but the entire point of eating organic is not because of vastly superior nutritional value, but to avoid the "extras" included with products from big-agri corporations.
The Stanford study intentionally dismisses concerns regarding the presence of pesticides by simply claiming levels were within legal tolerances. No discussion was made on whether legal tolerances equated to safe tolerances, nor was there any mention made of the harmful effects of genetically modified organisms (GMO) or other controversial food additives found in non-organic food products.
So why the strawman argument?
A Corporate-funded "Study"
The Stanford Center for Health Policy states the following on its own website:
"The Freeman Spogli Institute for International Studies (FSI) relies on support from its friends, as well as from national and international foundations and corporations, for the funding of the Institute's research, teaching and outreach activities."
The Center for Health Policy is a subsidiary of the Freeman Spogli Institute for International Studies (FSI). So who are these "friends," national and international foundations and corporations funding the research of FSI and its subsidiary, the Stanford Center for Health Policy?
Image:

From Stanford Center for Health Policy's own website it is admitted that " national and international foundations and corporations" fund its research and "outreach activities." This confirms the suspicions of an increasingly aware public who saw the "study" as biased, contradictory of both logic and ethics, and the result of insidious corporate-funding.
….
According to FSI's 2011 Annual Report (
page 38, .pdf
) Agricultural giant Cargill, British Petroleum (BP), the Bill & Malinda Gates Foundation (heavily invested in both Cargill and big-agri giant Monsanto), the Ford Foundation, Google, Goldman Sachs, the Smith Richardson Foundation, and many other corporate-financier, Fortune 500 special interests.
Image:
From Stanford's 2011 FSI Annual Report (page 38, .pdf), of which the Center for Health Policy is a subsidiary, is funded by Cargill, the Bill & Malinda Gates Foundation (heavily invested in both Cargill and big-agri giant Monsanto), and a myriad of other Fortune 500 corporate-financier special interests. The report at face value is throwaway propaganda, but its funding reveals a more insidious, coordinated effort to manipulate public perception, stretching across academia, mass media, government, and big business. (click image to enlarge)
….
That none of this is mentioned, and the lack of independence and transparency involved in the study and its presentation to the public, overturns the credibility of both Stanford, and the Western media machine that so eagerly shoveled the results out to the public. Combined with the fact that the study itself is flawed, and the concerted, disingenuous nature with which it is being promoted to the public, a premeditated public relations campaign, bought and paid for by Stanford's FSI sponsors, most notably Cargill and the Bill & Malinda Gates Foundation is self-evident.
What to Do?
Quite obviously, one should continue eating organic. Additionally, the duplicitous nature exhibited by academia, the mass media, and the vast corporate interests overtly driving them both, demands from us to redouble our efforts at implementing
full-spectrum boycotts
aimed at big-agri as well as other
Fortune 500 corporate-financier monopolies
. This includes other processed food makers such as
Pepsi and Coca-Cola
, Kraft, and the myriad of subsidiaries they maintain.
We should also redouble our efforts at supporting local farmers, attending and contributing to local farmers markets, and investigating the possibility of growing, if only a small percentage, our own herbs, fruits, and vegetables.
Freedom and self-determination come from economic independence, self-reliance,
and self-sufficiency
. The most fundamental form of economic independence is having a safe, secure, and local food supply operated for, by, and of the people. Cementing this emerging paradigm, in spite of the crass, juvenile, even criminally irresponsible editorials like that of the Telegraph's Harry Wallop, and multimillion dollar "studies" subsidized by Cargill and the Bill & Malinda Gates Foundation, is the first step on extending this paradigm shift to other areas required for maintaining and advancing modern civilization.
09-14-2012, 06:20 PM,
h3rm35
enemy of exceptionalism


Posts: 3,938
Threads: 1,191
Joined: Dec 2009
RE: Promoting "Healthy" GMO Food. Agri-Business' "Anti-Organic" Campaign
Uneasy Allies in the Grocery Aisle
By STEPHANIE STROM
Giant bioengineering companies like Monsanto and DuPont are spending millions of dollars to fight a California ballot initiative aimed at requiring the labeling of genetically modified foods. That surprises no one, least of all the proponents of the law, which if approved by voters would become the first of its kind in the nation.
But the companies behind some of the biggest organic brands in the country — Kashi, Cascadian Farm, Horizon Organic — also have joined the antilabeling effort, adding millions of dollars to defeat the initiative, known as Proposition 37.
Their opposition stands in sharp contrast to smaller, independent organic companies, which generally favor labeling products that contain genetically modified organisms, or G.M.O.'s. And it has raised a consumer reaction on social media that has led some of the organic brands to try to distance themselves from their corporate parents.
"We want to be clear that Kashi has not made any contributions to oppose G.M.O. labeling," the brand said in a statement issued late last month after its Facebook page was inundated with comments from consumers saying they would no longer buy its products because its corporate owner, the Kellogg Company, has put more than $600,000 into fighting the ballot initiative.
But as recently as last week, consumers were still peppering the sites of Horizon, owned by Dean Foods; the J. M. Smucker Company, which has a number of organic products, and Kashi with expressions of betrayal and disappointment. "It is unconscionable for you to be funding the effort to defeat Proposition 37," one post said.
"Consumers aren't always aware that their favorite organic brands are in fact owned by big multinationals, and now they're finding out that the premium they've paid to buy these organic products is being spent to fight against something they believe in passionately," said Mark Kastel, a co-founder of the Cornucopia Institute, an organic industry watchdog and farm policy group that has been tracking corporate contributions in the ballot fight. "They feel like they've been had."
The uproar highlights the difference between large organic brands that have driven the double-digit growth of the organic market and the smaller, independent businesses and farms that most shoppers envision when they buy an organic peach or shampoo — companies like Nature's Path, one of Kashi's largest competitors.
Although certified organic products are prohibited by law from containing genetically engineered ingredients, organic companies generally favor the labeling law, contending that consumers have a right to know what is in the products they buy. What is left unsaid is that it may also be a marketing advantage for organic companies, distinguishing them from conventional food producers.
The parent companies, among them Kellogg, General Mills, Dean Foods, Smucker's and Coca-Cola, declined to talk about their opposition to the labeling initiative, which is on the November ballot, referring questions to Kathy Fairbanks, the spokeswoman for the No on 37 campaign.
Last week, the organization released a study it had commissioned that estimated the initiative would add $1.2 billion in costs for California farmers and food producers. Ms. Fairbanks said that the higher costs could add as much as $350 to $400 to an average family's grocery bill.
In addition, she said, the opponents believe the labeling would heighten what they call unfounded concerns about the safety of genetically engineered crops.
The European Union has required such biotech labeling since 1997, and companies by and large have formulated their products so that they do not contain any genetically engineered ingredients and thus do not need labeling. Also, David Byrne, the former European commissioner for health and consumer protection, has said that there was no impact on the cost of products.
But for more than a decade in the United States, most processed foods like cereals, snack foods and salad dressings have contained ingredients from plants whose DNA was manipulated in a laboratory. Regulators and many scientists say they pose no danger.
Americans, however, are becoming much more aware of the role that food plays in their health and well-being, and consequently want much more information about what they eat, including whether it contains genetically engineered ingredients as well as salt and trans fats. So far, opponents of Proposition 37 have committed roughly $25 million to defeat it, with the largest contributions coming from Monsanto ($4.2 million) and DuPont ($4 million), which have made big investments in genetically engineered crops.
Several food companies are not far behind. PepsiCo, Nestlé, ConAgra Foods and Coca-Cola, which owns the Odwalla and Honest Tea brands, have each put more than $1 million in the fight, while General Mills, which owns organic stalwarts like Muir Glen and Cascadian Farm as well as popular upstarts like Lärabar and Food Should Taste Good, has spent more than $900,000.
"We believe labeling regulations should be set at the national level, not state by state," General Mills said in a statement on its Web site.
Supporters of the measure thus far have mustered only $3.5 million from donors like Organic Valley, which has given $50,000, and Clif Bar and Amy's Kitchen, which each have put in $100,000.
On Tuesday, Whole Foods, the retail mecca of the organic and natural foods movement, said it supported the California proposal, though with some reservations over the details — and without putting any money into the effort in accordance with its policy, a spokeswoman said.
Nature's Path, an independent business, has put more than $600,000 into supporting the ballot initiative — even though it is a Canadian company. Some 70 percent of its sales and most of its production take place in the United States, said Arran Stephens, president of the company, but that is not why it is one of the biggest supporters of Proposition 37.
"We get to know what the salt content of our food is and the nutritional content, and producers have to state whether there are preservatives in it," Mr. Stephens said. "But in the case of genetically modified organisms and whether they are in a product or not, we don't know."
Ronnie Cummins, founder and national director of the Organic Consumers Association, which represents some 850,000 members, said he expected the food and biotech companies that oppose the measure to spend roughly twice what they have already contributed by the time of the Nov. 6 election.
Nonetheless, Mr. Cummins said he expected it to pass. In a poll of 800 likely California voters in July by the California Business Roundtable and Pepperdine University, 64.9 percent said they were inclined to vote in favor of Proposition 37 based on their knowledge at that time.
"The more ads they put out, the more they remind people that they're already eating foods with G.M.O. ingredients in them," he said.
Brand experts say the companies also risk tarnishing the very brands that they have worked so hard to keep separate from their conventional businesses, if at all possible keeping their corporate ownership to microscopic print buried somewhere on a Web site.
"In a world where everyone can see everything, you can't have silos any more, you can't have one side of the company doing one thing and the other doing something else," said Allen P. Adamson, managing director at Landor Associates. "People will look for inconsistencies and call you out on it."
The Organic Trade Association supports labeling food products that contain genetically engineered ingredients even though two of its board members are from companies — Dean Foods and Smucker's — that oppose the California ballot measure.
Christine Bushway, the association's executive director, said the issue was fairly clear-cut for the organization, since genetically modified organisms are banned from organic foods. "Our question has always been, if companies don't feel that G.M.O.'s are in any way an issue for consumers, what is the concern about putting them on the label?" Ms. Bushway said.
She said that as a trade association, the organization did not typically put money into campaigns.
Just Label It, an organization that has fought for genetically engineered labeling nationally since 2011, came out in support of the ballot measure on Wednesday — but it also will not put money into the fight. Gary Hirshberg, the campaign's chairman and also chairman of Stonyfield Farm, the organic dairy brand now 85 percent owned by Groupe Danone, said his organization had already used much of its resources by the time the California initiative got under way.
"To be candid with you, I understand exactly what they're trying to accomplish, and I'm supportive of their goal, but I don't believe that in the long run we can solve a problem like this on a state-by-state level," Mr. Hirshberg said. "Even if California succeeds, and we hope it does, there is still a national policy question before us."
Others say that the reason the food and biotech companies are investing heavily to fight the ballot measure in California is because that market is so large that it would effectively cause them to adopt labeling or reformulate their products nationally. "That's why they are fighting this so hard," Mr. Kastel said.
This article has been revised to reflect the following correction:
Correction: September 14, 2012
An earlier version of this article misstated the owner of Stonyfield Farm. It is 85 percent owned by Groupe Danone, not Dannon.
09-20-2012, 09:04 PM,
(This post was last modified: 09-20-2012, 10:00 PM by h3rm35.)
h3rm35
enemy of exceptionalism


Posts: 3,938
Threads: 1,191
Joined: Dec 2009
RE: Promoting "Healthy" GMO Food. Agri-Business' "Anti-Organic" Campaign
Original URL:
http://www.theregister.co.uk/2012/09/19/gm_study_under_fire/
Did GM food cause GIANT TUMOURS IN RATS?
French study under fire
By Richard Chirgwin
Posted in Science, 19th September 2012 23:00 GMT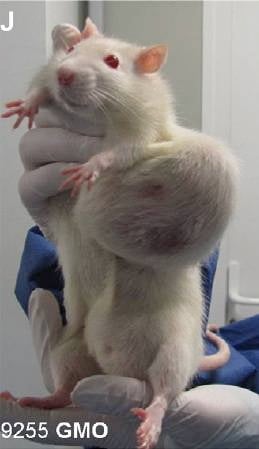 A French study claiming to link genetically modified crops to cancer has come under fire almost the instant it was released.
The study has dropped like a bomb into the "Frankenstein crops" debate. Californians are due to vote [1] in November on Proposition 37 which would mandate GM labeling on all foodstuffs. In Australia, Greenpeace activists last year destroyed [2] a CSIRO experimental crop in Canberra.
Under lead author Gilles-Eric Séralini of the University of Caen in Normandy, the study describes itself as "the first long-term peer reviewed toxicity study into the health impact of a GM tolerant maize crop and the world's most popular herbicide, Roundup".
The paper has been accepted [3] by Elsevier's Food and Chemical Toxology. It makes the claim that over the two-year study, a diet of Roundup-tolerant maize produced the same toxic effects in the rats as putting a homeopathy-like dose of Roundup in their water (it claims that effects were measurable down to 0.1 parts per billion).
The startling – terrifying if true – effects described in the study include giant breast turmours in females, and disabled pituitaries, leading to "two to three times" the normal female mortality; while males suffered "liver congestions, necrosis, severe kidney nephropathies and large palpable tumors".
And the numbers? According to the study, as many as 80 percent of the rats on the GM diet or Roundup water developed tumours in the first year of the study, compared to 30 percent of the control group (the reason there's so many cancers even in the control group is this: the rats used in the study are a type bred for their susceptibility to cancers – the albino Sprague-Dawley breed.
The Sustainable Food Trust has the full paper here [4] (PDF), under the headline "'Safe' Levels of Round-Up Weedkiller and GM Corn Found to Cause Tumours and Multiple Organ Damage".
However, criticism of the study has also been instant. New Scientist delved into the data and points out [5] that while some test groups fared poorly in the study, other test groups had better survival rates than the control group. It also notes that the test groups (those fed the GM crop or watered with Roundup) were larger than the control groups.
Both New Scientist and the BBC [6] also note that journalists could only get early access to the embargoed paper if they also signed a non-disclosure agreement, preventing them from seeking third-party scientific comment on the paper before publication.
That secrecy is curious, since the study was backed by the Committee for Research and Independent Information on Genetic Engineering (Séralini is head of its scientific board), which says [7] it is devoted to making "every effort towards the removal of the status of secrecy prevailing in genetic engineering experiments and concerning genetically modified crops".
The French government has leapt in with both pieds, promising an investigation into genetically modified crops. France's health agency, ANSES, has been asked to provide an opinion, and a joint statement by the ministers of agriculture (Stephane Le Foll), ecology (Delphine Batho) and health (Marisol Touraine) raises the possibility of an "emergency suspension" of imports of Monsanto's NK603 maize. ®
Update: The UK's Science Media Centre has posted a page of expert comments here [8]. ®
Links
http://ballotpedia.org/wiki/index.php/California_Proposition_37%2c_Mandatory_Labeling_of_Genetically_Engineered_Food_%282012%29
http://www.canberratimes.com.au/environment/greenpeace-activists-in-costly-gm-protest-20120802-23i0t.html
http://www.sciencedirect.com/science/article/pii/S0278691512005637
http://research.sustainablefoodtrust.org/wp-content/uploads/2012/09/Final-Paper.pdf
http://www.newscientist.com/article/dn22287-study-linking-gm-crops-and-cancer-questioned.html
http://www.bbc.co.uk/news/science-environment-19654825
http://www.criigen.org/SiteEn/index.php?option=com_content&task=blogcategory&id=52&Itemid=103
http://www.sciencemediacentre.org/pages/press_releases/12-09-19_gm_maize_rats_tumours.htm
---
the other side of the coin?
Agricultural Giant Monsanto's Products Cause Tumors, Organ Damage In Rats
By ThinkProgress.org
Global Research, September 20, 2012
Url of this article:
http://www.globalresearch.ca/agricultural-giant-monsantos-products-cause-tumors-organ-damage-in-rats/
By Aviva Shen
A new study out today may hurt efforts by America's largest biotechnology company, Monsanto, to defeat a California ballot initiative that would require labels on genetically modified foods (GMOs). The French study found that rats who were either fed a lifetime diet of Monsanto's genetically modified corn or exposed to the company's popular herbicide, Roundup, developed tumors and organ damage.
Reuters reports that the group of rats who were exposed to Monsanto products experienced an increase in premature deaths due to their health complications:
Gilles-Eric Seralini of the University of Caen and colleagues said rats fed on a diet containing NK603 — a seed variety made tolerant to dousings of Roundup — or given water containing Roundup at levels permitted in the United States died earlier than those on a standard diet.
The animals on the GM diet suffered mammary tumours, as well as severe liver and kidney damage.
The researchers said 50 percent of males and 70 percent of females died prematurely, compared with only 30 percent and 20 percent in the control group.
The lead researcher has been a vocal critic of Monsanto, which holds most of the patents for America's staple crops and herbicides. This study, more extensive than the group's past research that found similar health risks associated with the company's products, may weaken the biotech industry's claim that eating GMOs is harmless. Monsanto has poured $7 million into a campaign to defeat California's Proposition 37, which will ask voters to require labels on any products containing genetically modified ingredients — essentially, all processed foods. Europe, Japan, China and Australia already have this requirement, and 91 percent of Americans support GMO labeling.
Setting aside possible health issues, the pervasive use of herbicide-resistant crops in the US is perpetuating a rapidly escalating arms race with insects and weeds that develop a resistance to the industry's potent poisons as they become more common. Monsanto's herbicides are spreading quickly; Mother Jones reported this week that Roundup is the most heavily used liquid herbicide in New York City, even though it has been linked to neurological diseases and reproductive disorders.
But Monsanto is lobbying hard to prevent the USDA from considering studies like Seralini's when approving new products. France currently bans GMO crops in spite of enormous pressure from Monsanto and the EU.
09-20-2012, 10:22 PM,
h3rm35
enemy of exceptionalism


Posts: 3,938
Threads: 1,191
Joined: Dec 2009
RE: Promoting "Healthy" GMO Food. Agri-Business' "Anti-Organic" Campaign
GMO Researchers Attacked, Evidence Denied, and a Population at Risk
By Jeffrey M. Smith
Global Research, September 19, 2012
Url of this article:
http://www.globalresearch.ca/gmo-researchers-attacked-evidence-denied-and-a-population-at-risk/
Biologist Arpad Pusztai had more than 300 articles and 12 books to his credit and was the world's top expert in his field. But when he accidentally discovered that genetically modified (GM) foods are dangerous, he became the biotech industry's bad-boy poster child, setting an example for other scientists thinking about blowing the whistle.
In the early 1990s, Dr. Pusztai was awarded a $3 million grant by the UK government to design the system for safety-testing genetically modified organisms (GMOs). His team included more than 20 scientists working at three facilities, including the Rowett Institute in Aberdeen, Scotland, the top nutritional research lab in the UK, and his employer for the previous 35 years. The results of Pusztai's work were supposed to become the required testing protocols for all of Europe. But when he fed supposedly harmless GM potatoes to rats, things didn't go as planned.
Within just 10 days, the animals developed potentially pre-cancerous cell growth, smaller brains, livers and testicles, partially atrophied livers, and damaged immune systems. Moreover, the cause was almost certainly side effects from the process of genetic engineering itself. In other words, the GM foods on the market, which are created from the same process, might have similar affects on humans.
With permission from his director, Pusztai was interviewed on TV and expressed his concerns about GM foods. He became a hero at his institute – for two days. Then came the phone calls from the pro-GMO prime minister's office to the institute's director. The next morning, Pusztai was fired. He was silenced with threats of a lawsuit, his team was dismantled, and the protocols never implemented. His institute, the biotech industry, and the UK government, together launched a smear campaign to destroy Pusztai's reputation.
Arpad Pusztai, saw his career runied by big government and big agri-business because he told the truth about GM food
Eventually, an invitation to speak before Parliament lifted his gag order and his research was published in the prestigious Lancet. No similar in-depth studies have yet tested the GM foods eaten every day by Americans.
Trail of Devastated, Silenced Scientists
The treatment of Dr. Pusztai sent a chilling precedent around the world. By 2001, New Zealand Parliament member Sue Kedgley told the 2001 Royal Commission of Inquiry on Genetic Modification: "Personally I have been contacted by telephone and e-mail by a number of scientists who have serious concerns about aspects of the research that is taking place . . . and the increasingly close ties that are developing between science and commerce, but who are convinced that if they express these fears publicly, even at such a commission. . . or even if they asked the awkward and difficult questions, they will be eased out of their institution."
On September 2, 2009, the prestigious journal Nature acknowledged that the regular attacks on biotech researchers are orchestrated by a "large block of scientists who denigrate research by other legitimate scientists in a knee-jerk, partisan, emotional way that is not helpful in advancing knowledge and is outside the ideals of scientific inquiry."
These attacks have all but stopped independent research into the health and environmental side-effects of GMOs. According to University of California at Berkeley professor Ignacio Chapela, there is a de facto ban on scientists "asking certain questions and finding certain results." He says, "It's very hard for us to publish in this field. People are scared."
Scientists involved in research on the effects of GMOs are being threatened and fired from their jobs.Dr. Charles Benbrook, former Executive Director of the Board on Agriculture of the U.S. National Academy of Sciences, said he has personally spoken with dozens of scientists who "had to contend with this backlash and these counter attacks that the industry unleashes on scientists that they view as a threat. The majority of them get out of the field. The majority of them will not put themselves, or their families, or their career at that kind of risk again." he said.
Indian Supreme Court Uncovers Regulatory Scam
In February 2008, the Indian Supreme Court asked renowned biologist P. M. Bhargava to evaluate the practices of the Genetic Engineering Approval Committee (GEAC). Dr. Bhargava attended meetings, studied submissions, and consulted more than 600 scientific journals for his analysis. After 10 months he concluded that not only was the Indian approval system inadequate, but no GM crop in the world had ever been properly evaluated. In fact, of the 29 different categories of scientific research that he said should be conducted to protect the environment and public health, only 10% had been addressed. But these studies were industry-funded – designed so poorly that Dr. Bhargava deemed them worthless. He asked the Prime Minister and Health Minister to institute an immediate moratorium on GMOs until adequate tests could be completed.
While attending the GEAC, whenever Dr. Bhargava presented adverse findings about GMOs, the material was summarily dismissed with the statement, "That's been discredited." It didn't matter what prominent journal or highly credentialed scientist had published the work, the response was automatic. When Dr. Bhargava submitted his own report on the GEAC, they tried to discredit him in the same way.
Dr Bhargava found that no GM crop in the world had ever been properly evaluated. The GEAC attempted to portray him as anti-government, which was ludicrous. Dr. Bhargava had served on over 100 government committees, including the intelligence committee where he had unrestricted access to secret government documents. The GEAC also claimed that he had no experience publishing DNA or RNA research. In reality, Dr. Bhargava had published more relevant papers than all the GEAC members combined.
Dirt Down Under
Epidemiologist Judy Carman used to investigate outbreaks of disease for a state government in Australia. She knows that health problems associated with GM foods might be impossible to track or take decades to discover. Moreover, the superficial, short-term animal feeding studies usually do not evaluate biochemistry, immunology, tissue pathology, gut function, liver function, and kidney function, and are too short to test for cancer or reproductive or child health. Dr. Carman has critiqued the GMO approval process on behalf of the Public Health Association of Australia and speaks openly about her concerns. As a result, she is repeatedly attacked. Pro-GMO scientists threatened disciplinary action through her Vice-Chancellor, and circulated a defamatory letter to government and university officials.
Carman was awarded a grant by the Western Australia government to conduct some of the few long-term animal feeding studies on GMOs. Apparently concerned about what she might find, GMO advocates wrote letters to the government demanding that the grant be withdrawn. One scientist tried to convince the Western Australia Agriculture minister that sufficient safety research had been conducted and he should therefore cancel the grant. As his evidence, however, he presented a report summarizing only 60 GMO animal feeding studies – an infinitesimal amount of research to justify exposing the entire population to GM foods.
A closer investigation, however, revealed that most of the 60 studies were not safety studies at all. They were production studies, measuring, for example, the animals' carcass weight. Only 9 contained data applicable to human health. And 6 of the 9 showed adverse effects in animals that ate GM feed! Furthermore, there were several other studies with adverse findings that were mysteriously missing from the compilation. Carman points out that the report "does not support claims that GM crops are safe to eat. On the contrary, it provides evidence that GM crops may be harmful to health."
When the Western Government refused to withdraw the grant, opponents successfully interfered with Carman's relationship with the university where she was to do the research.
Double Standards
Prominent Norwegian virologist Terje Traavik presented preliminary data at a February 2004 meeting at the UN Biosafety Protocol Conference, showing that:
Filipinos living next to a GM cornfield developed serious symptoms while the corn was pollinating;
Genetic material inserted into GM crops was transferred to rat organs after a single meal;
Key safety assumptions about genetically engineered viruses were overturned, calling into question the safety of using these viruses in vaccines.
The biotech industry mercilessly attacked Dr. Traavik, using the pretense that he presented unpublished work. But presentation of preliminary data at professional conferences is a long tradition in science, something that the biotech industry itself relies on. Ironically, three years later, biotech proponents sharply criticized a peer-reviewed publication for not citing unpublished data that had been presented at a conference.
Birth Defects Courtesy of Monsanto's Roundup
Embryologist Andrés Carrasco is the director of the Laboratory of Molecular Embryology, University of Buenos Aires Medical School, and lead researcher of the National Council of Scientific and Technical Research. In 2010, he discovered that Roundup, the herbicide sold in conjunction with most GM crops, could cause defects in the brain, intestines, and hearts of amphibian fetuses. His results supported the reports of peasants who suffered birth defects after being sprayed by Roundup.
The industry responded by ridiculing the research and even threatening him personally. Four men arrived unannounced at his laboratory and were extremely aggressive, attempting to interrogate Carrasco and search his premises. Later, a violent gang prevented Dr. Carrasco from giving a speech on his findings, beat up his colleagues, and for two hours attacked the car where Dr. Carrasco was holed up.
Threats to Family, Fake Attackers
Ignacio Chapela is a microbial ecologist from UC Berkeley. In 2001, he discovered that the indigenous corn varieties in Mexico – the source of the world's genetic diversity for corn – had become contaminated through cross-pollination with GM varieties. The government had a ban against GM corn to prevent just this possibility, but apparently US corn imported for food had been planted nonetheless.
Dr. Chapela submitted the finding to Nature, and as a courtesy that he later regretted, informed the Mexican government about the pending publication. He was called in to meet with a furious Director of the Commission of Biosafety and GMOs. Chapela's confirmation of contamination would hinder introduction of GM corn. Therefore, the government's top biotech man demanded that he withdraw his article. According to Chapela, the official intimidated and threatened him, even implying, "We know where your children go to school."
When a traumatized Chapela still did not back down, the Underminister for Agriculture later sent him a fax claiming that because of his scientific paper, Chapela would be held personally responsible for all damages caused to agriculture and to the economy in general.
The day Chapela's paper was published, Mary Murphy and Andura Smetacek began posting messages to a biotechnology listserve called AgBioWorld, distributed to more than 3,000 scientists. They falsely claimed that Chapela was biased, that his paper had not been peer-reviewed, that Chapela was "first and foremost an activist," and his research was published in collusion with environmentalists. Soon, hundreds of other messages appeared, repeating or embellishing the accusations. The listserv launched a petition and besieged Nature with a worldwide campaign demanding retraction.
UC Berkeley also received letters from all over the world trying to convince them not to grant Chapela tenure. He had overwhelming support from his college and department, but the international biotech lobby was too much. Chapela's tenure was denied. After he filed a lawsuit, the university eventually reversed its decision.
When investigators later analyzed the email characteristics sent by agitators Mary Murphy and Andura Smetacek, it turned out that the two were not the average citizens they claimed. According to the Guardian, both were fabricated names used by a public relations firm that worked for Monsanto. Some of Smetacek's emails also had the internet protocol address of gatekeeper2.monsanto.com – the server owned by Monsanto.
Denying Access to Seeds
In addition to using threats and other attack strategies, the biotech industry has limited independent research by denying scientists access to their patented seeds. For example:
When Ohio State University plant ecologist Allison Snow discovered problematic side effects in GM sunflowers, Pioneer Hi-Bred International and Dow AgroSciences blocked further research by withholding GM seeds and genes. After Marc Lappé and Britt Bailey found significant reductions in cancer-fighting isoflavones in Monsanto's GM soybeans, the seed seller Hartz told them they could no longer provide samples. Research by a plant geneticist at a leading US university was also thwarted when two companies refused him GM corn. When a Japanese scientist wanted to conduct animal feeding studies on the GM soybeans under review in Japan, both the government and the bean's maker DuPont refused to give him any samples. Hungarian Professor Bela Darvas discovered that Monsanto's GM corn hurt endangered species in his own country. Monsanto immediately shut off his supplies. Dr. Darvas later gave a speech on his preliminary findings and discovered that a false and incriminating report about his research was circulating. He traced it to a Monsanto public relations employee, who claimed that it mysteriously appeared on her desk – so she faxed it out.
Almost no independent studies are conducted. According to a scathing opinion piece in an August 2009 Scientific American, "Agritech companies have given themselves veto power over the work of independent researchers. . . . Only studies that the seed companies have approved ever see the light of a peer-reviewed journal."
A group of 26 insect scientists protested this restriction in a letter submitted to the Environmental Protection Agency. They warned that the inability to access GM seeds from biotech companies means there can be no truly independent research on the critical questions. The scientists, of course, withheld their identities for fear of reprisals from the companies.
French Resistance
French Professor G. E. Seralini has conducted pivotal research that highlights adverse health effects from GM plants and the associated herbicide Roundup, including endocrine disruption, toxicity, and immune responses. He also identified unreported side-effects in Monsanto's own rat studies that were hidden in the company's dubious statistics. Seralini was, of course, attacked by GMO advocates. But they picked the wrong guy. He sued his detractor last year for libel, and in January of this year was declared victorious by the French courts.
Doctor's Orders
In spite of the lack of independent studies, there is already significant evidence that GMOs are harmful. Citing results from animal feeding studies such as reproductive disorders, organ damage, accelerated aging, gastrointestinal problems, and immune system dysfunction, the American Academy of Environmental Medicine now urges all doctors to prescribe non-GMO diets. Of course, following the doctors' orders can be difficult, since the US is one of the only industrialized nations that do not require labeling of GMOs. That's because the person in charge of GMO policy at the FDA was the former attorney for biotech giant Monsanto, and later their vice-president. Now he's back at the FDA as US Food Safety Czar.
His policy also ignored the overwhelming consensus among FDA scientists, warning about potential dangers and urging caution and rigorous testing requirements. Instead, the policy of the FDA does not require a single safety test, and allows Monsanto – the company that told us PCBs, Agent Orange, and DDT were safe – to determine if it's GMOs are safe.
Fortunately, there are thousands of products that are voluntarily labeled as non-GMO. You can find them at
NonGMOShoppingGuide.com
.
Safe eating.
Jeffrey M. Smith is the Founder of the Institute for Responsible Technology (
http://www.responsibletechnology.org
) and the international bestselling author of Seeds of Deception and Genetic Roulette. His organization has started the Campaign for Healthier Eating in America, designed to create a tipping point of consumer rejection – to force GMOs out of the market.
Possibly Related Threads...
Thread
Author
Replies
Views
Last Post
Reproductive Justice Denied to Indigenous Women in Mexico
mexika
0
263
03-15-2014, 01:44 AM
Last Post: mexika
Horrific New Evidence Of China Organ Harvesting Revealed
Ognir
3
790
03-05-2014, 12:35 PM
Last Post: FastTadpole
Desperate Times for Vaccine Risk Denialism
bristopen
0
389
09-09-2013, 02:38 PM
Last Post: bristopen
Researchers Describe First 'Functional HIV Cure' in an Infant
Frank2
3
632
03-07-2013, 06:23 PM
Last Post: CharliePrime
Having seen the evidence, I don't touch fizzy drinks any more - leading biologist
TriWooOx
9
1,581
08-02-2012, 04:24 PM
Last Post: nwo2012
US Researchers Create GMO Babies
Anarchist
0
469
07-03-2012, 05:51 PM
Last Post: Anarchist
Four fatal pieces of evidence
icosaface
0
849
09-21-2011, 02:13 PM
Last Post: icosaface
'Shy' children at risk of being diagnosed with mental disorder
TriWooOx
4
1,074
09-17-2011, 01:55 AM
Last Post: yeti
Climategate: CRU Was But the Tip of the Iceberg - NASA, WWF, IPCC, NIWA, GISS & NOAA Evidence Mounts
FastTadpole
28
7,002
08-30-2011, 02:09 AM
Last Post: rsol
Where's the Beef? Global Livestock Population and Agricultural Production Statistics
FastTadpole
1
2,939
08-23-2011, 05:48 AM
Last Post: FastTadpole
Users browsing this thread: 1 Guest(s)