Thread Rating:
Serial killer pythons stalk Everglades, Rapacious reptiles scoff mammal population
02-02-2012, 10:37 PM,
h3rm35
enemy of exceptionalism


Posts: 3,938
Threads: 1,191
Joined: Dec 2009
Serial killer pythons stalk Everglades, Rapacious reptiles scoff mammal population
Original URL:
http://www.theregister.co.uk/2012/02/01/burmese_python_florida_mammal_decline/
Serial killer PYTHONS stalk Florida's Everglades
Rapacious reptiles scoff mammal population
By Brid-Aine Parnell
Posted in Biology, 1st February 2012 11:33 GMT
Pesky pythons are wiping out mammals and birds – some of which are protected species – in Florida's Everglades National Park, according to a new study.
Open-mouthed Burmese python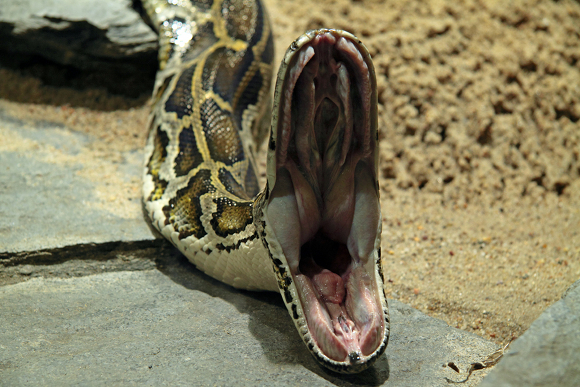 What's for dinner? Credit: Mannes Fotos (GNU license [1])
Non-native Burmese pythons are chowing down on the local populace to such an extent that observations of many animals have declined by 99 per cent in the last eight years, and the poor old bunny rabbit hasn't been seen at all.
"Road surveys totaling 56,971 km from 2003–2011 documented a 99.3 per cent decrease in the frequency of raccoon observations, decreases of 98.9 per cent and 87.5 per cent for opossum and bobcat observations, respectively, and failed to detect rabbits," the study, published [2] in the journal for the Proceedings of the National Academy of Sciences (PNAS), said.
The researchers also found that more mammals were missing in areas where the snakes were well-established than in places where they had only been seen recently.
The Burmese python had been sighted intermittently in the Park for around 20 years until 2000, when nature-loving boffins first recognised it as an established species. Since then, the number of pythons removed from the park every year has risen dramatically, from just a few in 2001 to over 350 in 2009.
The study focused on animals like rabbits, possums and foxes because their populations are easy to monitor and they tend to come close enough to roads to be spotted. But the biology boffins are also concerned about the species being conserved in the National Park, which are harder to keep an eye on because there's less of them and they tend to be unevenly distributed.
"Pythons have been reported to consume leopards in their native range, and thus even top predators, such as the Florida panther, may be at risk," the study said.
"Approximately 25 per cent of all pythons found in the Park contain bird remains, and although quantifying impacts on birds is difficult, species such as rails, limpkins, grebes, herons, egrets, and the federally endangered wood stork may be particularly vulnerable to python predation."
The US has already taken steps against rapacious reptiles in the country, including the Burmese python.
Earlier this month, the US Secretary of the Interior, Ken Salazar, announced a ban on the importation and inter-state transportation of four non-indigenous constrictor snakes because of the threat they represent to existing ecosystems.
"Thanks to the work of our scientists, Senator Bill Nelson, and others, there is a large and growing understanding of the real and immediate threat that the Burmese python and other invasive snakes pose to the Everglades and other ecosystems in the United States," Salazar said in a canned statement [3].
"The Burmese python has already gained a foothold in the Florida Everglades, and we must do all we can to battle its spread and to prevent further human contributions of invasive snakes that cause economic and environmental damage."
The yellow anaconda and the northern and southern African pythons are the other three snakes being listed as sinister serpents on the "injurious wildlife" list.
Salazar said that millions of dollars had been spent in the Everglades alone trying to combat pythons.
Nobody is sure exactly how the snakes were introduced to American ecosystems, although it's likely that many of the species arrived as pets and then escaped or were released into the wild.
Any American who currently owns one of the newly restricted species of snakes will be allowed to keep them, but they won't be able to sell them or send them across state lines.
The Burmese python is one of the six largest snakes in the world and can reach [4] up to 7m (23ft) in length and a weight of up to 90 kilos (198lb).
When it's young, it hangs out in trees, but as it matures and becomes too heavy for tree-climbing, it moves down a floor and becomes ground-dwelling. It's also semi-aquatic, and is an excellent swimmer. The Burmese python is able to stay under water for up to 30 minutes before it needs to come up for air. ®
Links
http://commons.wikimedia.org/wiki/Commons:GNU_Free_Documentation_License_1.3
http://www.pnas.org/content/early/2012/01/23/1115226109.full.pdf
http://www.doi.gov/news/pressreleases/Salazar-Announces-Ban-on-Importation-and-Interstate-Transportation-of-Four-Giant-Snakes-that-Threaten-Everglades.cfm
http://animals.nationalgeographic.com/animals/reptiles/burmese-python/
Users browsing this thread: 1 Guest(s)