Thread Rating:
Interview with Richard Coudenhove-Kalergi: the founding of the Paneuropean Movement (Vienna, 19 November 1971)
03-29-2009, 12:35 PM,
---
Gone fishing

Posts: 7,572
Threads: 1,446
Joined: Sep 2008
Interview with Richard Coudenhove-Kalergi: the founding of the Paneuropean Movement (Vienna, 19 November 1971)
Title Interview with Richard Coudenhove-Kalergi: the founding of the Paneuropean Movement (Vienna, 19 November 1971)
Document type Sound clip
Source Interview mit dem Begründer und Präsidenten der Pan-Europa-Bewegung Richard Coudenhove-Kalergi / RICHARD COUDENHOVE-KALERGI, Ercih Schenk.- Wien: Österreichische Mediathek [Prod.], 19.11.1971. Österreichische Mediathek, Wien. - SON (05:01, Editing, Original Sound Track).
Österreichische Mediathek, Webgasse 2A, A-1060 Wien.
http://www.mediathek.ec.at
.
Keywords pan-European movement
Copyright © Österreichische Mediathek / Richard Coudenhove-Kalergi
http://www.mediathek.ac.at
Caption
In this interview recorded in 1971, Count Richard Coudenhove-Kalergi, founder of the Paneuropean Union, considers the foundation of the movement in 1923 and refers specifically to the aims of its establishment, namely a common European policy as regards foreign affairs, defence and the economy. Richard Coudenhove-Kalergi also emphasises the influence of his father in the birth of the idea of a Paneuropean Movement.
Location in the digital library SPECIAL FILES >> Austria and the European integration process >> The idea of European integration in Austria
HISTORICAL EVENTS >> 1945–1949 The pioneering phase >> The European idea >> The Christian culture
Document extract Read more in ENA
See also Paneuropean Congress (Vienna, 1934)
Duncan Sandys
Joseph Retinger
Letter from Joseph Retinger on the EPU's attendance at the Hague Congress (London, 15 April 1948)
http://www.ena.lu/interview-with-richard-c...-022600247.html
10-09-2009, 08:32 PM,
Interview with Richard Coudenhove-Kalergi: the founding of the Paneuropean Movement (Vienna, 19 November 1971)
COUDENHOVE-KALERGI / THE PAN EUROPEAN UNION
excerpts from
http://watch.pair.com/synarchy-3.html#coudenhove-kalergi
Count Richard Nikolaus von Coudenhove-Kalergi co-founded the sister organization of the Mont Pelerin Society—the International Pan European Union—with Archduke Otto von Habsburg who was a founding member of the Mont Pelerin Society.
<blockquote>"Coudenhove-Kalergi is recognized as the founder of the first popular movement for a united Europe. His intellectual influences ranged from Rudolf Kjellén and Oswald Spengler to Arthur Schopenhauer and Friedrich Nietzsche. In politics, he was an enthusiastic supporter of 'fourteen points' made by Woodrow Wilson on 8 January 1918 and pacifist initiatives of Kurt Hiller. In the early 1920s he joined a Masonic lodge at Vienna, where he would reach several degrees. In 1922 he co-founded the Pan-European Union (PEU) with Archduke Otto von Habsburg, as 'the only way of guarding against an eventual world hegemony by Russia'... In the following year he published a manifesto entitled Pan-Europa, each copy containing a membership form which invited the reader to become a member of the Pan-Europa movement. He favored social democracy as an improvement on 'the feudal aristocracy of the sword' But his ambition was to create a conservative society that superseded democracy with 'the social aristocracy of the spirit'. (Wikipedia)
</blockquote>Coudenhove-Kalergi, like Ludwig von Mises, claimed to have fled from Austria to France and then to the U.S. in 1940 because of his Jewish ethnicity. In 1943, Von Mises participated in Coudenhove-Kalergi's Pan Europa movement. It would appear that, instead of fleeing Hitler, these Austrian Jews were relocated to the U.S. to promote Pan Europa, which Coudenhove-Kalergi proceeded to establish upon his return to France.
<blockquote>"Richard Nikolaus Graf Coudenhove-Kalergi (en: Count Richard Nikolaus von Coudenhove-Kalergi)... After the annexation of Austria by the Third Reich he fled to France in 1938, and subsequently to the United States in 1940. There he taught at the New York University until 1945, when he returned to France. In the U.S.A. he published his work 'Crusade for Paneurope' in 1944. In France, after his return, he founded the European Parliamentary Union. At the Conference of this Union in 1947 (8-12 September) he argued that the constitution of a wide market with a stable currency is the vehicle for Europe to reconstruct its potential and take the place it deserves within the concert of Nations." ("Richard Nikolaus Graf Coudenhove-Kalergi")</blockquote>As Ludwig von Mises was funded by the Rockefeller Foundation, Coudenhove-Kalergi was financed by the banking houses of Rothschild and Warburg.
<blockquote>"Count Coudenhove-Kalergi's Pan Europe Movement, with its powerful backing by aristocrats and international financiers, was represented in the U.S. by its American branch, founded by Herbert Hoover and Col. House, who were also stumping the U.S. for ratification of the League of Nations. Coundenhove Kalergi mentioned in his autobiography that he had been financed by the Rothschilds and Warburgs, and in the U.S., by Paul Warburg and Bernard Baruch... His grandfather, Count Francis Coudenhove-Kalergi, Austrian Ambassador in Paris, had married Marie Kalergi in 1850. She was one of the wealthiest heiresses in Europe, descended from the Byzantine Emperor Nikophor Phikas; in 1300, when Venice was the dominant power in the Mediterranean, Alexios Kalergis had signed the treaty which made Crete a dominion of Venice. A recent premier of Greece, Emmanuel Tsouderos, was a Kalergi." (Eustace Mullins, "The Rule of the Order", The World Order: A Study in the Hegemony of Parasitism)</blockquote>Coudenhove-Kalergi wrote in his autobiography:
<blockquote>"At the beginning of 1924, we received a call from Baron Louis de Rothschild; one of his friends, Max Warburg from Hamburg, had read my book and wanted to get to know us. To my great surprise, Warburg spontaneously offered us 60,000 gold marks, to tide the movement over for its first three years...
<blockquote>"Max Warburg, who was one of the most distinguished and wisest men that I have ever come into contact with, had a principle of financing these movements. He remained sincerely interested in Pan-Europe for his entire life. Max Warburg arranged his 1925 trip to the United States to introduce me to Paul Warburg and financier Bernard Baruch." ("Coudenhove-Kalergi's Autobiography")</blockquote>The "Kouenhoven Genealogy" reveals that Coudenhove-Kalergi was related to Jacob Schiff (1847-1920). ("Kouenhoven" is a variation of "Coudenhove." Dutch Surnames Database) Jacob Schiff, who built Kuhn, Loeb & Co. into a banking powerhouse, was also a Rothschild agent and the brother-in-law of Paul Warburg, architect of the Federal Reserve System.</blockquote>
Count Coudenhove-Kalergi was married twice to Jewish wives and "Coudenhove-Kalergi's father was a close friend of Theodor Herzl, the founder of Zionism." ("Racist & Supremacist Roots of the Ideology of the European Union") Uniting Europe under the Jewish banking power was essential to the Zionist plan for global government. Coudenhove-Kalergi's successor as head of the Pan Europa Union was also Jewish:
<blockquote>"Otto von Habsburg was Coudenhove-Kalergi's successor as president of the Pan European Union. He is a honorary professor of the University of Jerusalem, and recipient of the 'International Humanitarian Award', of the 'Anti Defamation-League' (ADL) of the Jewish B'nai B'rith Masonry Lodge." ("Racist & Supremacist Roots of the Ideology of the EU")
</blockquote>
<div align='center'>The flag of the European Union represents the 12 tribes of Israel</div>
<div align='center'>
</div>
"Count R. N. Coudenhove-Kalergi is seen by many as the father of the modern European Union. It was him who suggested Beethoven's hymn as the EU's national anthem, and was very active in connection with the design of the EU logo which contains 12 stars which symbolize the 12 tribes of Israel. The logo was finalized by the Jew Paul M.G. Lévi." ("Racist & Supremacist Roots of the Ideology of the EU")
Hitler's Minister of Economics and original Mont Pelerin Society member, Hjalmar Schacht, assured the Pan European supporters that Hitler would create PanEuropa.
<blockquote>
"...the first mass rally of the Pan European Union in Berlin, at the Reichstag, was addressed by Hjalmar Schacht, later the Reichsbank head, Economics Minister and chief architect of the Hitler coup. A decade later, in October 1932, Schacht delivered a major address before another PanEuropa event, in which he assured Coudenhove-Kalergi and the others:</blockquote>
"'In three months, Hitler will be in power.... Hitler will create PanEuropa. Only Hitler can create PanEuropa.'"
("Synarchism: The Fascist Roots of the Wolfowitz Cabal")
The Pan European Union was launched under the pretext of "defending Europe against the Soviet Union." Paradoxically, the PEU was funded by the same banking family that financed the Bolshevik Revolution in Russia – the Warburgs.
The Pan European Union
<blockquote>"In 1922, Count Richard Coudenhove-Kalergi launched the Pan European Union, at a founding convention in Vienna, attended by more than 6,000 delegates. Railing against the 'Bolshevist menace' in Russia, the Venetian Count called for the dissolution of all the nation-states of Western Europe and the erection of a single, European feudal state, modeled on the Roman and Napoleonic empires.
"'There are Europeans,' Coudenhove-Kalergi warned, who are 'naive enough to believe that the opposition between the Soviet Union and Europe can be bridged by the inclusion of the Soviet Union in the United States of Europe. These Europeans need only to glance at the map to persuade themselves that the Soviet Union in its immensity can, with the help of the [Communist] Third International, very quickly prevail over little Europe. To receive this Trojan horse into the European union would lead to perpetual civil war and the extermination of European culture. So long, therefore, as there is any will to survive subsisting in Europe, the idea of linking the Soviet Union with Pan Europe must be rejected. It would be nothing less than the suicide of Europe.'...
"The launching of the Pan European Union was bankrolled by the Venetian-rooted European banking family, the Warburgs. Max Warburg, scion of the German branch of the family, gave Coudenhove-Kalergi 60,000 gold marks to hold the founding convention." ("Synarchism: The Fascist Roots of the Wolfowitz Cabal") </blockquote>In his book, Practical Idealism, Count Richard Coudenhove-Kalergi, founder of the International Pan European Union, wrote that the Jews were predestined to be a "future leader-nation" and a "new race of spiritual nobility."
<blockquote>"The main representatives of the corrupt as well as the upright brain aristocracy: of capitalism, journalism and the literate are Jews. The superiority of their spirit predestines them to become a main factor of the future nobility. One look at the history of the Jewish people explains its lead in the struggle over the governance of humanity. For two thousand years Jewry was a religious community, made up of ethical and religious predisposed individuals from all nations of the classical cultural area, with a national Hebrew centre in Palestine.
"Instead of destroying Jewry, Europe, against its own will, refined and educated this people into a future leader-nation through this artificial selection process. No wonder that this people, that escaped Ghetto-Prison, developed into a spiritual nobility of Europe.
"Therefore a gracious Providence provided Europe with a new race of nobility through spiritual grace... The prominent position held by Jewry these days is owed to its spiritual supremacy which enables it to win the spiritual battle over enormous superior numbers of favored, hateful, jealous rivals." (Practical Idealism, Count Richard Coudenhove-Kalergi, 1925)
</blockquote>
-source-
http://watch.pair.com/synarchy-3.html
Racist & Supremacist Roots of the Ideology of the EU
http://blog.balder.org/?p=404
http://balder.org/judea/Richard-Coudenhove...Vienna-1925.php
11-10-2009, 01:12 PM,
(This post was last modified: 11-10-2009, 04:42 PM by SirBustaBear.)
RE: Interview with Richard Coudenhove-Kalergi: the founding of the Paneuropean Movement (Vienna, 19 November 1971)
Józef Retinger and the Holy Roman Europe
WHAT'S BEHIND EUROPEAN UNIFICATION

Some facts about Joseph H. Retinger and his Activities, 1888-1960
W.Chr. Taverne

Quoted from:
W. Chr. Taverne: Wat niemand schunt te weden…
J. H. Retinger en het streven naar een verenigd Europa.
Hoogeveen 1987, p. 66-67
It might be best to start quoting from some 'Letters' written to The Times after his passing away:
"Joseph Retinger, who died yesterday, was first known as a writer on Conrad & his work. During the war he was called the 'Eminence Grise' of General Sikorski and became famous for his parachute drop in Poland when 56 years of age.... He was a selfless dedicated man who never put himself forward but was content to bring together men who he believed would share his ideals and could work together to further his creative political conceptions. He was that very rare creature, a 'political promoter', and once a new idea was launched and had taken root was content to help it along actively from the sidelines, leaving to others the limelight of actual leadership. It was he who inspired the creation of the European Movement which brought about the Council of Europe. The whole development of the idea of the unity of Europe, the creation of the Common Market and EFTA are but some of its political consequences...
Apart from the European Movement, whose aims are largely propagandist and political' (!) 'it was he who created the European League for Economic Cooperation.... He inspired the setting up of the Central & Eastern European Commission of the European Movement.... He later founded the Bilderberg Group....These meetings brought together leading statesmen who could discuss their problems in privacy and exchange points of view with men of Actual eminence in other countries. It was Joseph R. who brought them together and knew them all personally. I have travelled a great deal with J. R. his friendships in high places were extraordinary. I remember in the USA his picking up the telephone and immediately making an appointment with the President and in Europe he had the complete entree in every political circle, as a kind of right, acquired through the trust devotion and loyalty he inspired... With his passing, Poland has lost a great patriot and Britain and the free world the inspirer of causes that will have far-reaching intioences on the history of our time'
(Sir E. Beddington-Behrens)
'When a European Confederation comes into existence as most assuredly it will, it will owe much to his ( Retinger's) pioneering work. Ever loyal to Poland, to Sikorski and to his friends, of whom I am proud to have been one, his final loyalty was to the conception of a United Europe....'
(Lord Boothby).
'Sir E. Beddington-Behrens and Lord Boothby have rightly stressed Dr. Retinger's work for European Unity. But in recent years he had come to believe that Europe and N. America did need each other and he had worked as hard and as conscientiously for the Atlantic Community as he had previously worked for the European Movement. In the year preceding the Atlantic Congress held in London 12 months ago, Dr. Retinger was a member of the international organising committee. Members of that committee learnt to value his advice and to appreciate his remarkable knowledge of people in public life in the Atlantic countries....He remained 'stateless' because he believed it gave him greater freedom in his international missionary work'
(Mr.G.de Freitas)
THE TIMES 13-6-1960
JÓZEF HIERONYM RETINGER was born in 1888 in Cracow where his father was a lawyer. From German stock. Friend and legal adviser of Count Zamoyski, a very wealthy man. Joseph's father dies shortly and Count Zamoyski becomes his guardian. Zamoyski lived in Paris & it is at the Sorbonne that Retinger starts his studies (Arts Faculty), 1906-08. Meanwhile he also enrolls at the famous Parisian College of Political Science, be it more or less in secret. Thanks to Count Zamoyski, Retinger gets in touch with the leading cultural and political people, among them many Polish gentry, In 1910 we find him in Munich where he attends a course in Psychology. About the same time he starts his political career - not so much contrary though lo his first desire: that of entering papal diplomatic service. Although he did enrol in a seminary, yet he withdrew as Zamoyski offered to send him to Paris and pay his studies over there ('The world is more attractive than the here-after', according to Retinger!). In the meantime nobody knows how much he actually did in favour of Rome.
From now on his life is one long continuation of travelling: in 1910/11 a Polish Information Office is started in London and Retinger is charged with the care of and for it. In 1912 he is in Cracow for his wedding with Otalia Zubrzycka, a union which lasts only some 6 years. While the couple is still more or less happy, they spend the summer holidays in Poland on the estate of Otalia's mother, together with the Conrad-family of Kent. Then World War I starts and Retinger succeeds in leaving Poland. He carries with him a number of very important documents and letters, among others one from archbishop Bilczewski to his colleague at Westminster (cardinal Bourne).
Moreover he gets instructions from Bilczewski and the documents handed over to Retinger bear the signatures of some 20 leading Polish personalities. Thanks to these papers, Retinger is able to prove that he is the one in charge with full authority to act as some sort of Polish ambassador anywhere. Shortly after having completed his mission to cardinal Bourne, we find him in the USA thanks to Prime Minister Asquith. Before long he is engaged in secret negociations of behalf of a separate peace with Austria.
This is a very complex subject as the so-called Habsburg- or Ledochowski scheme has to do with is. This scheme meant to arrange for the House of Habsburg a federation of Roman Catholic countries in Central- and Eastern Europe. Though this scheme stemmed from the General of the Jesuits, Count Wlodzimierz Ledochowski (himself from Polish soil), yet it also proved to be the dream of the later Pope Pius XII. In order to achieve this much-valued aim, Retinger becomes one of the negotiators, together with Prince Sixte of Burbon-Parme and the Ceneral of the Jesuits. So Retinger went to see the general in his Jesuit stronghold, the Castle of Zizers, near Chur. As Count Ledochowski belonged to the circle of friends of Retinger's guardian, he was very kindly received and moreover did he prove the most suitable negotiator.
And for those who might think that this story belongs to the past, I just have to remind you of that European Parlament member Otto Habsburg, who is still pursuing the desire of the Ledochowski/Habsburg-scheme, is having the aid of that Spanish lay organisation Opus Dei. But not only Otto Habsburg has to do with Opus Dei, even though he is at the head of its Information- and Documentation Bureau in Madrid for many a year already. No, few people know the influence of Opus Dei in 'Europe' : It was the American Professor Dorn who, during the early fifties, once a fortnight travelled between Paris- Rome- Brussels- Bonn in order to instruct those 'Europeans' who belonged to Opus Dei, in the course to follow. And almost all statesmen (Adenauer, R. Schuhman, Bec, Bidault, De Gasperi and v. Zeeland) active for 'Europe' at that time, belonged to this Spanish lay institution!
Before long Mexico is added to Retinger's list of activities and I am tempted to tell more about it if only I had the space.... Apart from Mexico, he also labours on behalf of Poland and he visits the USA where he sees his friend Felix Frankfurter. Frankfurter (of Austrian descent) is much helpful in giving him a.o. a (Polish!) passport. The labour movement is another cherished subject and Retinger busily cooperates with Morones of Mexico, one of his special friends, to organise this internationally. Travelling between Mexico, the USA & Europe, we meet him in Mexico eleven times within a 17-years period (1919-1936).
Married for the second time without becoming much happier, he gets involved in a semi-clandestine organisation on behalf of European unity (with his future father-in-law E.D.Morel), but as Morel suddenly dies, he has to postpone these activities. Meanwhile World War II frightens Europe and another series of activities start-this time mainly in London. It is Retinger who, together with Sikorski organises the foreign politicians in order to prepare for European unity as soon as the war will be over. Thanks to Retinger, the BENELUX is born in the Savoy (Sept.5, l944) but even more important is the opportunity used by Retinger to meet all sorts of international leaders. Some words with Averell Harriman are sufficient for being sent to the USA and thanks to Retinger's explanations over there, the Marshall-scheme is born, with Dean Acheson as the secondhand-inventor. Journeys to Poland are also being made by him, and after-war developments are prepared. In May 1948 the massive European Congress at The Hague takes place, with Retinger nicely hidden behind many better-known personalities.
Yet one of his friends (Denis de Rougemont) informs us that it actually was Retinger who was behind this Congress. Three very important subjects still need our attention after the Hague Congress dealt with these, e.g. the need of some world federation for which a United Europe was needed first; then a necessary change of historical schoolboys, as the children should be taught history from a much broader European view, not just from the national side; and last of all, the need of introducing a European passport.
As 'many of the European leaders drew from their Christian convictions inspiration & ardour in their work for European Unity' (we noticed the share of Opus Dei!) Retinger wanted to go on with religion too. In May 1950 he arrives in Rome, together with Canon John Collins. Accompanied by Dr. Luigi Gedda, leader of the powerful Italian Catholic Action and intimate friend of, and medical advisor to, Pope Pius XII, they are able to explain to the Pope why they need his advise and help. A very positive start changes then in a most negative papal attitude, and Retinger prefers to forget as quickly as possible about ecumenism on behalf of 'Europe'. Yet, kind Dr. Gedda keeps supporting Retinger between 1950 and 1960, every time the latter comes to Rome. What his activities were then and there, nobody is able to tell.
Another new development by Retinger deals with Culture. The desire to introduce this into Europe causes Retinger to get in touch with De Rougemont (Feb. 1948) and after two years of hard work the European Cultural Centre is started (Geneve). As the ECC does not develop properly, it is being supplemented by the European Cultural Foundation (chairman Prince Bernhard then) which finds a home in Amsterdam. Culture being a very important subject, the conclusion of the activities displayed is that culture is being used in the wrong way, e.g. to destroy national values like national history in order to propagate 'European' culture - on behalf of Rome!
The Bilderberg-movement sprang next from Retinger's brain and to save unnecessary use of paper, the reader will find the list with Bilderbergers mentioned on page 45. This movement started because Retinger found there was a considerable amount of anti-American feeling among Europeans, and through Bilderberger meetings and bringing those of the two continents together he trusted that feeling would disappear. Well, in spite of the incessant succession of Bilderberg-meetings, the American Ambassador in London, Charles Price, only a couple of months ago (1987) complained about the strong anti-Americanism nowadays - so all without avail? No, but there is something else behind Retinger and his activities - and that I wanted to show!
---
Quote:Perhaps the most important member of the Bilderbergers, a foreign policy body of the Committee, was Joseph Rettinger [sic], said to have been its founder and organizer, whose annual meetings have delighted conspiracy hunters for several decades.



Rettinger was a well-trained Jesuit priest and a 33rd Degree Freemason.



[...]

PAST AND PRESENT MEMBERS OF THE COMMITTEE OF 300

[...]
Rettinger, Joseph.

Dr. John Coleman, "Conspirators Hierarchy: The Commitee of 300"
Quote:"The single most important personality connected with the birth and creation of the Bilderberg Group is Joseph Retinger (also known as L'Eminence-His Grey Eminence). Retinger had a colourful, lifelong career that raised him to the top of the world power élites. ...

Retinger, as a Catholic, was viewed by many as an agent of the Vatican, acting in liaison between the Pope and the Father-General of the Jesuit order

" [global-elite.org/index.php/Bilderberg_Group]


Though people persist in calling Retinger an eighteenth-century man functioning in the twentieth century, he was not that at all. He cam,e straight out of the Renaissance. Instead of the sceptical, précieuse attitude typical of the eighteenth century,

his Jesuitical conviction that the end justified the means, and a Borgian aptitude for intrigue

; but the ends he sought were never selfish. They were good.

http://www.bilderberg.org/bildhist.htm#Memoirs
Quote:

JHR thought about becoming a priest and enrolled in a seminary

, but withdrew after concluding that the requirement of celibacy was going to be a problematic hurdle.

http://home.teleport.com/~flyheart/retinger.htm
Quote:1917 When Catholic Austria-Hungary was evidently about to fall, the Vatican sought to shore up the defenses against Orthodoxy. Bishop Jeglich of Ljubljana and the "Superior General" of the Jesuits, General Halke von Ledochowsky, tried to create a Slav Catholic empire. (The Ledochowsky Plan would become an obsession of Pius XII.)

A similar plan was put to Clemenceau in 1918 by Josef Retinger, the Jesuit intriguer and founder of the European movement and the Bilderberg group. For such intrigues, mainly on behalf of the Vatican, Retinger was expelled from Allied countries during the First World War.



http://www.thetrumpet.com/index.php?page=article&id=195
Quote:The single most important personality connected with the birth and creation of the Bilderberg Group is Joseph H. Retinger (also known as L'Eminence-His Grey Eminence). Retinger had a colourful, lifelong career that raised him to the top of the world power élites. At his funeral in 1960, Sir Edward Bedington-Behrens said:
"I remember Retinger in the United States picking up the telephone and immediately making an appointment with the President, and in Europe he had complete entrée in every political circle as a kind of right acquired through trust, devotion and loyalty he inspired."



Retinger, as a Catholic, was viewed by many as an agent of the Vatican, acting in liaison between the Pope and the Father-General of the Jesuit order.



One of Retinger's renowned achievements in European politics was the founding of the European Movement, leading to the establishment of the Council of Europe on 5th May 1949. With its headquarters in Strasbourg, the Council Executive Committee provided Retinger his first major platform for his expansive ideology. From his earlier days at the Sorbonne, Retinger believed in greater European unity, both in military and economic terms. It was also at the same time when

his interest in the guidance of the Jesuit order

manifested itself. He spent a great deal of his time fulfilling these ambitions.

He suggested to Premier Georges Clemenceau a plan to unite Eastern Europe-involving the merging of Austria, Hungary and Poland as a tripartite monarchy under the guidance of the Jesuit order. Clemenceau, doubtful of the Vatican-inspired plan, rejected Retinger's proposal outright. This plan labelled Retinger, thereafter, as a Vatican agent.



http://www.mega.nu:8080/ampp/bilderberg.html
Quote:* "Retinger was brought to America by Averell Harriman (Council on Foreign Relations), then U.S. ambassador to England, where he visited prominent citizens such as David and Nelson Rockefeller, John Foster Dulles, and then CIA Director Walter Bedell Smith. Previously, Retinger had formed the American Committee on a United Europe along with future CIA Director and CFR member [and Freemason] Allen Dulles, then CFR Director George Franklin, CIA official Thomas Braden, and William Donovan, former chief of the Office of Strategic Studies (OSS), forerunner of the CIA" [Marrs, Rule by Secrecy, p. 40]

http://www.users.globalnet.co.uk/~emcd/TheFrontOfIt.htm
Quote:The Jesuit adjutor Joseph(not Ratzinger) but Retinger was behind the founding of the European Movement which was the precursor to the EU and initiated the foundation of the original Bilderberg Conference in 1954. He wanted to be a Jesuit priest but the darn celibacy kept that from happening.

http://z13.invisionfree.com/THE_UNHIVED_MI...showtopic=32948
Quote:Retinger was not a Freemason or a Jesuit priest, but he was a Knight of Malta. He was also involved in creating the EU.

http://z13.invisionfree.com/THE_UNHIVED_MI...p?showtopic=250
Origins Of The Bilderberg Group Meeting Show Possible Links To The Knights Of Malta
http://www.roguegovernment.com/Origins_Of_The_Bilderberg_Group_Meeting_Show_Possible_Links_To_The_Knights_Of_Malta/15629/200/13/13/Y/M.html
---
Quote:"Inter-European unity has long been a quest of the Habsburg dynasty. Otto himself often speaks of the

similarities between the Holy Roman Empire of the Middle Ages

and his view of a coming

United States of Europe

.

[...]

In 1989, he said to the European Parliament: "The

[European] Community

is living largely by the

heritage of the Holy Roman Empire

, though the great majority of the people who live by it don't know by what heritage they live."

http://www.pehi.eu/organisations/Le_Cercle_membership_list.htm
Quote:The significant presence of Paneuropa-affiliated Opus Dei members and Knights of Malta, together with statements of the Vatican and Otto von Habsburg, clearly indicate there's an agenda in the background to some day bring about a

new Holy Roman Empire

with its borders stretching from the Atlantic to the Black Sea and from the Baltic Sea to North Africa.

http://www.pehi.eu/organisations/Le_Cercle.htm
Le Cercle and the struggle for the European continent
Private bridge between Vatican-Paneuropean and Anglo-American intelligence
http://www.pehi.eu/organisations/Le_Cercle.htm
José Manuel Barroso: European Union is an "empire"
http://www.youtube.com/watch?v=-I8M1T-GgRU&hl=de
http://www.users.globalnet.co.uk/~emcd/TheFrontOfIt.htm
http://www.users.globalnet.co.uk/~emcd/TheFrontOfIt.pdf
Video: Roman Empire Rules Today
http://concen.org/tracker/torrents-details.php?id=2153
---
Capitoline Hill, Rome, October 29, 2004 - Signing the new EU constitution in the Appartamento dei Conservatori, Sala degli Orazi e Curiazi, under the blessings of Pope Innocent X. Pope Innocent X refused signing the Treaty of Westphalia at the end of the Thirty Years' War in 1648 which acknowleged the influence of the Protestants and secured religious liberty. The signing takes place in the same hall as the
Treaties of Rome
, which are so important for the founding of the European Union. Knight of Malta Tony Blair signs the new European Union Constitution.
Mary's Stars on the European Flag
On December 8, 1955, on the Catholic "Feast of The Immaculate Conception of Mary Our Co-redeemer," the European Ministers' delegates officially adopted the European flag, twelve stars on a blue background, designed by Arsene Heitz, who, today, is an octogenarian artist in Strasbourg.
Recently Heitz revealed to a French magazine the reason for his inspiration. According to the artist, he thought of the twelve stars in a circle on a blue background, exactly the way it is represented in traditional iconography of this image of the Immaculate Conception. A devotee of the Virgin Mary, Heitz never misses praying a daily Rosary. Heitz noticed the words of the Apocalypse, "And there appeared a great wonder in Heaven; a woman clothed with sun, and the moon under her feet, and upon her head a crown of twelve stars," Revelation 12:1. As a devout Catholic, he applies this to Mary, whom Catholics worship.
The European Union's flag consists of twelve stars, inspired by the halo of twelve stars that appear around the Madonna in Catholic pictures of her. And, that is how a profoundly religious symbol came to be the official European Union flag.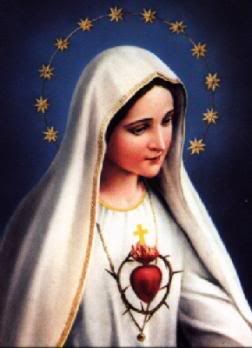 A former secretary-general of the Council of Europe, Leon Marchal, affirmed that the stars are those of "the woman of the Apocalypse." Enthusiastically he explained, "It's wonderful that we have gotten back to the Introit of the new Mass of the Assumption. It's the corona stellarum duodecim (the crown of the twelve stars) of the woman of the Apocalypse." The Catholic Church has always claimed that she represents the Virgin Mary, "the mother of God." This means that the European flag is a Catholic flag.
The EU, which now has fifteen member countries, has confirmed that the number of stars will always stay at twelve, which indicates that the stars do not represent countries. A leaflet, "Building Europe Together," given to visitors to EU headquarters in Brussels, says: "The European flag (is) a shared flag, blue with twelve gold stars symbolizing completeness. The number will remain twelve no matter how many countries there are in the European Union."
The Marian (Mary worship) symbol of twelve stars is on every license plate of the European Union and every banknote in Europe. Vatican-issued Euro coins have the Pope's image with twelve stars.
So important is Mary in Catholic worship, that on September 2, 1958, Archbishop Montini of Milan (the later Pope Pius XII) released on the mountain Serenissima a twenty-meter high statue of Mary and called it "Our Beloved Lady, Ruler of Europe." Pope Pius XII called Mary "Mother of all Nations" and called on March 3, 1953, for a reunion of nations. Bishop Dr. Graber said on September 9, 1978: "I've asked for a Marian European International. . . . We pray and ask in silence that the western world one day will be as it was: a IMPERIUM MARIANUM [Mary's Imperial Kingdom]."
Source (now restricted):
http://www.spirituallysmart.com/blair.html
After the signing the state leaders gather at the Palazzo dei Conservatori, while the broken head and arm of emperor Constantine, founder of state Christianity, stands by. Here you have an allmighty impression as well. The Latin inscription: "Europaeae Rei Publicae Status"
Before the signing the state leaders listen to speeches right in front of a big statue of Julius Cesar, over which hangs a small painting of the Virgin with the Child.
---
Interview by Jon Rappoport with Richard Bell, historian of money, retired manipulator of stocks.
Q: So, foreign investors are accelerating their withdrawal of money from the US.
A: A significant amount is being shifted to Europe.
Q: So is this current stock market debacle an OP run by the European Union (EU)?
A: That is true, but too simplistic. Dr. Paisley points out that the EU has been a stepoperation.
Q: Meaning?
A: First came the Common Market. Then we had the European Community. Now we have the Europe Union. At each step, people were told, "This is a good and limited concept." That was all a joke. It was always about creating one giant Eurosuperstate, under the control of a few people.
Q: And so?
A: So, the Vatican has been everywhere during this stepoperation, urging the parties forward, promoting the idea of UNITY. Which is always a winner. People like that concept. Paisley points out that unity is used as a soft hammer to make people forget who is doing the wrong thing and who is doing the right thing. UNITY as a tool of propaganda means: No one is really bad. Make alliances with everyone. Melt into One. That is a disastrous political policy.
Q: And the Vatican is pushing the mission of the EU because?
A: Because making friends and influencing people and playing nice and urging unity IS the current strategy of the Vatican, in these times. It is using that soft approach to create bigger political structures, over which it can exercise control. People forget that a dedicated Roman Catholic, if he is at the head of a large organization, can easily function as a front for the Vatican. If you have ten men like this, all of them powerful,
all of them who have been helped by the Church into their positions of power, then
you are looking at a formidable controlling force—which owes its allegiance to the Vatican.
Q: Name such a man.
A: Jacques Delors, who was president, at one point, of the European Commission. He met with Dr. Carey, the Archbishop of Canterbury, and they spoke of this "shared spirituality" that was needed. But that term, for the Vatican, is code for "the one and only Church." Its Church. People shrink away from realizing that the Vatican has ALWAYS considered itself the rightful ruler of Earth. I can't be any plainer than that. And all this footsyplaying with other religions and churches is just drivel, behind which lies the real agenda. Paisley, in his article, quotes a letter from the Pope John Paul II to the Archbishop of Prague—"We cannot simply conceive of Europe as a market of economic exchanges or a place for the circulation of ideas but, above all, it must be a genuine community of nations, which want to unite their future and live like brothers, respecting the cultures and spiritual traditions…" You KNOW this is a fraud, because if there is one thing the Roman Church, behind the scenes, does NOT respect, it is the "various spiritual traditions." That's the soft soap. That's the New Agey stuff, the warm fuzzy. That's the front behind which the Vatican licks its chops, as it contemplates an EU which is fully organized and ready for further takeover from Above. Above, being the Vatican itself. This is no joke. This is almost two thousand years of plotting and conniving and working toward the goal of Rule. But people reject the idea because they think that the Vatican is weak and lost and can never command billions of people to walk into a Church and fall on their knees. But you see, the Vatican, above all, has patience. The longterm goal has thousands and thousands of steps. I know this from numerous contacts over the years. Near the end of my career on Wall Street, I used to tell my friends—changing a quote I had once read—
"The Jews who are not Jews run Wall Street at the pleasure of the British financiers who have an illusory idea about the primacy of England, and they in turn serve at the pleasure of the Vatican, which remains in the shadows."
It's more or less a straight line, and the top of the line gives you the group which appears to be the weakest. Appears. That's the operative word.
If you read Tupper Saussy's fine book, Rulers of Evil, you will discover that the first translation of Suntzu's classic treatise, Art of War, into a Western language was made in 1772, in French. By JosephMarie Amiot, an astronomer in the court of the Emperor of China. Amiot was a Jesuit priest. The Jesuits know all about appearing weak into order to win, and they are perhaps the world's greatest appliers of Suntzu.
And they are in it for the long haul.
Q: Then what function, in this scheme, does the EU play?
A: The shill.
Q: Explain.
A: The shill parks himself near the con man and makes it seem like the game can be won easily. The shill is the man who makes it look easy. I stretch the meaning of the term a little. But a shill is a bright penny that attracts attention. The EU represents UNITY. Unity is the bright penny that exclaims, "Look! We can do it. We can all live in harmony. All we need to do is sit down and talk long enough, and all our divisions and conflicts will be solved." The shill draws the crowds. The shill makes the crowd think there is something very good here. The shill is the magnet, if you will, that sucks in the customers, the adherents, the loyal ones, the people of hope. It's the oldest trick in the book. And the people who play this trick on a grand scale are very, very clever. They want total domination, but they carve out a circuitous route, because that is the way to arrive. They set up a front which is the shill, and the shill looks very, very good. I don't mean to offend anyone by this, but for the Vatican, Jesus is a shill, the ultimate shill. Of course, their version of him is so far from the older concept it isn't even funny. But I digress.
Q: So you're saying that the Vatican looks for a group that can appear to be very, let's say, humanitarian, and it uses that to attract followers.
A: Of course. What do you think they spend their time doing? But in their secret "catechism," creating groups which appear to do good works is really the creation of shills. That's half of what the Vatican DOES.
Q: People at large would appear to be quite hypnotized NOT to believe this.
A: That's why I don't like to talk about it too often. It's frustrating. People look at me like I've stepped on their precious cat.
Q: Okay. Let's take this a step further. How about this? "The Vatican, working through certain players in the EU, have been making war on the US stock market."
A: Now you're clicking.
Q: And the motive is?
A: To weaken anything powerful that is not completely within the circle of power of the Vatican.
Q: Even if such weakening brings about chaos.
A: Especially if it brings about chaos. The very atmosphere in which the Vatican thrives. Chaos ALWAYS equals new followers who are looking for a way to assuage their fear.
Q: You're saying this is just a current OP that follows along with a very old strategy.
A: A strategy in which the Vatican is the master.
Q: Now, in your years on Wall Street, did you run into people who knew all this, who saw the larger dimensions of the game?
A: I did. Mostly, they kept their mouths shut. Essentially, you're asking me, "What does a midlevel or lowlevel player in an ultimately corrupt game do when he discovers a few of the larger dimensions of that game?"
Q: Well, you could say that question applies, in a sense, to all of us, if you stretch the meaning a little.
A: Exactly. That IS the question, isn't it? We may not be willing and conscious participants in the direction the game is going, but we are in the game, one way or another. I myself WAS a man who twisted the truth to maneuver money in certain ways. And finally, because I was very bullheaded, because I was very selfish—it took me quite awhile to wake up and get out of my own trap.
Q: Here is another Paisley quote.
"Deliberate engineering to create the coming about of the European Union provides an enormous opportunity to develop and extend the influence of the Church of Rome. Remember, it is Roman Catholic laymen who, from the beginning, were behind the formation of, and today continue to push the growth of, the European Union."
A: And look at something else. What is one of the most important economic wars for market share on the planet?
Q: The one between the US and what is now the EU.
A: Yes.
Q: Part of the reason the EU was formed was to give a Europe a chance to compete with the US in that area.
A: Yes. And, situated above all this, its sights set on weakening that "far too independent nation," the US, has been the Vatican. And one step in that weakening operation is the current trashing of US
corporations and the stock market. Which, covertly, was an OP launched by the EU, behind which firmly stands the Vatican.
Q: Layers of the onion.
A: Right.
Q: There are undoubtedly other forces at work in the weakening of the US trading markets.
A: There are. But the big unnoticed one—that's what I'm describing.
Q: Let's get back to the shill. Who stands behind him?
A: In a very mild situation, it's just a con man. But when you get really nasty, you're talking about somebody who operates like a demon.
Q: Do you mean that literally?
A: No. But other people would. I'm talking about somebody who OWNS somebody else.
Q: Take a very loyal Roman Catholic businessman of great wealth.
A: Yes. One who owes the Church and its agents all he has—because they engineered a lot of it for him. This is a kind of shill, who attracts people to his side. And behind him is the possession force—the people who own him, who, if they want to, can destroy everything he holds precious. And the businessman knows that. Somewhere inside him, he knows it and is afraid of it. The shill and the demon.
Q: A good title for a book.
A: Yes.
Q: Along this line, here is another quote cited by Paisley. This is from Paul Henri Spaak, who has been called one of the founding fathers of the Euro Common Market, the forerunner to the EU:
"We [Europe] do not want another committee. We have too many already. What we want is a man of sufficient stature to hold the allegiance of all people [of Europe] and to lift us out of the economic morass in which we are sinking. Send us such a man and be he god or the devil we will receive him."
A: Yes. I read that quote with great interest. It gives off quite a bit of flavor, doesn't it?
Q: Yes.
A: All sorts of resonance. On one level, it almost seems to be a call for a Satan. On another level, for a fascist dictator waving a wand over Europe.
Q: The Vatican did support Hitler in certain ways and felt it could control him.
A: And that was so. If Hitler had conquered Europe, the Vatican, with its farflung and very wellplaced agents of distinction, would have controlled him sooner or later. Hitler, despite some of his statements, was quite enamored of the Church.
Q: What other resonances do you get from Spaak's statement?
A: He is asking for someone like a Pope, if a Pope could move out of being a figurehead into real power day to day. I also get the sense that Spaak is willing to roll the dice against any odds because he feels, at that time, that the future of Europe is in a very desperate situation.
Q: So the formation of the EU was really a desperate move, in some ways.
A: At the level of businesspeople and financiers and bankers in Europe, it was. At the midlevel. And when you are in that frame of mind, you are willing to do anything to regain the kind of power you feel is rightfully yours. Your solution is ALWAYS for a form of fascism, regardless of what face you put on it. You have to remember that.
Q: The EU was a fascist movement.
A: Covertly, yes. Absolutely. Whether you have one man standing on a balcony shouting to crowds, or a bunch of men quietly sitting in a room making all the really important decisions, it is fascism.
Q: Paisley also quotes from—
A: You mean the Sunday Telegraph article?
Q: Yes.
A: I have it here.
Q: Read it.
A:
July 21, 1991. The headline was, "Hatching a New Popish Plot." It reads, "Karol Wojtyla [the Pope] is calmly preparing to assume the mantle which he solemnly believes to be his Divine Right—that of the new Holy Roman Emperor, reigning from the Urals to the Atlantic."
Q: What do you think of that?
A: If you insert the word "secret" in there, I think they've got it right. You see, we live in an age when humanitarianism is the—
Q: Propaganda foundation stone.
A: Right.
Q: Why is that?
A: Because so many popular movements aimed at freedom and justice have filled the landscape. So the strategy of the controllers is to go with that. Just like in judo. You go with the motion of your opponent. You don't try to lash out at it. Part of the Art of War.
Q: You become the great peacemaker and mediator.
A: That's right.
Q: That's the ultimate trump card.
A: And the Vatican has a long history of being able to play that card.
Q: Does there come a time when, even if enough people see through the crap, it's too late?
A: No. But you do have to do certain things.
Q: Like what?
A: You have to expose the propaganda. That's number one. You have to do that. Then you have to build alternative structures. All sorts of them. And you have to forget about asking the bad guys for help. The whole idea of being nice to people who will do everything they can to control you never works. And if you understand the real motives and intentions of the enemy, you WON'T make that mistake.
Q: You won't assume that niceynice will turn them around.
A: Correct.
Q: The shill and the demon.
A: The front and the back.
Q: Some stories about demons have them feeding off and enjoying the emotions and pain and troubles and suffering of the people they lock on to.
A: I think that's a fairly good description of the Vatican down through history. If you add in, bilking the people of their money and possessions.
Q: Then it would seem a little curious to have the Vatican calling demonic stuff the evil that must be opposed and defeated.
A: I think that's characterized as a Cover Story. You'll find it in a number of areas.
The enemy you prop up or invent to solidify your group is really YOU. It's pretty clever.
Q: Several writers have suggested the Vatican has fallen into being the epitome of devilishness, within its own walls.
A: I enjoy those stories. Because I think they miss the point that the Vatican has been about deception and control since its beginnings. After all, why bother to build a global organization to dominate a path that is supposed to lead to personal salvation? Why not just mark out the path and let people walk it on their own? If they want to? You can't force someone to take that path. If you do, you get a false result, a fake result.
Q: So you feel that secret societies are important in the telling of real human history. Since the Vatican is really such a society.
A: Yes, that's right. I'm a person who's come to conclude that people really do sit down and meet in rooms, that even if they share common goals—and they do—that's not enough to mount longterm projects and operations. It's just common sense. If you fight a land war, don't you have meetings? Don't you iron our strategy? Don't you hide that strategy? Don't you use many agents in the intelligence field? Don't those agents pretend to be something other than what they are? Imagine what would happen if the generals just assumed they all had shared objectives and proceeded on their own. It would be a moronic thing from the outset.
The Jesuits are the intel arm of the Church, in exactly the same way that the CIA works.
They obtain information, and they also do covert OPS. I have met more than a few very, very bright Jesuits who are in the financial field. They certainly know what they're doing. They certainly keep their real objectives close to the vest.
[...]
Q: Getting back to the Vatican—
A: Yes. Getting back to that, part of the big psychological OP of the second half of the 1900s has been the idea that everyone is good and should be approached that way. This is one of the front ideas of the Roman Church, in its latest fake incarnation of "share and care." It's just a ruse, but it certainly screws up whole civilizations.
Q: I think one reason people love soap operas so much is because they give us a smattering of characters who are evil and like being evil. It's right out there.
A: I'm sure that's true.
Q: We've just seen the $60 billion merger of two drug companies, Pfizer and Pharmacia. This makes Pfizer, which was already the largest drug house in the US, even bigger.
A: There are many reasons for these mergers, but looking at it from the top of the basic control agenda, it's all about shrinking down the number of people who have any say in what happens to us. In empire building, the people who really sit behind the scenes want larger and larger structures to emerge, because, if they can control THOSE, they can control the whole show. If you have 4 million important power groups on the planet, then controlling the planet is going to be hard. But if you can shrink that number of groups down to a hundred, you can move in and work on the leaders of those hundred groups—the people who aren't already in your pocket—and you can begin to move them into your orbit. This is a basic fact that many people seem to understand, but they forget it or ignore the mechanics of how it works, and they move on. They shouldn't move on. That's IT.
Q: As we talk here, I get the feeling that you have some experience with Vatican recruiting methods—undertaken, of course, through many lowerlevel cutouts.
A: You're right. I do. It's in the area of making layCatholics into agents. I have known several people who were approached. The basic routine went like this. A Catholic businessman in a large city is contacted by the local chapter of one of those Catholic groups. There are scores of them. They have different names. They all seem benign or charitable or merely honorary.
Q: So this businessman goes to a meeting.
A: Sure. A lunch, a meeting. He ends up joining the group. He's already a successful man. Very energetic and ambitious. Wants to get ahead. So, after a year or so, an opportunity is placed in his path. One of his new friends in the group introduces him to a loan officer at a bank, and before you know it, he gets cash to expand his business. Things are starting to cook. This is a fairly slow process, and at every step the businessman is vetted. Loosely, because nothing has really happened yet. But after another year or two, he acquires a partner in a new venture. The partner is also a member of this layCatholic club. The new venture prospers. The businessman meets the local bishop. He is nominated for some kind of layman of the year award. He doesn't win, but his profile is raised. After years of not going to church, he now goes. He even receives confession once a month. After three or four years, he is introduced to a "financial expert" who is also from the same local group. The expert is really a Jesuit, but very few people know that. The Jesuit becomes his friend. He takes him on a trip to Rome, and they have an audience with a cardinal. Brief. On and on it goes. The businessman is vetted every step of the way. He buys into a construction company. He is now becoming rich. He doesn't think much about it, but his new lifestyle is really dependent on his acquired Catholic friends. And all they have done for him. He of course would never want to give up the new lifestyle. And now, on a business trip, he meets a woman in a bar. She is quite pretty and friendly. They sleep together. Every time he goes to that city on business, he meets her. Unknown to him, their meetings are recorded on videotape. The Jesuit friend, one day, manages to bring up the subject of this woman. Because the Jesuit friend knows her. He tells the businessman that she is a prostitute, and even though she may not have charged him any money, well—and so the businessman goes to confession and tells the story to his priest. And so on and so forth. And ten years later this man is really all the way in the pocket of his Jesuit friend. And in the case I'm describing, we eventually get to political office. Running for office. And winning. And down the road, with a lot of money in the bank, and many political favors later, this businessman is offered a post in a federal agency. Has to do with foreign trade. He takes the job, on the strong recommendation of his Jesuit friend. And finally, after several more turns of the wheel which I won't describe, this businessman becomes an ambassador. And is completely beholden. He takes orders, although he may not think of it that way. And he is an agent. He passes along information to his friend. Lots of information. And he becomes trusted. And now he is told of a larger program. It involves making the Church more prominent in the lives of many people. The expansion of the influence of the Churchbecause that's really what it's all about, isn't it? And this businessman joins another Catholic group, and is made a knight. The businessman is never considered to be an insider, because he has certain scruples. So he is used as he can be used. And one day, for three minutes, he meets the Pope, as part of a group. It is the culmination of his
adult life. He has passed along a great deal of information to his Jesuit friend, for years.
Q: What kind of information?
A: From diplomatic cables, for example. Some of these cables contained sensitive information. The Church has been interested in various delicate negotiations between the US and a foreign nation.
Q: So you're saying, multiply this by a factor of a few thousand such agents—
A: Many more than that.
Q: Okay—
A: And you get a tremendous flow of information coming into Vatican intelligence. And this is just information I'm talking about. There are also favors of all kinds. You know, if you read the first few pages of Saussy's book, Rulers of Evil, you'll see a list of Roman Catholics in government who have had key positions visàvis US foreign policy. Positions like CIA Director, National Security Advisor, Secretary of State, AmbassadoratLarge. And there is also a list of senators who run [or ran] the various subcommittees within the Senate Foreign Relations Committee—all Roman Catholics. Biden, Subcommittee on European Affairs. Sarbanes, International Economic Policy. Moynihan, Near Eastern and South Asian Affairs. Kerry, Terrorism, Narcotics, and International Communications. Dodd, Western Hemisphere and Peace Corps Affairs.
Q: Yes. I've seen the list. And that is just the beginning. Saussy goes on to name "virtually every aspect of secular life in America," as he puts it, which is run, as a government chairmanship of a committee, by a Roman Catholic Congressional representative. It's staggering. Here are just a few of those areas: "…insurance, housing, community development, federal loan guarantees, economic stabilization measures…gold and precious metals transactions, agriculture…flood control, minority enterprise…vaccines, drug labelling and packaging, drug and alcohol abuse…energy…bank regulation…"
A: And people in America still tend to think of Jack Kennedy as the only Catholic who ever really had huge secular political power in the US. Which, when you think about it, is a very undermentioned piece of fallout from the JFK assassination. Makes an excellent cover story, doesn't it? "No more major presence of Roman Catholic power in the secular US government. Jack is dead."
11-10-2009, 02:34 PM,
(This post was last modified: 11-10-2009, 02:40 PM by SirBustaBear.)
RE: Interview with Richard Coudenhove-Kalergi: the founding of the Paneuropean Movement (Vienna, 19 November 1971)
The Charlemagne Price
Why is the Charlemagne Price named this way?
Charlemagne created his empire as successor of the Roman Empire und was the initial pioneer for the Holy Roman Empire. Today he is viewed as the
"father of Europe"
.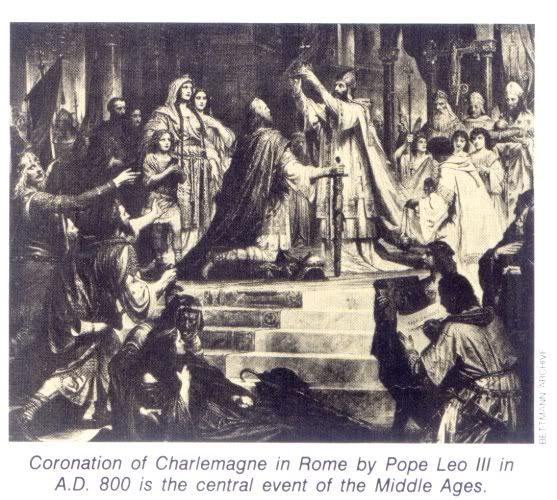 Who else reveived the Charlemagne price during lifetime? One of the pioneers of the European movement, Richard Count von Couldenhove-Kalergi, the founder of the Paneuropean Movement, co-founder was Otto von Habsburg ([Catholic] Order of Malta, Order of the Golden Fleece). The early beginnings of Coudenhove-Kalergi's Paneuropean Movement prove, that the whole thing was planned quite early.
It's interesting to note that Tony Blair and Bill Clinton both received the Charlemagne price in Aachen, because of their "resolute proceeding" in Europe during the Kosovo conflict. The Charlemagne price is of course named after Charlemagne and is given to all those who worked for the re-establishment of the Holy Roman Empire. The two men named earned their merits for destroying the Serbian-Orthodox sphere of influence. Blair converted to Catholizism and Bill Clinton studied at the Jesuit Georgetown University. Clinton's mentor was the insider Carroll Quigley who taught at the "Edmund. A Walsh School of Foreign Service", Edmund Walsh SJ being another influential Jesuit (-> Nuremberg trials, Stalin, etc.). And another interesting detail about Otto von Habsburg, the co-founder of the Paneuropean Movement:
Quote:Some fear that Otto [von Habsburg] would like to see

Serbia removed from the map

, as he blames this nation for the downfall of his beloved Austro-Hungarian Empire.

http://pehi.eu/organisations/Le_Cercle_membership_list.htm
Quote:Indeed, added the cardinal, it was a pity that Serbia had not been humiliated much earlier, as it could have been done, then, without such great risks attached. This declaration echoes the wishes of the pope who, over the past few years, often expressed regret that Austria-Hungary had neglected 'chastising' her dangerous neighbour on the Danube" (p.118)

[...]

The apostolic empire of the Hapsburgs, which they had encouraged to "punish the Serbians", had disintegrated, liberating the Orthodox Slavs from the yoke of Rome. (p.123)

[...]

Amongst the various causes which decided the Vatican to start the first world war, by urging the emperor of Austria, Francis-Joseph, to "chastise the Serbians", the main one was, as we have seen, to strike a decisive blow against the Orthodox Church, this hated and centuries old rival. (p.177)

Edmond Paris - The Secret History of the Jesuits
http://concen.org/tracker/torrents-details.php?id=879
Where was Coudenhove-Kalergi trained? At the Theresianum of Vienna, another Jesuit institution – the very same educational institution which has Wladimir Ledóchowski in its list of alumni. Ledóchowski was during his term of office as Superior General of the Jesuits from 1915 to 1942 probably the most influential man of the last century. Ledóchowski had relations to another pioneer of the founding of the European Union: Józef Retinger, a Vatican agent who was in a seminary for a while and allegedly a Knight of Malta. Retinger had the initial idea for the Bilderberger group, which pushed forth the founding of the Euopean Union on many levels, in the same way as Retinger himself through various European movements. Retinger visited Ledóchowski on his castle at Zizers (near Chur, Switzerland), where he probably received his marching orders for the time after World War II. Retinger was exposed as an agent of the Vatican when he approached Georges Clemenceau with the
Habsburg-/Ledóchowski scheme
, which planned to unite Eastern Europe-involving the merging of Austria, Hungary and Poland as a tripartite monarchy under the guidance of the Jesuit order. The house of the Habsburg ruled the Holy Roman Empire for a certain time and Otto Habsburg even fought in the European parliament for the dream of Coudenhove-Kalergi in recent times.
The Habsburg-/Ledóchowski-Scheme
http://www.mega.nu:8080/ampp/bilderberg.html
Ledóchowski instructs Zentrumsparty Erzberger to bring about a pan-German federation:
Quote:In 1917, Ledóchowski invited Mathias Erzberger, a deputy from the German Catholic Center party, to Zizers for a secret meeting.

Erzberger later reported to friends that the General had persuaded him to support

a strategy of destroying the unified Reich under the Protestant Kaiser Wilhelm II in order to bring the Catholic nations of central and eastern Europe together in a pan-German federation under a charismatic dictator

charged with subduing the communist menace from the east.

Dr. Hans Carossa, documenting the deputy's fact patterns after Zizers, observed that "Every political maneuver that Erzberger has engaged in since his discussion with the Jesuit General has only served to advance this Jesuit political strategy." (Manfred Barthel, The Jesuits, William Morrow, p. 254-5)

http://www.tuppersaussy.com/museum/html/writings/articles/15brienner.html
Germany and the Holy Roman Empire (free PDF)
http://www.thetrumpet.com/index.php?page=book&id=1189
http://media.pcog.org/en/Literature/GER_EN_0702.pdf
Blair's Charlemagne Prize Created By Nazis
http://www.freenations.freeuk.com/news-2003-12-11.html
Quote:BC - Why is the Vatican suddenly so interested in getting its hands on Mount Zion real estate?

AE - There's nothing sudden about it at all. In fact, the roots of the desire go back 1200 years to the time of

Charlemagne. He was the Vatican's military tool for converting Europe to Roman Catholicism

.

[...]

AE - Germany has never given up its dream of reviving the Holy Roman Empire. At the height of that empire, their greatest king, Frederick the Great, marched into Jerusalem and became the city's king.

Jerusalem was once part of the Holy Roman Empire and the dream is that it will be again.



http://www.conspiracyarchive.com/Commentary/Rome_Jerusalem.htm
11-10-2009, 06:21 PM,
---
Gone fishing

Posts: 7,572
Threads: 1,446
Joined: Sep 2008
RE: Interview with Richard Coudenhove-Kalergi: the founding of the Paneuropean Movement (Vienna, 19 November 1971)
pinned
Possibly Related Threads...
Thread
Author
Replies
Views
Last Post
Edward Snowden's First Television Interview
SiLVa
12
1,047
02-05-2014, 11:21 PM
Last Post: mexika
November 13 - 14, 2013
JFK
4
918
11-13-2013, 02:57 PM
Last Post: JFK
What You Need to Know About the British Israel World Federation Movement
pinkfloyd
1
675
03-27-2011, 01:51 PM
Last Post: FastTadpole
Glass house of Liberty Movement
mexika
0
585
08-11-2010, 10:08 AM
Last Post: mexika
The Lone Gunmen Interview with Dean Haglund by Alex Jones
TheTruth
0
551
04-26-2008, 06:38 PM
Last Post: TheTruth
William Cooper and Jordan Maxwell interview
maggot
1
504
08-07-2007, 09:04 PM
Last Post: byrd
RAW Interview
proteinspill
4
722
07-14-2007, 11:59 PM
Last Post: Rosebery
Interview To Leo Zagami By Lars Seglund
leo
1
649
04-04-2007, 12:05 AM
Last Post: Naila
Make Sure To Download Leo Zagami Interview- Investigative Journal Part 1 - 2-26-07
Permindex
17
1,586
03-13-2007, 03:52 AM
Last Post: Naila
Monday A.m. Interview: "the Probate Murders"
Janet Phelan
1
512
02-06-2007, 12:46 PM
Last Post: Ognir
Users browsing this thread: 1 Guest(s)