Thread Rating:
The Web, P2P Dying? death of web, p2p
08-24-2010, 08:37 AM,
joeblow
Disinfo Agent & thief

Posts: 596
Threads: 294
Joined: Sep 2009
The Web, P2P Dying? death of web, p2p
The Web, P2P Dying? death of web, p2p
http://www.wired.com/magazine/2010/08/ff_webrip/all/1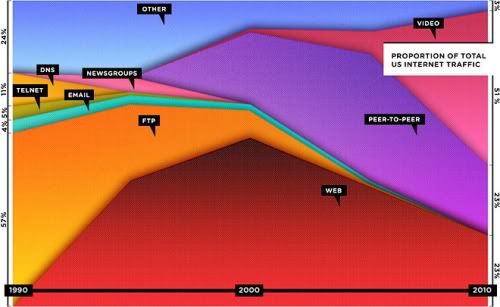 The image above is linked to an interesting discussion at Wired about the decline of certain sectors of the Internet and the increasing ascendancy of others. Worth reading while keeping in mind the alarms that Alex Jones and many others have raised about the potential imminent death of net neutrality.
09-05-2010, 11:35 PM,
rsol
Posting Freak


Posts: 2,490
Threads: 90
Joined: Aug 2006
RE: The Web, P2P Dying? death of web, p2p
if you consider the different types of people and their tastes. its not so strange.

That "decline" if you look at it in percentage it doesn't take into account the HUGE increase in numbers of people online. I suspect emails have increased all this time but on your little graph there it seems to be next to nothing.

The graph is set to bandwidth over everything. scaling it this way has no true account of the numbers. Video is by far the biggest increase in bandwidth because now its possible. In the 90s we were talking about 3KBs download max. no wonder no one bothered with video.

Youtube would of been an internet failure during the 90s. bit torrent would of been way too slow (thank god for DC++).

I see no "death" here, just evolution.
09-05-2010, 11:44 PM,
(This post was last modified: 09-05-2010, 11:45 PM by kevlar.)
kevlar
Banned

Posts: 708
Threads: 35
Joined: Dec 2008
RE: The Web, P2P Dying? death of web, p2p
There are still many people that think the internet is only http (protocol). I disagree with the article because percentage wise they might have a case but if it was just on numbers then every use would see an increase apart from telnet and ftp.

joeblow you seem a bit confused as to what alex jones and many others are referring to when they talk about death of the internet.
Users browsing this thread: 1 Guest(s)