Thread Rating:
The pope's visit to spain
05-23-2009, 04:32 PM,
drummer
Posting Freak


Posts: 2,134
Threads: 1,575
Joined: Aug 2006
The pope's visit to spain
Last month RATzinger was in Valencia, Spain, and here are some photos of his trip!
The creepy photo to the right is where the Anti-Christ Pope preached ... see the big Horus eye? This is Spain's City of the Arts and Sciences. I think it's the biggest eye I have ever seen! And of course ... a "Washington Monument" in the center of the photo! There's even a small pyramid ... see top-left (across the street from the four tall buildings)! This "plaza" is 100% occult Masonic!!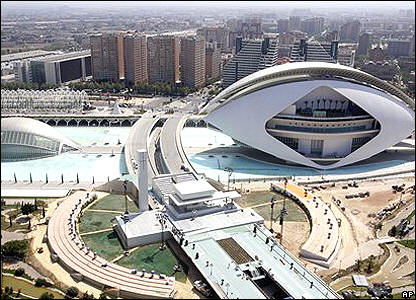 Below is a panoramic view of the City of the Arts and Sciences. The city is pictured full of Catholic patriots who came to listen to RATzinger's sermon about family values! I wonder what that's blue thing...?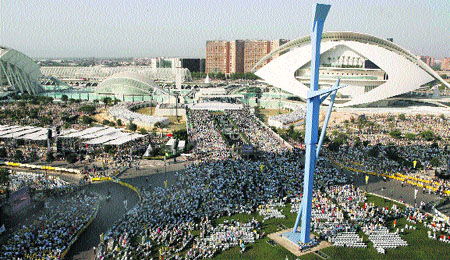 And there's the False Prophet himself, next to the creepy illuminati eye!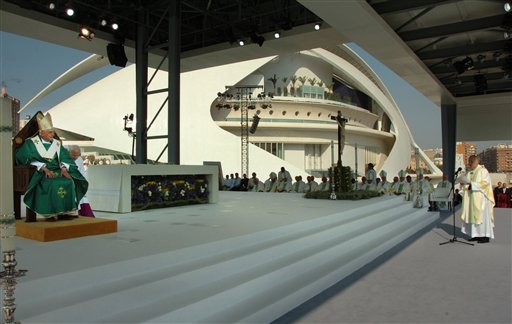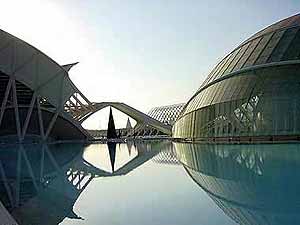 Boy, this place is full of eyes!
Now this is quite an interesting photo below:young people holding this banner with a triangle and the eye, except that the eye of Horus is replaced by the Pope's Dagon hat! That lady in blue doing the Satanic salute has no idea how correct she is!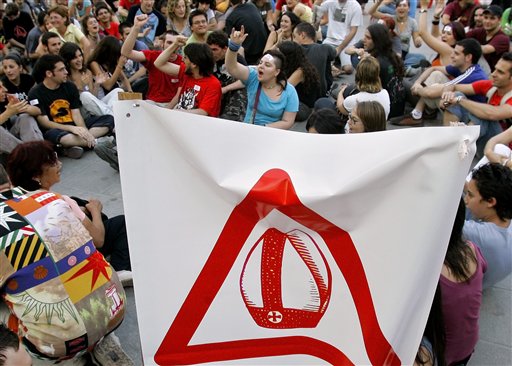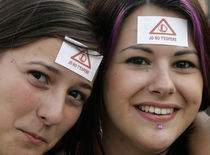 My Goodness... is Revelation 13:16 already here?!!
"Everything Popular Is Wrong" - Oscar Wilde
Possibly Related Threads...
Thread
Author
Replies
Views
Last Post
The Final Pope - High-grade Weirdness
CharliePrime
0
460
02-27-2013, 12:33 AM
Last Post: CharliePrime
Did Jesus Visit India?
Solve et Coagula
0
416
02-01-2012, 04:27 PM
Last Post: Solve et Coagula
Be Love Now: A Visit with Ram Dass
Solve et Coagula
1
589
05-07-2011, 11:11 AM
Last Post: Infinite
symbolism (pope 2010 uk)
drummer
2
2,067
09-18-2010, 09:33 PM
Last Post: Dunamis
Pope's No.2 claims sex scandal is linked to homosexuality not celibacy
h3rm35
5
1,283
04-25-2010, 08:40 PM
Last Post: grant
Richard Dawkins: I will arrest Pope Benedict XVI
drummer
3
896
04-11-2010, 11:29 PM
Last Post: Krusty
Pope Benedict XVI Pope condemns gay equality law
TriWooOx
0
502
02-01-2010, 07:59 PM
Last Post: TriWooOx
Pope seeks "global authority" for world economy
SiLVa
2
745
07-07-2009, 07:25 PM
Last Post: mothandrust
Vatican 2.0: Pope gets his own YouTube channel
---
0
513
01-24-2009, 06:24 AM
Last Post: ---
Pope Benedict praises 'supernatural' John Paul II
hilly7
8
1,264
01-06-2009, 10:35 PM
Last Post: TeslaandLyne
Users browsing this thread: 1 Guest(s)