Thread Rating:
Just Some Wacky Crap I Stepped In On The Web Got Me Thinking
03-11-2007, 07:18 AM,
(This post was last modified: 03-11-2007, 07:27 AM by JohnDoe1984.)
JohnDoe1984
Posting Freak


Posts: 1,502
Threads: 166
Joined: Aug 2006
Just Some Wacky Crap I Stepped In On The Web Got Me Thinking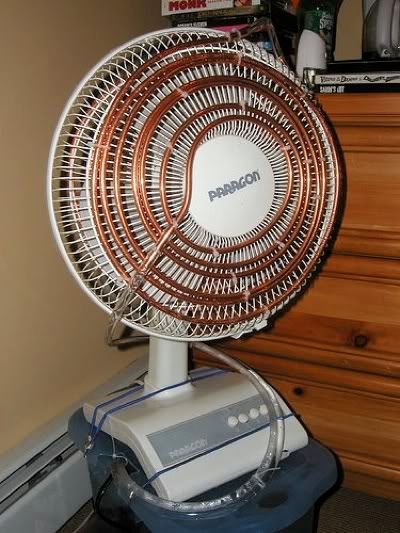 I almost posted this in off topic but thought it more appropriate here. I like this idea, but right away I see all kinds of ways I could improve this idea and really make it work I think. It's a fishtank pump in an ice/water tank pumping 32 degree water in front of the fan to cool the air.
Anyone want to brainstorm with me? I'm building one of these this summer. I'm trying it out for sure. It's too simple cheap and fun not to. It's not hot enough here in the summer to justify owning an air conditioner but something like this could make the few hot days a little nicer. I can't seem to find the link but I did save this picture and the guy said it worked fairly well for a single room to reduce the temp a little.
Here's what I want to do different and why. This guy just used a simple plastic container for his ice/water reservoir. It's going to sweat and melt the ice prematurely. Use a cheap insulated cooler. The more insulation the better. It will increase the cooling efficiency of the whole operation. I have 3 in my garage of different sizes just collecting dust.
The copper coil looks cool but I don't know if any of you have priced copper tubing lately but where I'm at It would be like $40-$50 for enough to do that. The problem with the tubing is you're essentially attempting to build your own radiator. Why do that? Get yourself a good radiator out of a junkyard. Now you have a device that is scientifically designed to transfer heat with the air. Blow the fan through that and forget the stupid copper tubing stuff. You've now made yourself a cheap air conditioner with crap you may already have laying around. The radiator is also going to sweat so you probably want to build it so the condensation ends up back in the insulated cooler/ ice/water tank.
I bet if you tried you could build it fairly compact and even put a case around it or build the radiator and fan into the cooler lid so all you have is this beer cooler with a radiator, fan, and pump in it. You can keep it stocked with ice from the icemaker and or the store maybe a little beer too(LOL) to keep small area's like hot computer rooms a little more bareable for very minimal electricity. Ice is what was used to keep food for hundreds of years before modern refrigeration.
&We didn't have education. We had inspiration. If I was educated, I'd be a damn fool.&
-Bob Marley
03-13-2007, 09:31 AM,
fjaneson
Senior Member


Posts: 420
Threads: 41
Joined: Aug 2006
Just Some Wacky Crap I Stepped In On The Web Got Me Thinking
May I be the first to say that is cool.
(PUNches self)

No really, that is excellent. Good thinking and use of materials.

When I first saw the pic I thought it was a weapon of some sort. Hehehe.
04-11-2007, 03:09 AM,
dickcheney
Junior Member


Posts: 13
Threads: 3
Joined: Feb 2007
Just Some Wacky Crap I Stepped In On The Web Got Me Thinking
Maybe you should look into solar air conditioning. if you run some pipe out the window, and through a parabolic light collector (plywood, and bent sheet metal) then run it back inside, and to a tank, and an ac core from an old car, you then have to charge it with ammonia/water mixture, and you have an air conditioner which gets cold when the sun comes out. this is an oversimplification, but what you are trying to copy is the design of a propane absorption refrigerator, except the heat comes from the sun, not propane. it will be important to use highly reflective metal, and put the pipe exactly at the center of the parabola.

If you could make a solar absorption air conditioner, you would make lots of money without pissing off those goons that screw with the free energy builders ;-)
04-11-2007, 08:43 AM,
harmonius
Posting Freak


Posts: 942
Threads: 159
Joined: Feb 2007
Just Some Wacky Crap I Stepped In On The Web Got Me Thinking
Salvage an old radiator. You'll get far more surface area exposed. Run some hose from the radiator to a deep freeze, and then connect the hose to a copper coil that is placed in a rubbermaid in a saltwater solution(to keep it from freezing) inside the deep freeze. Then all you need is a return line and some sort of pump.


MMM
Give me the judgment of balanced minds in preference to laws every time. Codes and manuals create patterned behavior. All patterned behavior tends to go unquestioned, gathering destructive momentum.
- Darwi Odrade
Users browsing this thread: 1 Guest(s)