Thread Rating:
Spear of Destiny Discovered
10-10-2007, 05:07 AM,
(This post was last modified: 10-10-2007, 05:24 AM by subgenius.)
subgenius
Posting Freak


Posts: 819
Threads: 154
Joined: Oct 2006
Spear of Destiny Discovered
LATEST BLOG - 8th September 2007
Spear of Destiny Discovered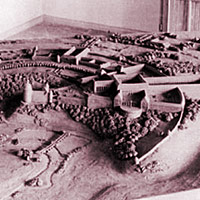 A young Adolf Hitler became entranced by the aura of the Spear while it was on display in Vienna. A guide told him the legend that whoever possessed it would control the destiny of the world. Hitler became an avid researcher of Spear lore. When he rose to power in Germany Hitler annexed Austria in 1938 and retrieved the Spear for his own. Hitler surely knew the medieval relic he retrieved was not the actual Spear. Heinrich Himmler also knew it was not the real Spear. As evidenced by the design of his Wewelsberg complex - the symbolic seat or center of SS power - near Paderborn in Westphalia, Himmler believed the Spear was something far more profound. Read more...
http://www.williamhenry.net/spear.html
Quite amazing the overlay of the head/complex..... COMMENTS?
&Spirituality is not a child play. My words will tear apart anyone who listens to them....&
&The search for reality is the most dangerous of all undertakings for it destroys the world in which you live.&
- Nisargadatta Maharaj
10-12-2007, 11:48 PM,
drew hempel
Posting Freak


Posts: 1,011
Threads: 198
Joined: Nov 2006
Spear of Destiny Discovered
Yeah the idea that Himmler had a castle built with a tower this is a model of the pineal gland -- it seems to be pushing the limit to be sure.

But nevertheless I think this article by William Henry gets the right concept about science as a whole, as a psychological projection of repressed, disharmonious energy due to left-brain separation from the pineal gland.

That quote from the bible is used by Swami Yogananda in his Autobiography of a Yogi and it is an amazing insight to esoteric secrets of the bible.
Users browsing this thread: 1 Guest(s)