On Bullshit - theory of this contemporary scourge
02-02-2011, 05:22 PM
(This post was last modified: 02-02-2011 05:30 PM by ZeroCenter.)
On Bullshit - theory of this contemporary scourge
ON BULLSHIT, by Harry Frankfurt, Princeton University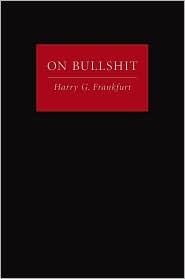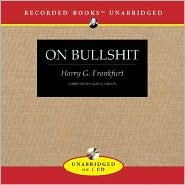 Amazon.com Review
"
One of the most salient features of our culture is that there is so much bullshit
," Harry G. Frankfurt writes, in what must surely be the most eyebrow-raising opener in modern philosophical prose. "
Everyone knows this. Each of us contributes his share. But we tend to take the situation for granted.
" This compact little book, as pungent as the phenomenon it explores, attempts to articulate a theory of this contemporary scourge--what it is, what it does, and why there's so much of it. The result is entertaining and enlightening in almost equal measure. It can't be denied; part of the book's charm is the puerile pleasure of reading classic academic discourse punctuated at regular intervals by the word "bullshit." More pertinent is Frankfurt's focus on intentions--the practice of bullshit, rather than its end result.
Bullshitting
, as he notes,
is not exactly lying, and bullshit remains bullshit whether it's true or false
. The difference lies in
the bullshitter
's complete disregard for whether what he's saying corresponds to facts in the physical world: he "
does not reject the authority of the truth, as the liar does, and oppose himself to it. He pays no attention to it at all
."
This may sound all too familiar to those of use who still live in the "reality-based community" and must deal with a world convulsed by those who do not. But Frankfurt leaves such political implications to his readers. Instead,
he points to one source of bullshit's unprecedented expansion in recent years, the postmodern skepticism of objective truth in favor of sincerity
, or as he defines it, staying true to subjective experience.
But what makes us think that anything in our nature is more stable or inherent than what lies outside it
? Thus,
Frankfurt concludes
, with an observation as tiny and perfect as the rest of this exquisite book,
"

sincerity itself is bullshit

."
--Mary Park
" it is tempting to say that On Bullshit comes very close to defining the essence of postindustrial society". -- Scott McLemee, Inside Higher Education
"New-Age bullshit" = quantum audacity to exercise free will in spite of so-called 'truth'?
. . . What would happen if.... we let go of all claims on 'intellectual property' and allow the '
frequency of genius
' to flow freely? Would genius eventually adapt a way for producing and giving freely with trust that there will be an equal exchange with mutual benefit resulting in a
love(creative)-based currency
to flow?
. . . What would happen if genius infected the global consciousness creating a spontaneous combustion of common-sense within the group mind?
Resulting in a morphic field
of "what everyone knows" as an obviousness that demands 'normal' action of laughing at banker currency as an insane idea?
---
*

What if the solution is simple & free?

: http://www.youtube.com/nv3p
*

Choose Freedom & Be the Change:

http://concen.org/forum/showthread.php?tid=36698
02-03-2011, 01:06 AM
icosaface
Administrator


Posts: 1,660
Joined: Aug 2006
RE: On Bullshit - theory of this contemporary scourge
Sounds like a lot of BS to me. lol Thanks.
---
An error does not become truth by reason of multiplied propagation, nor does truth become error because nobody sees it.
Mohandas Gandhi


Each of us is put here in this time and this place to personally decide the future of humankind.
Did you think you were put here for something less?
Chief Arvol Looking Horse

02-03-2011, 10:07 PM
RE: On Bullshit - theory of this contemporary scourge
Never enough BS about BS.
Its all BS:
** Matrix = the game board a person enters when born. The 3D universe and all the dimensions available while in a physical and more subtle bodies. In order to play here (learn, evolve, grow, be entertained) the veil of forgetful is necessary. Different levels of forgetfulness depending on the level one wants to experience. The key, being able to remove the veil and move around the different levels at will.
** The densest of levels = every day "normal" life, kept in place by deep programming.
** Least dense level = it's infinite.
** Game = what we choose to do with our life while incarnated.
---
*

What if the solution is simple & free?

: http://www.youtube.com/nv3p
*

Choose Freedom & Be the Change:

http://concen.org/forum/showthread.php?tid=36698
User(s) browsing this thread: 1 Guest(s)