Gaddafi Delivers Conspiracy Rant at the UN
09-23-2009, 07:54 PM
Gaddafi Delivers Conspiracy Rant at the UN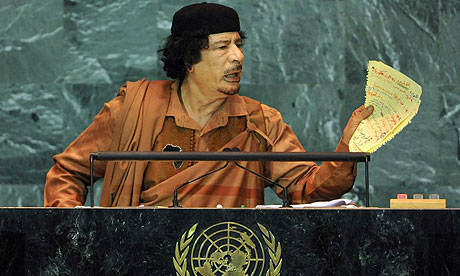 In UN speech, Gaddafi suggests Israel behind JFK assassination
September 23, 2009
rawstory
Libyan leader Moammar Gaddafi called for a reopening of the investigations into the assassinations of John F. Kennedy and Rev. Martin Luther King, Jr., during his speech at the UN on Wednesday, and pointed the finger at Israel in Kennedy's death.
In a wide-ranging speech that took place just after President Obama's address to the UN, and which ran much longer than scheduled, Gaddafi asked why Jack Ruby, "an Israeli," killed Kennedy's assassin, Lee Harvey Oswald, and suggested Kennedy may have been killed because of his interest in "investigating" an Israeli nuclear program.
"Why did this Israeli kill the killer of Jack Kennedy? The whole world should know that Kennedy wanted to investigate the nuclear reactor of the Israeli demon," Gaddafi said.
Gaddafi also called for a reinvestigation into the assassination of the Martin Luther King, Jr., whom Gaddafi described as a "black rebel."
"His killing was a plot, and we should know why he was killed and who killed him," Gaddafi said.
James Earl Ray, who died in 1998, was convicted of King's murder. Some members of the King family believe Ray didn't kill Rev. King, who maintained his innocence throughout his life.
In his wide-ranging speech, which ran much longer than scheduled, Gaddafi criticized the UN Security Council as being ineffective, stating that 65 wars had been launched in the time the council has been in existence.
He also stated that the fact the five permanent members of the Security Council -- China, France, Russia, the UK and the US -- have a veto power contravenes the principle, stated in the UN Charter's preamble, that all nations are to be treated equally.
And he suggested that UN headquarters be moved out of the United States. Complaining of jet lag, he suggested the general assembly be relocated somewhere more "comfortable," and insisted that the suggestion was not a sleight against the US, but instead would "relieve" the country of having to "suffer" providing security and maintenance to the UN.
Gaddafi also demanded $7.7 trillion from the West, "in the name of 1,000 African kingdoms," for the colonization of Africa.
"7.77 trillion dollars -- that is the compensation the Africans deserve from the countries that colonized Africa," Gaddafi said.
http://rawstory.com/blog/2009/09/gaddafi...acy-theor/
09-23-2009, 08:01 PM
---
Gone fishing

Posts: 7,574
Joined: Sep 2008
Gaddafi Delivers Conspiracy Rant at the UN
<fear and loathing in Tripoli? or is he just upset Michael Jackson was murdered?>
The Gaddafi dossier
Muammar Gaddafi
Ten things you might not know about Colonel Gaddafi
By Harry Underwood
FIRST POSTED AUGUST 25, 2009
On September 1, Libya's Colonel Muammar Gaddafi will celebrate the 40th anniversary of the bloodless coup in which he overthrew King Idris I. Since 1969, when he took power as a stylish, and, at only 27, very young revolutionary leader, he has supported terrorism, led a pariah state and brutally quelled opposition dissent.
While there are questions from some quarters over Libya's culpability in the Lockerbie tragedy - back in the headlines because of Abdelbaset al-Megrahi's controversial release from a Scottish jail - there is no doubt that Gaddafi has been responsible for financing many high-profile terrorists.
Libya was linked with the Black September Movement which carried out the massacre of Israeli athletes at the 1972 Munich Olympics, and the bombing of a Berlin disco in 1986 in which three died and many US soldiers were injured. Gaddafi was also reported to have financed Carlos the Jackal, the famous Venezuelan-born revolutionary, and the IRA.
Famously, Britain and Libya called off diplomatic relations for a decade after a London police constable, Yvonne Fletcher, was fatally shot by a machine-gun fired from the Libyan embassy in London. She was policing a demonstration against Gaddafi's rule in 1984.
Yet now the seemingly rehabilitated despot is accepted by many of the countries he once classed as enemies.
Here are ten things you might not know about one of the West's unlikeliest - and most fickle - friends:
• After Omar Bongo of Gabon died earlier this year, Gaddafi became the world's third-longest serving head of state, after King Rama IX of Thailand, and Queen Elizabeth II.
• Like Chairman Mao with his Little Red Book, Gaddafi wrote about his beliefs and ambitions for a socialist-Islamic state in a widely read work. His Green Book was published in three volumes from 1975 to 1979, and he has also released a collection of essays and allegories, Escape to Hell and other stories.
•
Gaddafi recently expressed his desire for a 'United States of Africa'.
<admin note: bingo!> In 1972 he tried to join Libya with Egypt and Syria in a 'Federation of Arab Republics', and two years later, he made another effort, ultimately acrimoniously, to merge Libya with Tunisia.
• In 2002, Gaddafi bought a significant stake in Juventus, the Italian football club, from his friend Gianni Agnelli, the owner of Fiat.
• Gaddafi has awarded himself the title 'King of Kings of Africa'. He has also decided that he should be known as 'Guide of the First of September Great Revolution of the Socialist People's Libyan Arab Jamahiriya' or 'Brotherly Leader and Guide of the Revolution'. (President Ronald Reagan was less complimentary; he called the Libyan leader the 'mad dog of the Middle East'.)
• Gaddafi spoke out quickly and strongly against al-Qaeda after the 9/11 attacks, and urged Libyans to donate blood for the victims.
• Libya has one of the world's most ambitious irrigation systems. The Great Manmade River is a huge network of pipes, viaducts and wells, sometimes as much as 500 metres underneath the surface of the earth, which transports more than 6 million cubic metres of water from underneath the Sahara to the country's northern regions every day.
• Of Gaddafi's eight children, one is a former professional footballer in Italy. However, Saadi Gaddafi managed to play only two Serie A games during spells with Perugia, Udinese and Sampdoria.
• Moatessem-Billah Gaddafi, another son, once tried, with Egyptian backing, to engineer a coup against his father, but has since returned to the fold.
• On every foreign trip he makes, Gaddafi is surrounded by a 40-strong retinue of female bodyguards, who he insists must be virgins. "Women should be trained for combat, so that they do not become easy prey for their enemies," he once said.
http://www.thefirstpost.co.uk/52723,news,t...of-africa-libya
09-23-2009, 08:07 PM
Gaddafi Delivers Conspiracy Rant at the UN
09-23-2009, 08:09 PM
---
Gone fishing

Posts: 7,574
Joined: Sep 2008
Gaddafi Delivers Conspiracy Rant at the UN
I think other voices have his attention:
James Bone, New York | September 24, 2009
Article from: The Australian
Muammar Gaddafi pitches tent in Donald Trump's yard
LIBYA'S leader may have at last found a place to pitch his tent during his first visit to the US - on land owned by the tycoon Donald Trump.
Muammar Gaddafi was reported yesterday to have rented part of Mr Trump's Seven Springs estate in the wealthy enclave of Bedford in the northern suburbs of New York.
Helicopter footage on local television stations showed a large Middle Eastern-style tent already erected on the grounds. The town set up "No parking" signs near the estate on Oregon Road.
As Colonel Gaddafi arrived in New York yesterday, a State Department official confirmed a tent was being erected for him on the estate. The Libyan leader was expected to use it only for entertainment, and would spend the nights at his country's diplomatic mission in Manhattan.
The Westchester Journal News quoted Sergeant Thomas Diebold as saying the local police force was notified by the US Secret Service earlier in the day. The Trump Organisation did not seem to be sure who its paying guest was, however. "The property was leased on a short-term basis to Middle Eastern partners, who may or may not have a relationship to Mr Gaddafi. We are looking into the matter," it said.
The 860,000sqm estate, with a 3600sqm mansion, was once owned by the Rockefeller family. Local politicians were quick to react to the news, in view of the controversy over the release of the convicted Lockerbie bomber Abdel Baset Ali al-Megrahi.
"There is no legal way to prevent this as he is a head of state, despite the fact that he has a long history as a terrorist. However, from my point of view, he is not welcome in Westchester," said county executive Andy Spano.
A building inspector tried to deliver a "stop work" order yesterday, because the tent violated local regulations, but no one on the site spoke English.
Congressman John Hall said he was contacting the State Department. "This sponsor of terror is not welcome here," he said. "Several residents of this area were horrifically murdered on Pan Am Flight 103. Gaddafi's presence in our community is a slap in the face to the memories of these victims and their families, adding to the recent outrage of the hero's welcome Gaddafi staged for the convicted murderer released by Scotland."
The Libyan leader is due to address the 192-nation UN General Assembly immediately after President Barack Obama overnight. After unsuccessfully seeking permission to pitch his tent in New York's Central Park, he was barred from using a Libyan-owned estate in New Jersey and reportedly rebuffed by the luxury Pierre Hotel.
Libyan officials failed to rent an Upper East Side mansion by posing as Dutch diplomats. They then posed as Sri Lankans to try to rent a luxury house in Riverdale, just north of Manhattan, also without success.
Iranian President Mahmoud Ahmadinejad, another awkward guest at the UN, warmed up for his trip by threatening to "cut off the hand" of any potential attackers as Tehran flaunted its military hardware in a parade.
The Times
http://www.theaustralian.news.com.au/story...31-2703,00.html
09-23-2009, 08:15 PM
---
Gone fishing

Posts: 7,574
Joined: Sep 2008
Gaddafi Delivers Conspiracy Rant at the UN
Monday, August 17, 2009
GADDAFI, ROTHSCHILD, MANDELSON AND A MYSTERIOUS EMAIL ABOUT LOCKERBIE
Clinton with Salmond, Scotland's First Minister.
On 17 August 2009, The Financial Times reported that, a week before the announcement that Megrahi could be released from prison, Lord Mandelson met Gaddafi's son at a Rothschild villa in Corfu.
According to Lord Mandelson's spokesman, Mandelson and Seif Gaddafi did discuss al-Megrahi.
In 2003, Muammer Gaddafi helped deliver the Lockerbie bombing suspects for trial.
Libya is a large oil producer, and has attracted British oil companies.
"Libya is...very much back in the mainstream of international affairs," the British ambassador to Libya, Sir Vincent Fean, said recently.
Tony Blair's friend Lord Mandelson with Nat Rothschild.
On 16 August 2009, The Sunday Herald (Lockerbie: after the conspiricies ... the cover up?), reminds us that in June 2007, Tony Blair did a "deal in the desert" with Gaddafi on judicial co-operation between the UK and Libya. This deal covered "prisoner transfer".
Blair's visit coincided with BP signing a £450 million oil contract with Libya.
On 11 August 2009, an anonymous email was sent to an Member of the Scottish Parliament. (the cover up?)
The email appeared to come from inside Scotland's justice department.
The email suggested that senior officials were trying to kill Megrahi's appeal.
Hans Kochler, the UN observer at the Lockerbie trial, suspects Megrahi may have been subjected to "morally outrageous" blackmail to abandon his case.
Reportedly, a Scottish government source admits that the Lockerbie trial may have been slipshod, and even included faked evidence. (the cover up?)
But, the source claimed the trial convicted the right man. (LOL)
Lockerbie verdict a 'travesty' for which we will pay price
aangirfan: CLINTON, SALMOND AND LOCKERBIE
aangirfan: THE BIGGEST OIL SCANDAL
http://aangirfan.blogspot.com/2009/08/gadd...delson-and.html
09-23-2009, 09:20 PM
---
Gone fishing

Posts: 7,574
Joined: Sep 2008
Gaddafi Delivers Conspiracy Rant at the UN
Quote:beaten to the punch by 2mins. sheesh gotta be quick around here.
Quote:Today, 08:14 PM
Today, 08:15 PM
agreed. 1 minutes even quicker!..um,which means slower.. :huh::wacko:
User(s) browsing this thread: 1 Guest(s)