Albert Camus on Nihilism & Other Subjects - IMG INT
06-20-2012, 08:39 PM
(This post was last modified: 11-23-2012 12:07 AM by Negentropic.)
Albert Camus on Nihilism & Other Subjects - IMG INT
WARNING

This is an IMAGE & MEDIA INTENSIVE thread, not intended for the meek or those in love with their own dubious notions of 'sanity.' If you do not want to wait a few minutes for the page to load or you have an older junk computer, please do not visit this thread.
Albert Camus on Nihilism
http://www.youtube.com/watch?v=4rT8CunsWPY
Albert Camus talks about his stage adaptation of Dostoyevsky's "The Possessed", (also known as "The Devils" and "Demons"), in 1959, a year before his death in an automobile accident. Interviewer: Pierre Dumayet.

"All great deeds and all great thoughts have a ridiculous beginning."
Albert Camus, The Myth of Sisyphus


"Charm is a way of getting the answer yes without asking a clear question."
Albert Camus, La Chute (The Fall),1956


"Nobody realizes that some people expend tremendous energy merely to be normal." ~ Albert Camus, Notebook IV in Notebooks: 1942-1951


"What is a rebel? A man who says no."
Albert Camus, L'Homme revolte (The Rebel), 1951


"He who despairs over an event is a coward, but he who holds hope for the human condition is a fool."
Albert Camus, L'Homme revolte (The Rebel), 1951


"People talk a lot nowadays about the dignity of work and about the need for it. But it's a fraud. There is dignity in work only when it is work freely accepted. Only idleness has a moral value because it can serve as a criterion by which to judge men. It is fatal only to the second rate. That is its lesson and its greatness. Work, on the other hand, crushes everyone down to the same level. It provides no basis for judging men. It brings into action a metaphysics of humiliation. Under the form of slavery which the society of right-thinking people now give it, the best men cannot survive its effects… " --- Albert Camus, Journals


"At any street corner the feeling of absurdity can strike any man in the face." ~ Albert Camus


"Accepting the absurdity of everything around us is one step, a necessary experience: it should not become a dead end. It arouses a revolt that can become fruitful."
~ Albert Camus "Three Interviews" in Lyrical and Critical Essays (1970)


"It happens that the stage sets collapse. Rising, streetcar, four hours in the office or the factory, meal, streetcar, four hours of work, meal, sleep and Monday Tuesday Wednesday Thursday Friday and Saturday according to the same rhythm — this path is easily followed most of the time. But one day the 'why' arises and everything begins in that weariness tinged with amazement." ~ Albert Camus


"Love is the kind of illness that does not spare the intelligent or the dull." -- Albert Camus, Caligula


"I see many people die because they judge that life is not worth living. I see others paradoxically getting killed for the ideas or illusions that give them a reason for living (what is called a reason for living is also an excellent reason for dying). I therefore conclude that the meaning of life is the most urgent of questions."
Albert Camus, The Myth of Sisyphus


"In order to exist just once in the world, it is necessary never again to exist." - Albert Camus


"Nothing is more despicable than respect based on fear." - Albert Camus


"But what is happiness except the simple harmony between a man and the life he leads?" - Albert Camus


"For those of us who have been thrown into hell, mysterious melodies and the torturing images of a vanished beauty will always bring us, in the midst of crime and folly, the echo of that harmonious insurrection which bears witness, throughout the centuries, to the greatness of humanity." ~ Albert Camus


"The only way to deal with an unfree world is to become so absolutely free that your very existence is an act of rebellion." - Albert Camus


"The words that reverberate for us at the confines of this long adventure of rebellion are not formulas for optimism, for which we have no possible use in the extremities of our unhappiness, but words of courage and intelligence which, on the shores of the eternal seas, even have the qualities of virtue." ~ Albert Camus


"The need to be right is the sign of a vulgar mind." - Albert Camus


"An intellectual is someone whose mind watches itself." - Albert Camus


"When the imagination sleeps, words are emptied of their meaning: a deaf population absent-mindedly registers the condemnation of a man. ... there is no other solution but to speak out and show the obscenity hidden under the verbal cloak." ~ Albert Camus, Reflections on the Guillotine (1957)


"Truth, like light, blinds. Falsehood, on the contrary, is a beautiful twilight that enhances every object." - Albert Camus


"The welfare of the people in particular has always been the alibi of tyrants, and it provides the further advantage of giving the servants of tyranny a good conscience. It would be easy, however, to destroy that good conscience by shouting to them: if you want the happiness of the people, let them speak out and tell what kind of happiness they want and what kind they don't want! But, in truth, the very ones who make use of such alibis know they are lies; they leave to their intellectuals on duty the chore of believing in them and of proving that religion, patriotism, and justice need for their survival the sacrifice of freedom." -- Albert Camus, Homage to an Exile (1955)


"We always deceive ourselves twice about the people we love - first to their advantage, then to their disadvantage." - Albert Camus


"Martyrs, my friend, have to choose between being forgotten, mocked or used. As for being understood -- never." - Albert Camus


"Hungary conquered and in chains has done more for freedom and justice than any people for twenty years. But for this lesson to get through and convince those in the West who shut their eyes and ears, it was necessary, and it can be no comfort to us, for the people of Hungary to shed so much blood which is already drying in our memories. In Europe's isolation today, we have only one way of being true to Hungary, and that is never to betray, among ourselves and everywhere, what the Hungarian heroes died for, never to condone, among ourselves and everywhere, even indirectly, those who killed them. It would indeed be difficult for us to be worthy of such sacrifices."
Albert Camus, The Blood of the Hungarians (1957)

This above quote about his support for the Hungarian uprising is particularly interesting since Camus, a one-time communist party member was a leftist /anti-fascist throughout his life and did not support the fascist revolutions of Mussolini and Hitler against the Jewish International banking usurocracy and bankster funded Bolshevism. In fact, he was part of the tiny ( less than 1%) French 'resistance' against German occupation in opposition to 99% of the French who willingly collaborated with National Socialists against communism (thread on the myths of the French 'resistance' here: http://concen.org/forum/showthread.php?tid=37947 ). And yet, Camus was

all for

the Hungarian uprising which actually started as an anti-Jewish pogrom, as documented in detail in David Irving's "Uprising! The Hungarian Revolution of 1956," (read entire book as pdf doc here: http://www.fpp.co.uk/books/Uprising/index.html ) before expanding and being brutally crushed by the Soviet communists. So he ended up supporting in a different guise what he condemned before, anti-communism, the foremost representatives of which had been Mussolini and Hitler.


"A character is never the author who created him. It is quite likely, however, that an author may be all his characters simultaneously."
As quoted in Albert Camus : The Invincible Summer (1958) by Albert Maquet, p. 86; a remark made about the Marquis de Sade.


"If I try to seize this self of which I feel sure, if I try to define and to summarize it, it is nothing but water slipping through my fingers. I can sketch one by one all the aspects it is able to assume, all those likewise that have been attributed to it, this upbringing, this origin, this ardor or these silences, this nobility or this vileness. But aspects cannot be added up." ~ Albert Camus


"With rebellion, awareness is born." ~ Albert Camus - As quoted in The Estranged God : Modern Man's Search for Belief


"A living man can be enslaved and reduced to the historic condition of an object. But if he dies in refusing to be enslaved, he reaffirms the existence of another kind of human nature which refuses to be classified as an object." -- Albert Camus -- "The Failing of Prophecy" in Existentialism Versus Marxism : Conflicting Views on Humanism (1966) by George Edward Novack


"Knowing that certain nights whose sweetness lingers will keep returning to the earth and sea after we are gone, yes, this helps us to die."
~ Albert Camus - "The Sea Close By" in Lyrical and Critical Essays (1970)


"The realization that life is absurd and cannot be an end, but only a beginning. This is a truth nearly all great minds have taken as their starting point. It is not this discovery that is interesting, but the consequences and rules of action drawn from it." ~ Albert Camus
Critiquing Nausea by Jean-Paul Sartre, as quoted in Albert Camus and the Philosophy of the Absurd (2002)


"I was assailed by memories of a life that wasn't mine anymore, but one in which I'd found the simplest and most lasting joys." ~ Albert Camus, The Stranger - 1942


"Nothing is harder to understand than a symbolic work. A symbol always transcends the one who makes use of it and makes him say in reality more than he is aware of expressing."~ Albert Camus, "Hope and the Absurd in the work of Franz Kafka"


"What must be remembered in any case is that secret complicity that joins the logical and the everyday to the tragic."~ Albert Camus, "Hope and the Absurd in the work of Franz Kafka"


"What, then, is that incalculable feeling that deprives the mind of the sleep necessary to life? A world that can be explained even with bad reasons is a familiar world. But, on the other hand, in a universe suddenly divested of illusions and lights, man feels an alien, a stranger. His exile is without remedy since he is deprived of the memory of a lost home or the hope of a promised land. This divorce between man and his life, the actor and his setting, is properly the feeling of absurdity." ~ Albert Camus


"Great novelists are philosopher-novelists who write in images instead of arguments."~ Albert Camus


"Great feelings take with them their own universe, splendid or abject. They light up with their passion an exclusive world in which they recognize their climate. There is a universe of jealousy, of ambition, of selfishness or generosity. A universe — in other words a metaphysic and an attitude of mind." ~ Albert Camus


"I don't know whether this world has a meaning that transcends it. But I know that I cannot know that meaning and that it is impossible for me just now to know it.
What can a meaning outside my condition mean to me? I can understand only in human terms. What I touch, what resists me — that I understand. And these two certainties — my appetite for the absolute and for unity and the impossibility of reducing this world to a rational and reasonable principle — I also know that I cannot reconcile them. What other truth can I admit without lying, without bringing in a hope I lack and which means nothing within the limits of my conditions?" ~ Albert Camus


"I do not want to found anything on the incomprehensible. I want to know whether I can live with what I know and with that alone." ~ Albert Camus


"There is but one truly serious philosophical problem, and that is suicide. Judging whether life is or is not worth living amounts to answering the fundamental question of philosophy. All the rest — whether or not the world has three dimensions, whether the mind has nine or twelve categories — comes afterward. These are games; one must first answer." -- Albert Camus


"'My field,' said Goethe, 'is time.' That is indeed the absurd speech. What, in fact, is the Absurd Man? He who, without negating it, does nothing for the eternal. Not that nostalgia is foreign to him. But he prefers his courage and his reasoning. The first teaches him to live without appeal and to get along with what he has; the second informs him of his limits. Assured of his temporally limited freedom, of his revolt devoid of future, and of his mortal consciousness, he lives out his adventure within the span of his lifetime." -- Albert Camus


"There can be no question of holding forth on ethics. I have seen people behave badly with great morality and I note every day that integrity has no need of rules. There is but one moral code that the absurd man can accept, the one that is not separated from God: the one that is dictated. But it so happens that he lives outside that God. As for the others (I mean also immoralism), the absurd man sees nothing in them but justifications and he has nothing to justify. I start out here from the principle of his innocence.

That innocence is to be feared. 'Everything is permitted,' exclaims Ivan Karamazov. That, too, smacks of the absurd. But on condition that it not be taken in a vulgar sense. I don't know whether or not it has been sufficiently pointed out that it is not an outburst of relief or of joy, but rather a bitter acknowledgment of a fact.

The absurd does not liberate; it binds. It does not authorize all actions. 'Everything is permitted' does not mean that nothing is forbidden." -- Albert Camus


"If the world were clear, art would not exist." - Albert Camus


"All systems of morality are based on the idea that an action has consequences that legitimize or cancel it. A mind imbued with the absurd merely judges that those consequences must be considered calmly. It is ready to pay up. In other words, there may be responsible persons, but there are no guilty ones, in its opinion. At very most, such a mind will consent to use past experience as a basis for its future actions." ~ Albert Camus


"Time will prolong time, and life will serve life. In this field that is both limited and bulging with possibilities, everything to himself, except his lucidity, seems unforeseeable to him. What rule, then, could emanate from that unreasonable order? The only truth that might seem instructive to him is not formal: it comes to life and unfolds in men. The absurd mind cannot so much expect ethical rules at the end of its reasoning as, rather, illustrations and the breath of human lives." ~ Albert Camus


"A sub-clerk in the post office is the equal of a conqueror if consciousness is common to them. All experiences are indifferent in this regard. There are some that do either a service or a disservice to man. They do him a service if he is conscious. Otherwise, that has no importance: a man's failures imply judgment, not of circumstances, but of himself." ~ Albert Camus


"One recognizes one's course by discovering the paths that stray from it." -- Albert Camus


"To work and create 'for nothing,' to sculpture in clay, to know one's creation has no future, to see one's work destroyed in a day while being aware that fundamentally this has no more importance than building for centuries — this is the difficult wisdom that absurd thought sanctions. Performing these two tasks simultaneously, negating on the one hand and magnifying on the other, it the way open to the absurd creator. He must give the void its colors." -- Albert Camus


"A profound thought is in a constant state of becoming; it adopts the experience of a life and assumes its shape. Likewise, a man's sole creation is strengthened in its successive and multiple aspects: his works. One after another they complement one another, correct or overtake one another, contradict one another, too. If something brings creation to an end, it is not the victorious and illusory cry of the blinded artist: 'I have said everything,' but the death of the creator which closes his experiences and the book of his genius.

That effort, that superhuman consciousness are not necessarily apparent to the reader. There is no mystery in human creation. Will performs this miracle. But at least there is no true creation without a secret. To be true, a succession of works can be but a series of approximations of the same thought. But it is possible to conceive of another type of creator proceeding by juxtaposition. Their words may seem to be devoid of inter-relations, to a certain degree, they are contradictory. But viewed all together, they resume their natural groupings." ~ Albert Camus


"Of all the schools of patience and lucidity, creation is the most effective. It is also the staggering evidence of man's sole dignity: the dogged revolt against his condition, perseverance in an effort considered sterile. It calls for a daily effort, self-mastery, a precise estimate of the limits of truth, measure, and strength. It constitutes an ascesis. All that 'for nothing,' in order to repeat and mark time. But perhaps the great work of art has less importance in itself than in the ordeal it demands of a man and the opportunity it provides him of overcoming his phantoms and approaching a little closer to his naked reality." --- Albert Camus


"Ironic philosophies produce passionate works. Any thought that abandons unity glorifies diversity! And diversity is the home of art. The only thought to liberate the mind is that which leaves it alone, certain of its limits and of its impending end. No doctrine tempts it. It awaits the ripening of the work and of life." ~ Albert Camus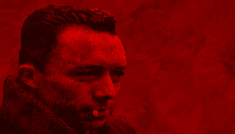 "Manhattan. Sometimes from beyond the skyscrapers, across of thousands of high walls, the cry of a tugboat finds you in your insomnia in the middle of the night, and you remember that this desert of iron and cement is an island." ~ Albert Camus, American Journals


"Outside of that single fatality of death, everything, joy or happiness, is liberty." ~ Albert Camus


"In that daily effort in which intelligence and passion mingle and delight each other, the absurd man discovers a discipline that will make up the greatest of his strengths. The required diligence and doggedness and lucidity thus resemble the conqueror's attitude. To create is likewise to give a shape to one's fate. For all these characters, their work defines them at least as much as it is defined by them. The actor taught us this: There is no frontier between being and appearing." ~ Albert Camus


"There is always a philosophy for lack of courage." ~ Albert Camus


"The greatest saving one can make in the order of thought is to accept the unintelligibility of the world -- and to pay attention to man." ~ Albert Camus


"Poor and free rather than rich and enslaved. Of course, men want to be both rich and free, and this is what leads them at times to be poor and enslaved." --- Albert Camus



Albert Camus by krieger


" The evil that is in the world always comes of ignorance, and good intentions may do as much harm as malevolence, if they lack understanding. On the whole men are more good than bad; that, however, isn't the real point. But they are more or less ignorant, and it is this that we call vice or virtue; the most incorrigible vice being that of an ignorance which fancies it knows everything and therefore claims for itself the right to kill. There can be no true goodness, nor true love, without the utmost clear-sightedness." ~ Albert Camus, The Plague (1947)


"Query: How to contrive not to waste one's time? Answer: By being fully aware of it all the while. Ways in which this can be done: By spending one's days on an uneasy chair in a dentist's waiting room; by remaining on one's balcony all a Sunday afternoon; by travelling by the longest and least-convenient train routes, and of course standing all the way; by queueing at the box-office of theatres and then not booking a seat." ~ Albert Camus


" The absurd … is an experience to be lived through, a point of departure, the equivalent, in existence of Descartes' methodical doubt. Absurdism, like methodical doubt, has wiped the slate clean. It leaves us in a blind alley. But, like methodical doubt, it can, by returning upon itself, open up a new field of investigation, and in the process of reasoning then pursues the same course. I proclaim that I believe in nothing and that everything is absurd, but I cannot doubt the validity of my proclamation and I must at least believe in my protest. The first and only evidence that is supplied me, within the terms of the absurdist experience, is rebellion … Rebellion is born of the spectacle of irrationality, confronted with an unjust and incomprehensible condition." ~ Albert Camus


"Absolute freedom mocks at justice. Absolute justice denies freedom. To be fruitful, the two ideas must find their limits in each other." ~ Albert Camus


"To have time was at once the most magnificent and the most dangerous of experiments. Idleness is fatal only to the mediocre." ~ Albert Camus


Quote:http://teifidancer-teifidancer.blogspot....oking.html




Albert Camus was born in Mondovi, Algeria in 1913, his father died one year later, and Camus was brought up alone, in acute poverty. He spent a lot of his days looking for reason in a world of alienation.In 1934 he joined the Communist Party, but his relationship with the party was difficult and would remain ambvialent throughout his life. In 1934 he married Simone Hie, a morphine addict and in 1938 he became a journalist, writing for an anti-colonialist newspaper after dropping out of the University of Algiers.


He moved to Paris in 1940, looking for work with the leftist press, married again, to a pianist and mathematician named Francine Faure, and had twins Catherine and Jean in September 1945,and found himself a teaching post. In 1943 he joined

Combat

a clandestine resistance cell, working underground, helping with smuggling activities and acts of sabotage.


He became the editor of

Combat's

magazine in 1943 where he deveoped his philosophies and strong moral convictions, and it was during this period that he published works that extended his ideas. He wrote ' This heart within me I can feel, and I judge that it exists. This world I can touch, and I likewise judge that it exists. There ends all my knowledge, and the rest is construction.' He became associated with the French Anarchist movement, and wrote for several anarchist publications. His real concerns were for the plight of the ordinary man, not just in France or in Algeria, a search for solidarity, a humanity that does not divide.


He remained a man of the left. In 1949 he founded

The Group for International Liasons with the Revolutionary Union Movement,

through which he wanted to show the world the more positive aspects of surrealism and existentialism.


Camus labeled

nihilism

as the most disturbing problem of the twentieth century. In his essay

The Rebel

he paints a terryfying picture of ' how metaphysical collapse often ends in total negation and the victory of nihilsm, characterised by a profound hatred, pathological destruction and incalculable death.




Classe de Khâgne au lycée d'Alger en 1933.
Simone Hié, Albert Camus' first wife, 1934. (Courtesy Madame Françoise Cottenceau)
In the office of Combat, 1944. From left: Albert Camus, Jaques Baumel, André Malraux and Albert Ollivier (sitting). (Courtesy René Saint-Paul)
Camus and second wife Francine Faure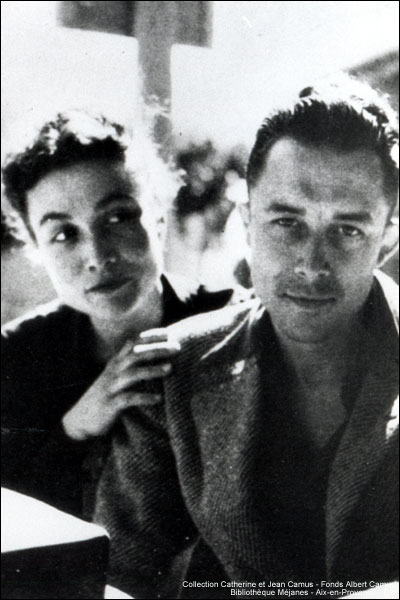 Quote:http://en.wikipedia.org/wiki/Francine_Faure


Francine Faure,

a pianist specializing in Bach and a noted mathematician, is perhaps best known as the second wife of Albert Camus, whom she met in 1937 in Algiers. They were married in Lyon on December 3, 1940.[1] She came from a middle-class French family in Oran, Algeria, which was a French colony at the time.[2]

Career

She is well known for her contributions to the Manhattan Project.[citation needed] She also taught mathematics, sometimes as a substitute teacher.

Personal life

Francine's father died in World War I, at the Marne, where Camus' father had also died. Her mother, Fernande, was considered by Camus biographer Olivier Todd to be domineering. Her grandfather had built part of the Oran harbor.

Although Camus was indifferent if not hostile to formal marriage and was serially unfaithful to Francine, the couple had twins, Catherine and Jean Camus, in Paris in 1945 after the city's liberation.[3] Francine had moved there from Algeria after two years' separation from Albert, who was participating in the French resistance at the time.

Friends of Camus reported that Francine had something of a fiery temper, and once threw a tray of cocktail drinks at Albert during an argument. She suffered from and was hospitalized for depression, for which insulin and electroshock therapy were at various times prescribed. At one point she threw herself from a balcony, whether to escape the hospital or to kill herself is not known. Her depression was blamed in part on her husband's affairs, particularly with the actress

María Casares.
Maria Casarés in Albert Camus' Les Justes at the Théatre Hébertot in Paris, December 1949. (Courtesy Roger-Viollet)
Maria Casarés in Jean Cocteau's "Orphee"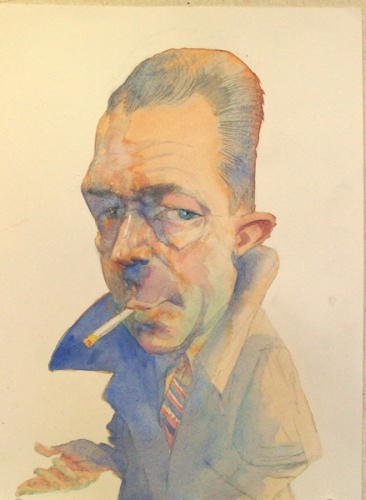 Albert Camus by John Spooner - Medium: Watercolour
Camus, Casares, Serge Reggiani
Jean-Louis Barrault, Maria Casarès et Albert Camus en 1948
Camus vs. Sartre (Rare BBC Documentary)
http://www.youtube.com/watch?v=_iW74PnBIGo
Camus, The Nobel Prize & Algerian War (Rare BBC Documentary)
http://www.youtube.com/watch?v=Sz2dTyDfNAw
-----------------------------------------------------------------------------------------------------------------------------------------------------------------------------------------------------------
Ricefoot's The Real Truth Behind The Illusion Of 9/11
http://vimeo.com/30094696
The Key - Collin Alexander
http://www.youtube.com/watch?v=Rml2TL5N8ds&
A Funny Thing Happened on the Way to the Moon (Full Movie) -
http://www.youtube.com/watch?v=uBAuezmFNIk
Deanna Spingola Interview with Bart Sibrel of "A Funny Thing Happened on the Way to the Moon"
http://k004.kiwi6.com/hotlink/403ze98ykc...120316.mp3
Astronauts Gone Wild -
http://www.youtube.com/watch?v=_tWqh7OuLWE
September Clues
http://www.septemberclues.info
Interview with Simon Shack of September Clues - Brian S Staveley, Justin Cooke - 04 / 08 / 2012
http://www.therealnewsonline.com/uploads...4-8-12.mp3
Last Days of the Big Lie
http://www.youtube.com/watch?v=F7tHB8tD34s
Michael Tsarion Archives
http://www.youtube.com/playlist?list=PL1...ature=plcp
Terence McKenna Archives
http://www.youtube.com/playlist?list=PL9...ature=plcp
John Friend's Blog
http://johnfriendsblog.blogspot.com/
Mami - Freedom Monkey Radio Commercial Free Archives
http://grizzom.blogspot.com/
User(s) browsing this thread: 2 Guest(s)