The Anti-Israeli Conspiracy
06-12-2011, 05:54 PM
(This post was last modified: 06-12-2011 06:03 PM by R.R.)
R.R
Senior Member


Posts: 700
Joined: Aug 2007
RE: The anti-Israeli conspiracy
(06-11-2011 09:58 PM)

OTO Wrote: Most secret service Mossad, the danish ones FE (Forsvarets efterretningstjeneste/military secret service) and PET(Politiets Efterretningstjeneste/Police secret service), MI5, CIA, FBI etc.

are most likely having New World Order agents infiltrating in their organizations and working together towards a New World Order.
I would personally go as far as saying they were
started
by rather than infiltrated. This can generally be seen by the affiliations held by leading members of those organizations and, in some instances, their family connections which link them back to older ruling powers linked to nwo families such as British royalty. They have been an nwo tool since day one.
If we look at the inception of the British Secret Services, we find its genesis in what is known as invasion literature (in modern analysis we can call this predictive programming) followed by a concerted effort by the media and royalty to create public paranoia which led to the acceptance of the creation of an official secret network protected by law. They promoted lies, instilled a xenophobic attitude in the population, constantly promoted the idea that England would go to war with Germany and left the population feeling so helpless that the public themselves demanded their government protect them, leading to the creation of what would later become MI5/6.
Study predictive programming and once you understand it, study invasion literature. Essentially, predictive programming softens up the consumer to accept something more readily when it occurs in the future. Science fiction generally performs this role today; if you look through history, technological improvements have often been met with heavy public hostility especially if said improvements would necessitate a change in lifestyles and, more pertinently, change occupational standards culminating in leaving masses of people out of work. Protestations against technological encroachment of life is met with less opposition now. Movies too perform this role, generally taking over from reading in order to instill ideas into the population, often times including themes which just happen to 'predict' the future and at the same time giving the 'reasons' why events transpired in a certain way alongside instructions on who to point the finger of blame at. Slowly over time we get admissions of secret service management of commodities people assume to be free of propaganda. This book goes through some of these connections:
Here's a documentary based on the book:
[video=googlevideo]http://video.google.com/videoplay?docid=-8071178277073763777#[/video]
They don't go far enough though and for that you'll need to do further study but another place to look is here:
In a nutshell, Gabler's books show how Hollywood changed the way people lived and viewed reality. Saunder's and Winks' books document the secret service influence in literature and academia, Said's book shows the relationship between literature/culture and imperialism, Ellul gives the reasons why a ruling authority engages in propaganda (of which all these books are about), Prouty's book goes through more clandestine activities of the secret services and really illuminate the other books and Key's book shows how the same thinking is embedded within advertising and other forms of entertainment. You need to study predictive programming along with elite theory (sociology) as it ties all the ideas in the books together. There are of course many other books and documentaries you can study.
Now continuing with MI5/6 and the connection to literature and the use of propaganda to create it, a genre of books called 'invasion literature' was quite popular in Britain in the mid-to-late 1800's. Its themes centered around foreign armies entering another country and taking them over by force. Those other countries usually happened to be the ones where the books were actually sold, afterall nobody would care if the hypothetical invasion would have no (imaginary) effect on peoples' lives (which incidentally is a key component in the predictive programming method, whereby the readers' vicarious participation is what allows embedded themes to be adopted). The impact of these books, especially in England led to the ideas espoused in them to be successfully adopted into shaping political policy and public perception at large. Prior to the first World War, many people got their idea of foreign governments and peoples from these fictional accounts where over 400 such books had been written. Surprisingly the first book that popularised the invasion theme was
The Battle of Dorking
where Germany would invade England, sowing early seeds of distrust from the British public for their German counterparts. The author, George Tomkyns Chesney, would later be knighted into various British chivalric orders. These early books were written by millitary men which gave the stories an air of authenticity. What is not well known is that many of them were actually ghostwritten for these millitary guys - ghostwriting is still a dirty secret to this day and, if suspicious, you need to look at the number of books prominent writers produce. Ghostproduction in music occurs often aswell. In both instances they lend credibilty to a personality who is an operating front for secret service organizations. The personality will then eventually lead or lend their voice to another carefully managed piece of public manipulation or create a social movement which causes some social upheval necessary for the creation of laws that the ruling elites deem appropriate. Sometimes it is found that the events leading to the creation of certain laws were controlled or non-existent, but this doesn't rescind said laws as they are now entrenched in society and in some cases, have evolved further.
The methods have always been the same, the personalities change but if you substitute the nationalities and names, you get very accurate descriptions of modern events. Continuing with our story, William Le Queux wrote many invasion stories, contributing greatly to the emerging British Germanophobia, primarily with his best selling book
The Invasion of 1910
, which contained a heavy patriotic message and constant warnings of the need to be ready for war as the British, in his book, lost due to a lack of preperation. This book was serialised by the Daily Mail, owned by newspaper magnate Lord Northcliffe who would later become Director of Propaganda during World War I. Publicity for this book included actors dressed up as German soldiers walking the streets and a film version was made aswell titled 'If England Was Invaded'.
Further impacts of these books (and others) were a feeling of paranoia amongst the citizenry who were convinced of a German spy network operating within Britain and suspected many foreigners of espionage. These were further helped by le Queux who shared his own 'research' into the network through the Daily Mail and printed readers' letters that 'confirmed' the presence of these networks. Subsequently, the public demanded government action and this was the reason cited to create the Secret Service Bureau, which would eventually become MI5 and MI6. The Bureau's early efforts were the investigation of the activities of the imperial German government. Later World War I would start, largely due to the activities of many secret societies. H.G. Wells, influenced by le Queux's work, wrote 'The War of the Worlds' to contain a message of an altruistic human threat rather than a threat to just the British and consequently started off a whole new theme for literary works which become more relevant later on when discussing globalization.
Thus we see another example of a war started by a coordinated (behind the scenes) effort of media lies, book writing to shape public opinion and ultimately a war which led to further centralisation of large regions with the set-up of the League of Nations, the vast majority of it set-up on a foundation of lies and deceit (it was later discovered that no German spy cells were operating in Britain - yet nobody demanded the obliteration of the intelligence agencies). With the world becoming more globalised, threats that threaten humanity (as opposed to the nation) as a whole are necessary in order to create an institution capable of defending humanity. Everywhere we look we are seeing bullshit about terrorism, environment and, slowly creeping into mainstream acceptance, the idea of an extraterrestrial threat to the planet. History is the greatest teacher and it has already taught us some of the tricks involved in the start up of World War I.
If what I've written is confusing, I think it can be summed up in this R. Buckminster Fuller quote from his book
Critical Path
: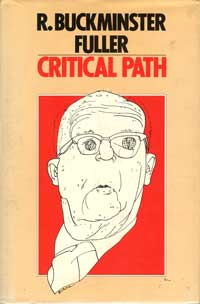 'Great battles ensued - waged under the flags
of England, France and Spain - to determine who
would become supreme master of the world's
high-seas line of supply. These great nations
were simply operating fronts of behind-the-scenes,
vastly ambitious individuals who had become so
effectively powerful because of their ability to
remain invisible while operating behind the national
scenery. Always their victories were in the name
of some powerful sovereign-ruled country. The real
power structures were always the invisible ones
behind the visible sovereign powers.'
p. 72
This is still going on today.
What needs to be done is look at what constitutes the nwo. We know it has a link back to the old power structures of Europe and the colonial corporations that dictated policy. These groups are the various European aristocracies, some of which supplied the Popes of Catholicism while Jewish intellectualism and money were always close by funding the activities of the hidden power structure, activities such as the slave trade and the British East India Corporation that essentially became America, members of which set up the various infrastructure that creates modern America's bureaucratic class, such as Yale university and its name-giver Elihu Yale. It is also no surprise to find Skull and Bones operating there whose members, such as the Bush family, have genetic ties to Europes aristocracies. There is a much deeper game being played, the use of nations are operating fronts.
Quote:Sure Israel has a strong lobby, Nukes, Strong secret service etc. But there is a good reason for it. After having talked with many Israelis, IDF, host from national radio and business contacts. I have learned Israelis are a very strong patriotic people that basically want to be left alone and they feel the world is against them and it's admirable how they can defend themselves, against so many haters and enemies of Israel. Yes they need a strong defense.
Patriotism is an essential ingredient in manipulating masses of people. It serves as a unifier of people's by creating an 'us vs them' atmosphere. The strategic use of enemies is an understudied phenomena, but is essential to understanding third-party-manipulation. War, or a societies' ability to wage war, is the unifying basis of society. Without an enemy, a group or government can never obtain the authority to dictate large masses of people.
Israel's defence capability comes primarily from US aid, and the majority of that is tax-payer money and donations/fund-raising by other manipulated groups such as those whose world-view is shaped by religion.
The enemies of Israel, the Muslims of the middle-east, are a group which has had heavy nwo attempts at intergration to its system. The middle-eastern people, although adopting Islam, still maintain old tribal animosities which will not really allow them to become a unified political force ready for intergration into a global system such as the United Nations. Britain tried very hard in the late 1800's/early 1900's to create a unified Islamic region, much like modern attempts at a unified Europe (each 'bloc' will be easier to merge into a global system as opposed to the hundreds of nations). This culminated in the creation of Saudi Arabia (with help from British agent Lawrence of Arabia) sowing the seeds for the more militant interpretation of Islam we see today in the guise of 'terrorism'. Part of the need to help this unification of the middle-east, was the creation of Israel, knowing full well that it had the potential to unify the various lands, a sort of nation equivalent of using enemies to unite people. Incidentally, Islam's 'golden' age is a story we've heard before; a religion for the people creating a strong working force and military, which then colonised other lands, the rulers actually belonged to a plethora of mystical secret societies going under the banner of Sufism, Jews provided the financing of armies and most of its intellectual achievements, which were simple reintroductions of previously suppressed knowledge - such as Indian mathematics and Greek philosophy which melded together to form its esoteric philosophy which is an ancient philosophy known as The Secret Doctrine or the Perennial Philosophy. If you study the more famous civilizations, you'll find they conform to a system of public religion while the rulers were involved in a mystery tradition while the societies themselves were imperialist. When a nation/civilization is exhausted and its indigenous peoples become frustrated due to total exploitation, the ruling elites tend to vacate to a new territory and start the process there, bringing its same method of central banking, war making capacity and intrusive government onto a new people.
Quote:Please research how the Gaza people manipulate the world population with the help of the mainstream media and when you understand the Israelis it makes sense why they do what they do.
The media are only there to maintain whatever illusions the nwo require to move to the next phase of their plan. They supply information/facts to both sides in order to create feasible narratives that reinforce existing biases.
Quote:If they did not have to spend so much time with all the hates they would serve humanity and spread worldwide shalom(peace).
I think you need to go back to the drawing board and start again. What you are basically saying here is that if there were no enemies, they could do all the nice things they want to do. It is a story heard time and time again. For instance there hasn't really been a 'capitalist' society or a truly 'socialist' one or a 'Christian', 'Communist', 'Islamic' or any other type of society except for one of small minorities manipulating larger groups of people. Labels deceive. All civilised societies are created out of some external threat (real or imagined) headed by an organized yet dominant minority who use the labour of their subjects to do the tasks they don't want to do and thus worker morale needs to be managed to avoid legitimate revolution - the creation of a national mythology or religion is necessary but contradictions are explained away due to that societies' 'need' to defend itself against external (or internal) threats. It can go by any name or ideology but always retains the basics as discussed in these books:
Gaetano Mosca - The Ruling Class
James Burnham - The Machiavellians
Other books cited:
R. Buckminster Fuller - Critical Path
Neal Gabler - An Empire of Their Own: How the Jews Invented Hollywood
Neal Gabler - Life: The Movie: How Entertainment Conquered Reality
Robin Winks - Cloak and Gown: Scholars in the Secret War, 1939-61
Frances Stonor Saunders - The Cultural Cold War: The CIA and the World of Arts and Letters
Jacques Ellul - Propaganda: The Formation of Men's Attitudes
L. Fletcher Prouty - The Secret Team: The C.I.A. and its Allies in Control of the United States and the World
Edward Said - Culture and Imperialism
Wilson Bryan Key - The Age of Manipulation
David Robb - Operation Hollywood: How the Pentagon Shapes and Censors Movies
User(s) browsing this thread: 1 Guest(s)