04-22-2011, 04:06 PM
drummer
Posting Freak


Posts: 1,957
Joined: Aug 2006
Happy earth day
For over 40 years, Earth Day—April 22—has inspired and mobilized individuals and organizations worldwide to demonstrate their commitment to environmental protection and sustainability.
http://www.earthday.org/
04-23-2011, 09:41 AM
RE: Happy earth day
.. and then this grassroots movement was infiltrated and raped by globalists to install green guilt to make way for eco-fascism. Divide and conquer tactics have polarized people and indoctrinated children along hard line naturalist treehuggers and turned humans into merely a plague and bane to the world.
I love the environment, but I love people too - we are ultimately one in the same as part of eachother's existence not as oppositional counter balances.
Utilization not Conquest
We can utilize the vast resources and gifts of nature. There is a certain stewardship between man and nature that has lasted millions (yes millions) of years and there is a few of us that disrespect that.
We are
not
killing the planet only a few humans are hurting it disproportionately and it's being spun up as if we lowly egotistical humans are really that big of a deal in ecology as whole. For certain we have left our mark and we've follied innumerable times but these kind of things balance out over time.
I will not go gaga in the Gaian/Pagan ritual and waste this perfectly good day which so happens to fall on a Christian holiday this year.
So cheers to Earth
and
to the Human Being in it's vast forms of expression and our co-inhabitants great and small. Let us symbiotically utilize, create, live with, care for and harvest the bounty of assets presented to us responsibly.
---
There are no others, there is only us.
http://FastTadpole.com/
04-23-2011, 07:05 PM
drummer
Posting Freak


Posts: 1,957
Joined: Aug 2006
RE: Happy earth day
04-24-2011, 04:04 AM
(This post was last modified: 04-24-2011 04:08 AM by BaBaYaGa.)
BaBaYaGa
Junior Member


Posts: 35
Joined: Apr 2011
RE: Happy earth day
I love the Earth, but we should never forget what amazingly NON-scientific fear-mongers and idiots these people are. They'll scream ANYTHING scary in order to try to get us to give up our rights and turn everything over to control-freak "scientists" who are lackeys for the elites and multi-national corporations who are the REAL big-time polluters of the planet (like Al Gore, who made his money on petroleum and currently sits on the board of Apple, which was just named the "least green" company).

From another site:

Here are some of the hilarious, spectacularly wrong predictions made on the occasion of Earth Day 1970.

"We have about five more years at the outside to do something."
• Kenneth Watt, ecologist

"Civilization will end within 15 or 30 years unless immediate action is taken against problems facing mankind."
• George Wald, Harvard Biologist

"We are in an environmental crisis which threatens the survival of this nation, and of the world as a suitable place of human habitation."
• Barry Commoner, Washington University biologist

"Man must stop pollution and conserve his resources, not merely to enhance existence but to save the race from intolerable deterioration and possible extinction." • New York Times editorial, the day after the first Earth Day

"Population will inevitably and completely outstrip whatever small increases in food supplies we make. The death rate will increase until at least 100-200 million people per year will be starving to death during the next ten years."
• Paul Ehrlich, Stanford University biologist

"By…[1975] some experts feel that food shortages will have escalated the present level of world hunger and starvation into famines of unbelievable proportions. Other experts, more optimistic, think the ultimate food-population collision will not occur until the decade of the 1980s."
• Paul Ehrlich, Stanford University biologist

"It is already too late to avoid mass starvation."
• Denis Hayes, chief organizer for Earth Day

"Demographers agree almost unanimously on the following grim timetable: by 1975 widespread famines will begin in India; these will spread by 1990 to include all of India, Pakistan, China and the Near East, Africa. By the year 2000, or conceivably sooner, South and Central America will exist under famine conditions….By the year 2000, thirty years from now, the entire world, with the exception of Western Europe, North America, and Australia, will be in famine."
• Peter Gunter, professor, North Texas State University

"Scientists have solid experimental and theoretical evidence to support…the following predictions: In a decade, urban dwellers will have to wear gas masks to survive air pollution…by 1985 air pollution will have reduced the amount of sunlight reaching earth by one half…."
• Life Magazine, January 1970

"At the present rate of nitrogen buildup, it's only a matter of time before light will be filtered out of the atmosphere and none of our land will be usable."
• Kenneth Watt, Ecologist

Stanford's Paul Ehrlich announces that the sky is falling.

Stanford's Paul Ehrlich announces that the sky is falling

"Air pollution…is certainly going to take hundreds of thousands of lives in the next few years alone."
• Paul Ehrlich, Stanford University biologist

"We are prospecting for the very last of our resources and using up the nonrenewable things many times faster than we are finding new ones."
• Martin Litton, Sierra Club director

"By the year 2000, if present trends continue, we will be using up crude oil at such a rate…that there won't be any more crude oil. You'll drive up to the pump and say, `Fill 'er up, buddy,' and he'll say, `I am very sorry, there isn't any.'"
• Kenneth Watt, Ecologist

"Dr. S. Dillon Ripley, secretary of the Smithsonian Institute, believes that in 25 years, somewhere between 75 and 80 percent of all the species of living animals will be extinct."
• Sen. Gaylord Nelson

"The world has been chilling sharply for about twenty years. If present trends continue, the world will be about four degrees colder for the global mean temperature in 1990, but eleven degrees colder in the year 2000. This is about twice what it would take to put us into an ice age."
• Kenneth Watt, Ecologist

Keep these predictions in mind when you hear the same predictions made today. They've been making the same predictions for 39 40 years. And they're going to continue making them until…well…forever.

Source: Reason.com
04-22-2013, 04:16 PM
RE: Happy earth day
Happy Lenin's Birthday !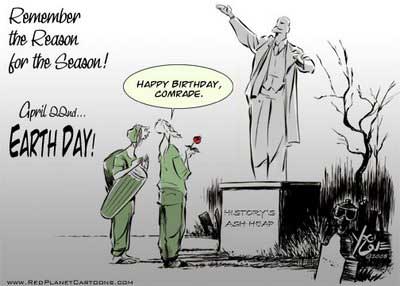 User(s) browsing this thread: 1 Guest(s)