Users Recommended Reading & Book Overviews (Your own written reviews only)
11-30-2010, 08:21 PM
(This post was last modified: 11-30-2010 10:27 PM by Dunamis.)
R.R
Senior Member


Posts: 700
Joined: Aug 2007
Users Recommended Reading & Book Overviews (Your own written reviews only)
The purpose of this thread is to create a resource for researchers, both new and veterans, for sharing information. Hopefully in time it will become quite comprehensive and helpful to anyone in search for truth.
For no particular reason I'll start off with Bertrand Russell's book
The Scientific Outlook
:
'All history shows that great power is intoxicating. Fortunately, the modern holders of power are not yet quite aware how much they could do if they chose, but when this knowledge dawns upon them a new era of human tyranny is to be expected'.
P.111
Of particular relevance is part 3 of the book headlined
The Scientific Society
. I'll start with the preceding chapter entitled
Technique in Society
as it serves as an introduction to part 3.
Chapter 11: Technique in Society
This chapter is a brief discussion on 'the application of science to social questions'. Russell discusses the effects of advertising in creating beliefs and how their scientific merits lie in the fact that their effects are useful for the study of mass psychology. He proposes an experiment to see which brand of soap will sell more - the better brand promoted with technical scientific jargon or the vastly inferior brand with celebrity endorsement. He fully expects the inferior brand to sell more and it is from this we can see why advertising has scientific use - the data extrapolated from these experiments are very useful in sociology. He then remarks on the how the Soviets understood the power of advertising better than most at the time. We can see from a study of Soviet posters the importance attached on pictures to convey messages and Russell suggests this was due to the general Russian populations inability to read.
From this Russel moves on to what he calls 'the second great method of propaganda': Education.
'Education has two
very different purposes : on the one hand it aims at
developing the individual and giving him knowledge
which will be useful to him ; on the other hand
it aims at producing citizens who will be convenient
for the State or the Church which is educating
them. Up to a point these two purposes coincide in
practice : it is convenient to the State that citizens
should be able to read, and that they should possess
some technical skill in virtue of which they are able
to do productive work; it is convenient that they
should possess sufficient moral character to abstain
from unsuccessful crime, and sufficient intelligence
to be able to direct their own lives. But when we
pass beyond these elementary requirements, the
interests of the individual may often conflict with
those of the State or the Church. This is especially
the case in regard to credulity. To those who control
publicity, credulity is an advantage, while to the
individual a power of critical judgment is likely to
be beneficial; consequently the State does not aim
at producing a scientific habit of mind, except in
a small minority of experts, who are well paid, and
therefore, as a rule, supporters of the status quo.
Among those who are not well paid credulity is
more advantageous to the - State ; consequently
children in school are taught to believe what they
are told and are punished if they express disbelief.
In this way a conditioned reflex is established,
leading to a belief in anything said authoritatively
by elderly persons of importance. You and I, reader,
owe our immunity from spoliation to this beneficent
precaution on the part of our respective Governments.'
P. 139-140
From this quote we see acknowledgement that the state encourages gullibility in its general population and an admission that there does exist a small band of well paid 'experts' fully aware of these tricks who in conjunction with the state, manage society by utilising some of the aforementioned techniques. Russell somewhat boasts of this at the end of the quote in an almost thankful manner.
Reading further Russell suggests the reason education was given to the masses was for producing social coherence because large masses tend to only work together for their own welfare, so we can surmise that what most people are working on today is not to their benefit ultimately. This 'education' inculcated a loyalty to the state while discouraging internal anarchy.
'The tendency to
anarchy and civil war is always one to be guarded
against, except on those rare occasions when some
great principle is at stake which is of sufficient
importance to make civil war worth while.'
P.140
This loyalty is further emphasised by promoting hatred of its enemies which creates a uniformity of opinion and makes people less individual. Russell tells us that in addition to education, the press, the cinema and the radio are also great sources of the creation of uniformity. In the field of the press, he says, big newspapers are always more influential than small which are also helped heavily by their alliance with advertising firms.
'Although there are rival groups in
the newspaper world, there are, of course, many
matters as to which the rival groups are agreed. In
a suburban train in the morning, one man may
be reading the Daily Mail and another the Daily
Express, but if by some miracle they should fall into
conversation they would not find much divergence
in the opinions they had imbibed or in the facts of
which they had been informed. Thus for reasons
which are ultimately technical and scientific, the
newspapers have become an influence tending to
uniformity and increasing the rarity of unusual
opinions.'
P.141-142
Russell goes on to praise the propaganda abilities of modern cinema, especially because of its abilty to create an impression in people about things that they have no experience in. He says Hollywood has generally created an idea of a virtuous world which is very useful in safeguarding the nefarious activities of the real world. He suggests that the rich hide behind the facades created by Hollywood which usually suggests that only people of virtue become rich. He also calls Hollywood a nightly drug, useful for its ability to distract large masses of people, comparing it to the role of vodka in Russia and hints that its removal will give people time to think and ultimately to revolution. In fact these thinkers are already aware to Russell but he calls them 'politically negligable' due to their lack of numbers. Russell acknowledges that these people do not generally spend their time on the usual provided activities and that these people are aware of the instabilities of the system, which is not well known by the masses.
Russell concludes the chapter by showcasing modern mans' dependancy on the state to provide him with what he deems necessary to survive. He also states that the potential for the application of science in sociology for good cannot be totally realised until nationalism is destroyed, a more scientific replacement for money is introduced (he also calls gold replacing barter and paper money replacing gold as scientific improvements) and the realisation of world wide organisation. From this then we are ready to see Russells' opinion of 'The Scientific Society' which is in part 3 of the book.
At some point I'll do a discussion on the rest of the books' contents, but I would strongly recommend people become familiar with this mans history and the organizations he was affiliated with. I realise most of you will be familiar with the content here, but I find the quotes very useful for letting others new to this material realise the factual basis for the worries of 'conspiracy' theorists due to Russells' connections to the elite.
11-30-2010, 10:30 PM
Dunamis
Administrator


Posts: 2,353
Joined: Sep 2008
RE: Users Recommended Reading & Book Overviews (Your own written reviews only)
Great thread to start R.R, though there are many thread on individual books, there is no single thread like this.
Great review by the way! Hope you don't mind, I made the thread a sticky and added to the title to define the thread more clearly.
================================================================================​=================
Just to clarify to others posting, no copy and paste jobs on the

reviews

, for a description or brief synopsis it's fine, just your own review work though, cheers.
================================================================================​=================
[Edit: This thread will of course be searchable through the Search function for those wanting to search specific issues as this thread increases in size. A tip would be to only search the 'Education & Learning' sub-category and include the word 'book' in your search.]
---
"He that saith he abideth in him ought himself also so to walk, even as he walked." --

1 John 2:6
"Whatever affects one directly, affects all indirectly... This is the interrelated structure of reality." --

Martin Luther King Jr.


"He that answereth a matter before he heareth it, it is folly and shame unto him." --

Proverbs 18:13


"Everyone thinks of changing the world, but no one thinks of changing himself." --

Leo Tolstoy


"To love is to be vulnerable" --

C.S Lewis
The Kingdom of God is within you! --

Luke 17:20-21
https://duckduckgo.com/
12-05-2010, 04:40 AM
(This post was last modified: 12-05-2010 05:09 AM by R.R.)
R.R
Senior Member


Posts: 700
Joined: Aug 2007
RE: Users Recommended Reading & Book Overviews (Your own written reviews only)
@Dunamis - cheers for making the thread a sticky, hopefully it will encourage further contributions.
@fasttadpole - yes a book club is the best way to describe what this thread will hopefully become.
Next up for discussion is chapter 2 of Gaetano Mosca's
'The Ruling Class'
(1896).
The book itself is a theory of sociology, best symbolised by the pyramid and capstone on the books' cover.
Chapter 2 goes by the same name as the book and Mosca begins by stating that all civilised societies irrespective of their stage of development are in essence two tiered - the rulers and the ruled. The rulers are always a demographic minority who have a virtual monopoly on power thus allowing them to fulfill all political functions which as a consequence, entail the directing and control over the majority population which in effect becomes law. Mosca acknowledges that the ruling class relies more on their subjects for it sustinence than vice-versa. This sustinence is why public pressure can sway decision making and this applies irrespective of the political system enforced by the rulers.
This ruling class requires the support of a group more numerous than themselves in order to have their wishes carried out and maintain control over the subject population. Mosca goes so far as to say that the ruling class would not be able to function without this underclass but this is not, according to Mosca, the source of its power; the source is organisation. In fact because the rulers are so small in numbers, they have to resort to organisation to survive and this triumphs over a larger group of people who are a disconnected totality of individuals working for different goals. The ruling class essentially becomes a hive mind which is actually easier to maintain due to its scarcity in numbers, which improves decision making speed giving it a distinct advantage over a larger group of people who have to factor in many disjointed opinions before reaching a decision on what to do next. Naturally as the rulers are directing society in their image, the concept of favourable attributes that are highly influential in society are often best displayed by the rulers themselves further perpetuating their rule.
Early development toward civilisation and organisation comes from a militaristic valor. These warmongers very easily rise above 'primitive' societies by the simple process of using their war abilities to kill and enslave generally peaceful populations. Thus the initial ruling classes are warriors. Mosca states that this is not always foreign conquests and that at some point a tribe can develop these warlike qualities as a natural progression from hunting. Either way this enslavement almost always occurs when tribes emerge from hunter/gatherers to agriculturalists due to the level of organisation required for farming. From this the warriors control more of social life, population increases and the structure solidifies further into ruler and ruled.
Mosca elaborates that these expansions in population inevitably lead these societies into contact with other tribes where the warriors will attempt to wage war against them. This necessitates that these warrior rulers are exempt from everyday agricultural duties to concentrate solely on war efforts which again further solidifies the structure of a two-tiered society where, upon its stabilization, some of the warriors go on to become nobles and masters. Farming produce became the economic foundation of war and this led to taxation and farmers being bound the land - the charateristics of serfdom. Also the usage of weaponry is almost exclusively available only to these warrior rulers although later developments mean that 'commoners' may be drafted into these armies in less respected roles. This type of political system thus creates the concept of land ownership.
Further increases in population and expansion into new territories lead to surplus supplies, more free time and eventually a transformation into an early form of consumerism. At this point we see a change from warriors ruling to the wealthy. From this then, Mosca says, we move from the 'feudal state' to the 'bureaucratic state'. Mosca also acknowledges that priesthoods emerge which often control legal, scientific and cultural areas of public life and cites Brahmanical India, certain periods of Ancient Egypt and medieval Europe as examples of this type of organisation. Mosca sees in this similarities to today in the context that pursuing sanctioned learning and knowledge accumulation can allow ordinary people to rise in power.
Mosca observes the tendancy for these developing systems and rulers to become hereditary, who then usually give supernatural explanations for their origins or, at the very least, portray themselves as superior in some way to their subject populations to justify their rule over them. He even remarks that in his own day Darwinian theories were being used to explain the superiority of the upper classes as being higher evolved organisms in comparison to the lower classes. This hereditary theory spreads amongst the rest of the population and this is shown in numerous ancient examples, especially in India as it culminates into the caste system.
'...those who belong to the
ruling class will begin to acquire
a group spirit. They will become more
and more exclusive and learn better
and better the art of monopolizing to their
advantage the qualities and capacities
that are essential to acquiring power and
holding it. Then, at last, the force that is
essentially conservative appears - the force
of habit. Many people become resigned to a
lowly station, while the members of certain
priveliged families or classes grow convinced
that they have an almost absolute right to
high station and command.'
P.68
Mosca raises many interesting points, most importantly, albeit somewhat implicitly, suggesting that civilisation itself is but a slave system.
I'll return to some of these implications later after I've discussed a few other books and tie the ideas together. Mosca has somewhat confirmed that there has always, it seems, been a power behind the visible rulers in various lands and times (although he does not connect them) with his descriptions of the dominant classes and their bureaucratic classes beneath them or in modern terms a hidden power behind governments (who merely fill this role) much like Bertrand Russell hinted at. What Mosca also mentions is how in ancient times the system was very similar which should lead us nicely to our next discussions.....
12-05-2010, 06:58 AM
mexika
Posting Freak


Posts: 3,064
Joined: Oct 2007
RE: Users Recommended Reading & Book Overviews (Your own written reviews only)
nice books. Now, where can I get those. most likely not found in university campuses or regular libraries, least of all in public schools....
---
Unite The Many, defeat the few.

Revolution is for the love of your people, culture, knowledge, wisdom, spirit, and peace. Not Greed!


Soul Rebel Native Son




http://video.google.ca/videoplay?docid=277...enous&hl=en
12-05-2010, 05:44 PM
R.R
Senior Member


Posts: 700
Joined: Aug 2007
RE: Users Recommended Reading & Book Overviews (Your own written reviews only)
@mexica - Mosca's book might be in some universities that place some importance on sociology. I actually found out about him through a dictionary on sociology under the section on elite theory. It is generally difficult to obtain though and can get quite expensive. That particular Russell book is probably hard to get your hands on but as always the internet is your friend in this case. Try amazon or look for the pdf's although I've never come across Moscas' book as a download, Russells' are quite easy to find with the exception of 'Education and the Goodlife'.
Next up we'll take a look at '
Devil's Game: How the United States Helped Unleash Fundamentalist Islam
' (2005) by Robert Dreyfuss.
Chapter 1: Imperial Pan-Islam
Dreyfuss begins the chapter by discussing the role of Jamal al-din al-Afghani in formulating a plan which he proposed to the British in 1885; the formation of a pan-Islamic alliance among Egypt, Turkey, Persia and Afghanistan against Tsarist Russia.
Afghani had been supported by the British since at least the 1870's. Afghanis' chief disciple would be the Egyptian Mohammed Abduh who's own Syrian disciple would be Rashid Rida. Rida set-up a magazine called 'The Lighthouse' which continued Abduh's message of the creation of Islamic republics. Through the magazines influence, Hassan al-Banna would found The Muslim Brotherhood whose headquarters were in Switzerland. Dreyfuss states that from 1875 to 1925 Britain had backed the move towards this movement chiefly through Afghani and his followers. Abduh, with help from Lord Cromer Evelyn Baring (part of the Baring banking dynasty which even Queen Elizabeth II had an account with them), would start off the Salafiyya movement which placed increased importance on religious predecessors, effectively becoming a back-to-basics movement proclaiming the correct way of living as one which the Prophet Mohammad and his two succeeding generations lived and thus the example muslims were to follow even today.
Meanwhile in the Arabian peninsula, the British were backing a group of ultra-fundamentalists led by the family of Ibn Saud. This backing would eventually create Saudi Arabia. The Saud family had a long history with one Muhammad ibn Abd al-Wahhab, the ideological founder of Wahabbism, thus when Saudi Arabia had been created, a merger between Wahhabi and Salafi ideas took place.
Dreyfuss acknowledges that biographers of Afghani have not been entirely honest with regards to the level of his own loyalty to the causes he was creating. Afghani was not his birth name either. He called himself 'al-Afghani' (the Afghan) to give off the impression that he was from Afghanistan so as to disguise his Persian and Shiite origins. Dreyfuss states how Afghani had one message for the masses and a totally contradictory one for his inner circle which sounded atheistic due to his anti-religious message. He had a very elitist view on things and Dreyfuss notes Afghani and his inner circle posed as anti-Imperialists while at the same time being in a hidden alliance with the same people he was condemning.
Afghani was a frequenter of Anglo-Egyptian and Franco-Egyptian Masonic lodges in the 1870's. He had an interest in mysticism and delved into Sufism (he may have been influenced long before this period by Sufism hence him having to disguise his Shiite origins).
Abduh was another drawn to Sufi brotherhoods and Dreyfuss quotes Afghani and Abduhs' biographer Elie Kedourie who described their relationship as one of '
master and disciple in some secret, esoteric cult
'.
Dreyfuss continues discussing some escapades the pair of them got up to, not just in the middle-east but in Europe as well remarking on the mysterious funding Afghani received which seems to have been various government sources, in turn financing his publications such as 'The Indissoluble Bond' in France in the 1880's, which leads Dreyfuss to ask whether they were acting on their own initiative or as powers of some other agency. While he says it is unclear, the connections to Masonic organisations and government funding throughout his career so far and his ability to get around (apart from Europe and the middle-east, Afghani had spent time in India, Sudan and even Russia) can only point to him being a pawn in a wider game, one which requires the creation of an opposition force for imperial and geo-strategic purposes. One of Afghani's most important contacts, says Dreyfuss, was the British Orientalist Edward Granville Browne, a Cambridge University professor who was influential to intelligence agents, among them T.E. Lawrence otherwise known as Lawrence of Arabia, who assisted in the Arab Revolt which ultimately led to the creation of the modern Saudi state.
Dreyfuss continues the chapter concentrating more on Afghanis' followers (after the British no longer deemed him useful and his later death two years afterwhich Abduh would become Mufti of Egypt) and the emergence of Saudi Arabia, which essentially took over Afghanis' role in creating a pan-Islamic movement with the demand of returning to 7th century life styles. It is at this point I'll leave Dreyfuss's book in order to find out some more about Afghani.
It seems there is a short chapter on him in K. Paul Johnson's '
The Masters Revealed: Madame Blavatsky and the Myth of the Great White Lodge
' (1994).
Johnson asserts that Blavatsky had obtained a large amount of her knowledge through studies with Persian Sufis. He points to Afghani as being the inspirer of some Blavatsky quotes in 'The Secret Doctrine' which basically mention Sufi initiates preserving ancient Chaldean knowledge. Johnson gives us further information regarding Afghani's Masonic and mystical links, such as with the Babi's who would be instrumental in creating the Baha'i Faith. He also introduces us to the Italian-Egyptian Jew James Sanua, influenced heavily by Afghani. Sanua was the grand-son of Egypts former ruler Khedive Muhammad Ali and later became a journalist and playwright who played a role in revolutionary movements.
Johnson goes on to tell us that Afghani was head of an Eastern Star lodge at one point and he later set up lodges affiliated with the Grand Orient of France. He also documents times when Blavatsky and Afghani were in the same countries at the same time although there are no records about their communications with each other, Johnson speculates that their being in the same places in various countries at the same time and their mutual subject interest would make it unlikely that they didn't have correspondence.
Aside from this, Johnson essentially confirms the mystical, political behaviour of Afghani as portrayed by Dreyfuss.
In conclusion we see that modern methods of control are firmly rooted in older techniques and that these movements do seem to have a strong link back to ancient secret societies, whose mystery religion is in fact the hidden elite behind the bureaucratic classes mentioned by Mosca.
12-11-2010, 08:59 PM
(This post was last modified: 12-12-2010 07:55 AM by R.R.)
R.R
Senior Member


Posts: 700
Joined: Aug 2007
RE: Users Recommended Reading & Book Overviews (Your own written reviews only)
Taken from Plato: Complete Works edited by John M. Cooper is
Timaeus
.
Italics represent quotes while
(brackets represent my own brief thoughts).
Timaeus is generally considered one of Plato's final works. The work is a conversation between Socrates, Timaeus, Hermocrates and Critias. Timaeus dominates the conversation but Socrates begins it with a review of yesterdays conversation which was about politics and in particular the social structure and people required to make the city, in Socrates' terms '
the best possible
'.
Socrates' review of the previous days conversation
He begins by saying they had agreed to seperate the farmers and all other craftsmen in the city from the millitary class (compare with Mosca's theories regarding the Ruling Class). These guardians were to be paid in gold or silver but taught that both of these commodities, like everything else they obtain, should not be considered private property. To maintain professionalism, they are to be provided with a moderate way of life funded via taxation (protection tax) from the rest of the cities' workers. They were to be encouraged to spend their money together and maintain their own exclusive social circle due to them being '
relieved of all other occuptions
'. Socrates then discusses women saying how '
their natures should be made to correspond with those of men
' and that sex would be no barrier to any occupation (in order to achieve the highest levels of productive efficiency), which then brings us to their opinion with regards to children and procreation; Socrates advocates that in this ideal city, citizens would have '
spouses and children in common and that schemes should be devised to prevent anyone of them of them from recognizing his or her own particular child. Everyone of them would believe that they all make up a single family, and that all who fall in their own age bracket are their sisters and brothers
' (eliminating family loyalty replacing it with loyalty to the city/state, which was attempted in Israel with its Kibbutz system). Socrates then mentions that marriages would be arranged secretly to ensure people of the correct characteristics match-up and would be done in a way to make the pair think they got together '
by chance
' (eugenic considerations in creating the types of citizens required by the state, shows future planning for vast periods of time and correlates somewhat with the marriage practices of Royalty or any religion attaching importance on ancestry such as Judaism or Hinduism with its caste system). In conjunction then with the communal bringing up of children, Socrates says that this method will allow the city planners to monitor the development of '
children of good parents
' while at the same time being able to secretly hand over the bad children to other city states, all of them will still secretly be continuously watched in case misjudgements were made and useful or useless children can be returned to the city or sent elsewhere. Socrates wraps up the review then compares this description to a painting or even viewing real animals standing still in that he yearns to see them in motion; in other words he wants to see this idealised city state bought into being. From this he invites the others to give their thoughts on how their proposed system will actually function in reality. He says actors cannot be used due to them being unable to depict anything outside of their training which is largely based on imitation of currently existing things (think about Hollywood today and its use by our modern controllers as a tool to prepare for different outcomes and the responses of the public) and as their proposed way of life is new it cannot be achieved in this manner, thus it is up to these philosophers who are also versed in politics to discuss the potential implications.
With this in mind, Hermocrates agrees with Socrates and informs him that both he and Critias, while on their way home from yesterdays conversation, were discussing the very same thing which reminded Critias of an old story he had heard, which the group go on to agree to listen to.
Critias' Story
Critias goes on to tell a story that his ancestor, also called Critias, told him, a story that Solon '
once vouched for
' (Solon is considered an ancestor of Plato's who helped change the social fabric of Athens which was probably helped by his writing of patriotic propaganda). Solon bought this story back with him from Egypt in the Saitic district in the city of Sais. The city was apparently founded by the goddess 'Neith' who was the same as Athens' 'Athena'. Solon attempted to get the Egyptian priests to share their knowledge about antiquity by telling them his own stories in regard to the first human Phoroneus and of Deucalions' surviving of the flood. Upon hearing these stories the priests told him:
'
Ah, Solon, Solon, you Greeks are ever children, there is not an old man among you
.'
From this the priest meant that as the Greeks had no knowledge of deep antiquity, they were but children. The priest elaborates by telling Solon that there have been and will continue to be many disasters that destroy human lives, primarily through fire and water. He hints at certain myths being allegories for solar phenomenon such as comets or asteroids hitting the Earth. Depending on the type of catastrophe, those dwelling by the sea or in mountains are affected differently and this has a direct bearing on their chances of survival, in the Greeks' context, the priest claimed that when the Greeks reached a certain point of development a flood usually destroyed what they had created leaving them to start all over again, thus the account Solon just mentioned to the priests was proof of their infancy, for they only acknowledged one flood when in fact there had been many wiping out previous generations. He doesn't blame them though, for no written records were left except for those preserved in the Egyptian temples.
Wanting to know more, the priests go on to tell Solon of Athens' previous ages, in particular a time around 9000 years ago (roughly 9500BC in todays calendar) which Athens has not since surpassed in terms of law, war and social arrangement (in light of ancient Egyptian and Greek social structures we can conclude this was a perfected slave system). Continuing the priest tells him of the similar laws that Egyptian society had in that day that were similar to the Athens of 9000 years ago; priests were seperated from everyone else, all the different occupational classes worked independantly with no communication with other workers and the warriors were also kept apart from everyone else (amazing confirmation of Mosca's work). This was all mandated by their mutual goddess (showing religious 'justification' for subjugation) and the priest then informs Solon that from the earliest times in this type of social system, devotion to wisdom was present (in other words the persuit of learning or science by the priestly/ruling class). The goddess (symbol of the rulers) decided upon the location and type of education to be given to the Greeks to create the type of people she was looking for - lovers of war and wisdom (seems like a hint that the manipulators, being the priests, took a small group of people, placed them in ancient Greece and observed their development from afar). Apparently these ancient Greeks improved upon the initial laws given to them by the goddess which was to be expected due to their 'divine nurturing'.
Of all the great accomplishments of ancient Athens, the priest says the greatest was the cities' repulsion of a foreign invading power attempting to conquer Europe and Asia. This foreign power was said to come from beyond the Pillars of Hercules on an Island in the Atlantic ocean. The Isle of Atlantis had a powerful army and its rulers controlled many other Islands as well as parts of the continent beyond the Atlantic ocean as well as Libya as far as Egypt and parts of Europe. It was at the point of expansion when it was stopped by Athens and later earthquakes and floods sank the Isle of Atlantis and decimated the war ability of Athens.
Critias ends his story here, calling it a concise version of the one the older Critias told him and remarks to Socrates that he was impressed at the similarity of Socrates' proposed perfected state with the stories of the priests of Egypt. He proposes to expand upon the story but first asks Timaeus to give an account of the origin of the universe followed by humanity where they will then put into context Socrates' proposed state in a modern setting. (Critias' continuation of the story is in a seperate work called Critias).
I'll leave the work here but in conclusion I just wanted to show the level of social manipulation (and the threat of invasion to justify dictatorship with the story of Atlantis) that was being discussed over 2000 years ago. Timaeus does carry on with an elaborate cosmology but, based on the material covered so far, it is not necessary to discuss it at the moment, I do plan on doing so later when we discuss some of the deeper beliefs of the elite. What one must remember is that Plato's Republic continues these themes in greater detail and Plato is a very influential figure throughout history. His works are still discussed today in prestigious universities and in this small sample we have seen the intellectual foundation of all modern day bureaucrats. Platonic thinking has generally been in the domain of societal elites throughout the Christian and Islamic eras. In a way it is the esoteric teachings in contrast to organised religious exoteric teachings for the public. I've remarked in older posts that Manly P. Halls' work 'The Secret Teachings of all Ages' is essentially the history of the use of Platonic and Neo-Platonic thought by elites through history and that Karl Poppers' book 'The Open Society and its Enemies' elaborates on how Plato is the ideological founder of totalitarianism (I also intend on discussing the contents of those two books too). Taking these two into account it is no wonder that down through the ages, humanitys' recorded history is filled with bloodshed, violence, death, manipulation and war.
02-01-2011, 11:09 AM
KM1
TruthSeeker


Posts: 124
Joined: Jan 2011
RE: Users Recommended Reading & Book Overviews (Your own written reviews only)
Great thread!
I just finished Genesis of the Grail Kings by Laurence Gardner.
Description from Amazon:

From beneath the windswept sands of ancient Mesopotarnia comes the documented legacy of the creation chamber of the heavenly Anunnaki. Here is the story of the clinical cloning of Adam and Eve, which predates Bible scripture by more than 2,000 years.
From cuneiform texts, cylinder seals, and suppressed archives, best-selling historian and distinguished genealogist Laurence Gardner tells the ultimate story of the alchemical bloodline of the Holy Grail, including: -Hidden secrets of the Tables of Testimony -Anti-gravitational science of the pyramid pharaohs -A history of God and the lords of eternity -Disclosures of the Phoenix and the Philosophers' Stone -The superconductive powers of monatomic gold -A genetic key to the evolutionary Missing Link -Active longevity and the Star Fire magic of Eden


I've read dozens of other books dealing with the Annunaki, etc., and despite the amount of info Gardner presents it in a very approachable manner in contrast, for example, Sitchin's tediousness. I would not consider this anti-Christian, persay, but it does paint the Old and New Testaments in a new light. If you are into origins of religion and the like I highly recommend this read.
---
"It is no measure of health to be well adjusted to a profoundly sick society."-J.Krishnamurti
02-06-2011, 03:10 AM
R.R
Senior Member


Posts: 700
Joined: Aug 2007
RE: Users Recommended Reading & Book Overviews (Your own written reviews only)
@KM1 - Gardner has written some interesting stuff although I think you should be aware of his numerous Masonic affiliations. I may cover some of his work later as the concept of the bloodlines is very important when you start looking deeper into the rabbit hole. Origins of religion and Masonry seems a good topic to cover next so lets have a look at a book recommended by Jordan Maxwell:
Stellar Theology and Masonic Astronomy
(1882) by Robert Hewitt Brown
Maxwell writes the forward to this particular edition, Hewitt Brown was a 32nd Degree Freemason. This book seems to be where Maxwell got most of his information regarding astrotheology. It contains many astronomical explanations of Masonic symbolism aswell as some interesting and revealing quotes, especially in light of some previous book discussions.
Chapter 2: The Ancient Mysteries Described
Brown begins by saying that a close examination of early religions reveal that most of them had the sun as the chosen symbol to represent God. He goes on to say that in later times the sun itself became the object of worship instead of being merely a symbol and was then personified and deified. After giving a few examples of solar allegories, Brown acknowledges their 'absurdity' if taken as literal history but informs us that they only make sense with a knowledge of astronomy. Speaking of the allegorical key of astronomy, Brown states:
This key was religiously kept secret by the
priests and philosophers, and was only
imparted by those initiated into the MYSTERIES.
The profane and vulgar crowd were kept in darkness,
and believed in and worshipped a real Hercules
or Jupiter, whom they thought actually lived and
performed all the exploits and underwent all the
transformations of mythology.
By these means the priests of Egypt ruled the
people with a despotic power. The fables of the
mythology disclosed to them grand scientific truths,
and to them only. The very stories themselves
served to perpetuate those truths for the benefit
of the initiated, and also formed an easy vehicle
for their transmission. Books were not only rare
and difficult of multiplication, but it is also probable
that, in order that scientific knowledge might be
concealed, it was considered unlawful to commit
it to writing.'
P.8
He goes on to state that science was orally transmitted, veiled in mythology for ease of recall. The fables served the purposes of concealing practical science from the uninitiated and:
'Being the means of keeping the people in
ignorance, by their use the priests were
enabled to rule them through their superior
power of working apparent miracles'
P.9
This science, according to Brown, was astronomy. The religion of the masses in reality being one of sun, moon and star worship portrayed as worshipping particular deities. If the public had been aware of this fact, Brown says it would have ended the influence of the priests in Egyptian society at once. The priests had managed to convince, or at least portrayed themselves as having the exclusive ability to communicate with these deities to gain divine favor. Through astronomy, accurate predictions of solar eclipses could be made, which in turn led to an increase in credibility for the priests by the people. With this 'ability' the priests were able to become prophets and cast horoscopes. Amongst the priesthood were initiatic societies and the higher one got up the more they were told especially with regards to religion. The initiate eventually learning the key to the fables. In this way was the knowledge hidden from the uninitiated masses.
The allegories were generally built around the observation of the suns' yearly cycle and the seasons represented a particular stage in the suns' life where winter symbolised death and spring symbolised rebirth. From this basis, initiation also portrayed the same events, the initiate represented the sun and he also went through a symbolic death and rebirth. Upon this rebirth the initiate was born again into the mysteries. Egypt, Greece and India all had variants of the same system. The rebirth into initiation led to a 'more perfect life' where the candidate dedicated his services to the priests. His thirst for knowledge was satisfied through undersatnding the fables and now science and his ambition was gratified by his promotion to a role of power within society.
Brown goes on to discuss initiatory rituals amongst ancient societies, amongst them the Eleusinian mysteries in ancient Greece and the modern day equivalent in Freemasonry where the candidate plays the role of Hiram Abif who is nothing more than another solar allegory. From this Brown concludes that; these rites had the same origin, they are present in all civilised nations of antiquity, each nation modified them slightly to conform with regional differences such as climate. Brown goes on to reprint and discuss numerous quotes from other authors looking into the same phenomena. Later on he tells us:
'The mysteries served as a sort of theological
and scientific seminary, which they studied the
truths of religion and science, and from the higher
degrees of which the ranks of the priesthood and
the rulers were from time to time recruited.'
P.32
He says that the mysteries employed a policy of secrecy which was thought to be for 'the wellbeing of society', it was certainly a benefit to the few who were able to obtain power and wealth through the mysteries. Naturally this meant severe penalties to anyone giving out the secrets to the uninitiated. The government itself sanctioned the mysteries leading Brown to say:
'Thus all alike, from the most exalted
hierophant to the humblest of the initiated,
were the slaves, and sometimes the victims,
of a system of state policy which they all
upheld and defended.'
P.33
Conclusion:
From this we can deduce that astronomy was so highly venerated because it allowed for the creation of a secure ruling elite to emerge (or for outsiders enslaving indigenous populations). Knowledge is hidden and organisation obtained through the initiatory system which conforms nicely with what Gaetano Mosca had to say about ruling classes and their superior organisational skills and ability to recruit members of the ruled to help maintain their system of control. Astronomy is of course extremely useful in agriculture too, because of the need to know the seasons, so it is not surprising to see its use alongside the point of transition between hunter-gatherer society and the beginnings of civilisation. The mysteries have always provided public figures, who play big roles in the bureaucratic system that manages the public on behalf of the ruling class. Of course once science becomes public knowledge it loses its power and new myths are built up to replace them. The old myths remain in some capacity though and in the case of astronomy it becomes astrology, which from the context of the deceptive nature of the priesthoods, we can conclude was used as a form of psychological warfare by instilling determinism within the members of the public and thus helping to create a predictable and therefore easier to manage population.
What needs further investigating is the scientific knowledge held by these priesthoods and establishing links between them inspite of their distance from each other. These mystic societies do seem to be in every ancient civilisation which can only mean two things: they were all in touch with true spiritual knowledge or the same scammers were using the same tricks on different nations in effect meaning that an international 'priesthood' has had a heavy influence, maybe even ruling the world for thousands of years. Also where did these priesthoods obtain their scientific knowledge, which in a nutshell is the knowledge of raising civilisations and the ability to manage them too with banker manipulated wars being a technique used back then too.......
03-24-2011, 03:38 AM
R.R
Senior Member


Posts: 700
Joined: Aug 2007
RE: Users Recommended Reading & Book Overviews (Your own written reviews only)
Next up is a short extract of Sigmund Freuds'
Civilization and Its Discontents
included in the book
Against Civilisation
(2005) edited by the anarcho-primitivist John Zerzan.
Right in the thick of things Zerzan begins with Freuds' contention:
'We come upon a contention which is so
astonishing that we must dwell upon it. This
contention holds that what we call our civilization
is largely responsible for our misery, and that we
would be much happier if we gave it up and returned
to primitive conditions. I call this contention
astonishing because, in whatever way we may define
the concept of civilization, it is a certain fact that
all the things with which we seek to protect
ourselves against the threats that emanate from
the sources of suffering are part of that very
civilization.'
Freud goes on to speculate that although he isn't sure when such an attitude of hostility to civilization began, he is sure that this hostility was around when 'Christendom' conquered the 'heathen religions' and continued with the 'voyages of discovery' that 'led to contact with primitive peoples and races'. He observes that 'Christian doctrine' put a 'low estimation upon earthly life' which led to Europeans believing that the 'simple, happy life with few wants' of the primitive peoples was something that these visitors saw as unattainable with regards to their own sociology. Continuing, Freud says:
'During the last few generations mankind
has made an extraordinary advance in the
natural sciences and in their technical
application and has established his control
over nature in a way never before imagined.....
Men are proud of those achievements, and
have a right to be. But they seem to have
observed that this newly won power over
space and time, this subjugation of the
forces of nature, which is a fulfillment
of a longing that goes back thousands of
years, has not increased the amount
of pleasurable satisfaction which they may
expect from life and has not made them
feel happier....
Very interesting in light of the modern world where we find the most civilised nations as having high suicide rates, increased dissatifaction with life and ever increasing bizarre behaviour in order to feel alive and Freud has basically observed that with the increase of technical knowledge we can expect a continual decrease in happiness and essentially humanity - basically a dystopia is what we have to look forward to; a miserable controlled world portrayed as a utopia. I highlighted the quote about ancient longing for those aware of the antiquity of the mystery religions as it gives us a clue to the driving force behind such progress.
With this misery in mind, Freud finishes off by saying:
'If the development of civilization has such far
reaching similarity to the development of the individual
and if it employs the same methods, may we not be
justified in reaching the diagnosis that, under the
influence of cultural urges, some civilizations, or some
epochs of civilization - possibly the whole of mankind -
have become 'neurotic'?
This is the first of a few essays I'll cover from Zerzans' collection, alongside some of Zerzans' own work. Deep study will invariably lead one to link the mystery tradition, origins of civilization, spread of civilization and social manipulation together which thus manifests as the use of conspiratorial methods today. What is generally not looked upon is if these are symptoms of the edifice of civilization, we must look to the past to see if such methods were employed back then, (which often researchers don't do for many reasons such as a belief in pre-Christian pagan golden age, or its equivalents in the Age of Enlightenment or the era after the protestant reformation - which are both past mythical golden ages for different people) which leads those researchers to leave out big chunks of figuring out the real problem, that of civilization and the need to evaluate it and reform it if necessary, although an obstacle to that reform would be that it interferes with those who have a projection of a future golden age for invariably an honest critique would lead one to say 'progress' needs to be slowed down and in effect a whole cultural revolution would take place - clearly things that aren't going to happen soon (unless forced upon).
Exploring modern conspiratorial methods occurring in the ancient past will be the next consideration.
03-24-2011, 06:54 AM
R.R
Senior Member


Posts: 700
Joined: Aug 2007
RE: Users Recommended Reading & Book Overviews (Your own written reviews only)
Next we'll take a look at a conspiratorial sub-genre: the banking scam. Certain sectors of conspiracy research tend to place international bankers at the top of the pyramid and this research generally focuses on the Jewish aspect of the conspiracy going back to the emergence of the Rothschilds in the 1800's. Some take it a little further back to the subsequent banking reforms of Oliver Cromwells' time while some others link the Templars to founding the modern banking system by taking the Chinese paper currency model which would have been in use in the middle-east during the Templars stay in that region of the world and others look to the practice of usury itself. Paper is a substitute for a substitute, prior to its use, precious metals generally served this purpose, which in itself replaced the barter system. Each reform led to a decrease in individual autonomy and further control of masses of people by ever dwindling centralised forces such as states and corporations themselves having to work around the rules set by those in control of banking. We can only wonder how the next reform of currency, digital money linked to the microchip, will serve in creating the neurotic, uniform culture of the future. So much of modern life is dictated by the banks as more people are becoming aware of due to the current financial crisis the world is going through, which based on the fact that bankers all over the world received bonuses, my paranoid mind tells me that as you only get a bonus for successfully reaching an objective, the whole financial crash was a manipulated event partially tied in with creating a more common currency that encompasses more regions and thus gives more political clout to those hell bent on world domination. Continuing from our previous intention to look into ancient uses of modern methods, I bring for your consideration:
'Babylon's Banksters'
(2010) by Joseph Farrell.
In particular part two of the book titled 'The Temples, the Stars and the Banksters' beginning with chapter 4: 'Temples, Templates and Trusts: The Ancient Roots of a Deep Relationship'. I have chosen this book due to Farrell synthesising the works of David Astle
(The Babylonian Woe)
and Alexander del Mars' various works on money and its history. Farrell begins with a quote by Astle:
'....so it was that the temple that
should owe fealty to the gods alone,
became a front for the international
money creative force of that day and
age; connected closely with the trade
in precious metals and slaves it must
have been.'
Farrell notes that the further one looks into history, the relationship between science, magic and money becomes closer. From this Farrell notes that the issuance of money since the earliest times has been the 'sole prerogative of the state' or the crown or king depending on the era. He quotes del Mar:
'The right to coin money has always been
and still remains the surest announcement
of sovereignty.'
P. 160
From this Farrell observes that ancient states had justified their own rulership and subsequent sovereignty as being derived from God or the gods and thus it is not surprising to see intertwined the banking system and the priesthood in these eras. He goes on to cite Republican and Imperial Rome as examples of this. Early forms of money being precious metals (though not exclusively) the state had to exercise 'strict control' of the mining of precious metals in order to maintain its sovereignty and the 'making, issuance and regulation of the value of money'. After quoting del Mar at length about Republican Rome, Farrell can conclude that the state maintained exclusive right to coin and regulate the value of money by law, the value attributed to precious metals was in itself artificially created by its relative scarcity (tree branches would have been useless due to its ease of access by everybody - the state could control, monitor and monopolise the mines) and the addition of artwork to the metal (state seals to avoid counterfeiting for only the state can sanction legal tender) and that gold had some significance to this religion (perhaps it links to astrotheology and the sun, along with silver for the moon).
Continuing, Farrell further quotes del Mar, who tells us that Occidental societies (Persia, Assyria, Egypt, Greece, Rome) placed more value on gold, while Oriental societies (India, China) placed more value on silver, meaning trade could be carried out easier between the regions. For such trade to occur an international trading class must exist to basically legitimise all systems for trading purposes in effect creating an international banking class in ancient times. Farrell asks did this international class emerge because of the policies adopted by the various nations or did this class actually impose this system on those nations especially as they stand to gain by enhancing their own power and wealth through this system by basically charging a fee for the conversion of metals. Investigating this he again quotes del Mar:
' The sacredotal character conferred upon gold,
or the coinage of gold, was not a novelty of Julian
constitution (of Rome); rather was it an ancient
myth put to new political use....A similar belief is
to be noticed amongst the Greeks, whose coinages,
except during the republican era, were conducted in
the temples and under the supervision of priests.
Upon these issues were stamped the symbolism
and religion of the state, and as only the priesthood
could correctly illustrate these mysteries of their
own creation, the coinage - at least that of the
more precious pieces - naturally became a
prerogative of their order.'
P.163
Taking into account the widespread use of the same monetary system which has its own roots in a religious idea (the use of and value given to particular metals given a religious justification) leads Farrell to say that the religious and banking institutions were either in league from the start or one infiltrated and then controlled the other.
Moving further (after some interesting considerations between ancient India and Egypt) Farrell begins to discuss slavery. Slaves were used for the mining of precious metals. Quoting Diodorus Siculus discussing Egyptian mining at length we learn that many miners were used in the goldmines who were criminals, prisoners of war, petty law breakers and their relatives (the state probably created laws which would have been impossible to not break to obtain this sector of labour) who were sent to the mines as punishment. Mercenary soldiers from foreign nations kept watch on these slaves to stop any escape and communication that could lead to rebellion, they were whipped by their overseers, worked naked day and night irrespective of age or gender, many simply fell dead while working.
Farrell gleans from this further international cooperation for the supply of foreign mercenaries which itself is a very old practice going back to the earliest times of mining. Also quoting del Mar, Farrell learns that coins were minted in temples and such a practice is evident in Babylon, China, India and Greece amongst others.
Moving on Farrell discusses the temples' other role as astronomers and briefly discusses the possibilty of ancient civilisations perhaps springing from a common source or even a lost civilisation as discussed by the likes of Graham Hancock due to the connections between astronomy amongst those societies and their religious similarity along with, of course, similar trade and banking practices and the other themes in this book (ancient sciences predominantly physics). Farrell goes on to discuss some interesting topics which are more relevant to the rest of his book (and older research) than the current discussion (hes basically saying that precious gems and metals had a deeper scientific use by an elite who in order to stockpile and use those resources had to obtain them and did so through slavery, some of these deeper uses include various 'magical' acts).
Chapter 5 adds to the themes discussed and I'll try and cover them at some point.
In closing I think Farrells' work has done a good job in showing the ancient use of a modern method, manipulation of the financial system to manipulate the public where an elite benefits heavily off of the hard work of others, many of them wage slaves due to the way the system is setup so we've basically got a very similar sytem in essence. From this enslavement arises many methods of population control which basically entice people to willingly work and stay in the system where through the use of state money, the individual can buy products that they generally wouldn't be able to procure, products which are provided by that same elite. This is basically done to limit rebellion along with many other methods, which keeps a very small percentage of the worlds' population living in luxury at the expense of the rest of us.
03-25-2011, 08:56 AM
R.R
Senior Member


Posts: 700
Joined: Aug 2007
RE: Users Recommended Reading & Book Overviews (Your own written reviews only)
Continuing from the idea of small elites living in luxury based upon the virtual enslavement of the masses and looking to the past to elucidate modern events, we'll take a look at
'The Cambridge Companion To Marx'
(1991) edited by Terrell Carver.
Note the pose (the hidden hand), which will be of relevance later.
Chapter 5 is an essay written by Terence Ball entitled 'History: Critique and Irony' and will be the basis of the next discussion.
Central to this essay is Marx's philosophy of history with Ball tracing the origin of the phrase to Voltaire, which is 'any grand philosophical system that purports to divine the direction and destination of history'. Perhaps it is from this that the correct charge of determinism was levelled at Marxist philosophy. Continuing, Ball says Marx was critical of such systems and in particular Hegel's philosophy of history, yet acknowledges that Marx's system evolved out of his 'critical confrontation' of Hegel's system. From this Ball decides to discuss Hegel's system to better understand Marx's.
Ball notes the influence of Hegel in German thought and his heavy influence to the educated in that era. Marx came to view Hegel as an 'ideological mystifier' and thus attempted, through criticism, to 'discover the rational kernel within the mystical shell of Hegel's philosophy'.
Hegel viewed history as the unfolding or evolution of mind or spirit (geist) which thus moved history in a particular direction. Spirit was not necessarily otherworldly and was thought of more as a 'set of potentials waiting to be actualised or developed'. History was thus the story of 'spirit's struggle to overcome obstacles in its search for freedom'. Overcoming these obstacles, 'spirit itself changes, becoming more expansive, inclusive and universal'. Spirit (unrealised potential) reveals its 'cunning of reason' through the stages it goes through in realising its potential, individuals and nations are part of a vast unfolding drama which they are unaware of - spirits' realisation through them. Thus being Shakespearean actors on the worlds' stage, they play their part unaware of how they fit into the whole. Spirits' primary method of unfoldment is 'out of the clash of opposing ideas and ideals' through which spirit is basically perfected as the clash modifies and improves and makes more efficient the previous two ideas as it amalgamates them. As an example of this, Hegel used the concept of master and slave; the master controls the slave yet both derive their sense of self through the eyes of the other - the slaves' dependancy on his master to provide necessary sustenance leads to feelings of inferiorority which the master interprets as their own superiorority. However both require the other to exist - without a slave he is no master and without a master he is no slave. The master wants to retain his position, the slave wants change - thus we have a confrontation or a thesis and antithesis (a proposition confronted by its opposite). All the slave has to do is refuse his masters' command to show the masters' dependance on the slave - effectively reversing their positions. The masters' livelyhood and identity were derived from his slave, thus showing that both were slaves all along - this realisation ends the institution of slavery and both can move on to improved life.
Ball doesn't mention however that this truce, which is the synthesis, will in turn become a new thesis ready to be modified by another antithesis (in spirits path to its own realisation) - something Marxist rooted 'thinkers' forget and is the sole reason socialism/communism will never be realised; it is meant to, as an antithesis to the thesis of capitalism, synthesise as a hybrid of the two with modern China as an example but these considerations and the use of determinism as psychological warfare will be discussed another time. Taking this into account we must realise master-slave was a metaphor to describe a particular point in spirits' journey. Perhaps one needs to look to the Jewish/Kabbalistic elements in Hegel's philosophy to better understand but I'm digressing although I'll mention that thesis-antithesis-synthesis can be symbolised as a triangle, thought of in terms of the trinity, further shown in numerology particularly 3-6-9 and in essence is the pythagorean theorem (which itself is the concept of the divine trinity father-mother-child) as the unification of opposites (male, female) creating the offspring who is the sum of the other two sides and will eventually have children of their own continuing a bloodline. All trinities give birth to new trinities, the clash is 'as above so below' symbolised by two interlocking triangles or what is commonly known as the Jewish Star of David and also.......
Getting back to the book, Ball says that Marx basically changed the characters and modified the story while keeping the storys' essence the same, basically instead of two individuals, master and slave, Marx changed it to mean society - rulers and the ruled and the struggle between the two. Ball pieces together Marx's philosophy of history through analysing several of Marx's works. Thus we get in a nutshell - Marx saw history as people (not spirit) struggling for the freedom to realise their own potential, history not being 'alive' has no direction or intention, instead it is people who do what Hegel attributed to history (the unfolding of events to realise itself). History is thus the overcoming of obstacles placed in front of man primarily his environment and then with other humans which manifests as class struggle. Class struggle takes over the role of master-slave and as they have different aspirations, a conflict between the two is forthcoming and therfore change is inevitable.
Marx, according to Ball, emphasises 'the primary importance of material production because human beings must produce the means of their own subsistence'. This 'material-productive base' of society holds up the 'ideological superstructure' which gives the base its 'ideas, ideals and beliefs we have of the world' while resting upon this base. From this base requirement of production come division of labour and thus 'social relations of production' which become more complex as society and technology progresses. It is from these social relations that the classes arise and eventually one will dominate the other and classes become hierarchical. However these classes can really be boiled down to just two - dominators and the subservient. The subservient are those who, in order to survive, have to sell their own labour due to not owning the means of production - they are a force of production. The dominant class is much smaller than the subservient and owns the means of production. This lack of comparetive numbers means resorting to other means of maintenance of control 'the ruling class controls the agents and agencies of coercion: the police, courts, prisons and other institutions of the state'. This however is not the sole source of power maintenance - force alone would lead to a very quick toppling due to the disproportionate numbers between the classes, a second factor is at play - the ruling classes 'ability to influence, if not, control the thoughts, the beliefs and ideas - the consciousness - of the working class', which ties back in to the 'ideological superstructure'. These manifest as various forms of arrangements and institutions in society (political, legal, theological etc) who:
'in their final analysis, all do the same thing:
'explain, justify, and legitimize the division of
labour, class differences, differences of wealth,
status and power that exist in a particular society.
In a class-divided society, says Marx, we will always
see ideology operating for the benefit of the
dominant class and to the detriment of the
subservient class'.
P. 130
From this, the dominant and acceptable ideas within the mainstream serve this ruling class. There may be small differences in content and even conflicts but the all share an 'overriding interest in maintaining their classes social and economic dominance'. In older societies for example, these ideas appealed to supernatural justifications for the elites' dominance. This is further reinforced by the education system 'from kindergarten through college' which also ridicules or debunks alternatives to the existing system as unworkable while placing preferance on explaining the current system as natural. This dumbs down the masses who accept the ruling elites' ideology as their own.
Inspite of the criticisms of the modern system, it did serve a purpose in eliminating an older way only its time come to give way to the new is how Marx viewed capitalism, basically viewing it as a necessary evil as so many 'progressives' seem to do - looking at the 'greater good'. Marx respected capitalism for accomplishing for man mastery over nature which will serve the future progression well, while capitalisms' greed has taught man the importance of innovation and change even if it had a profitable motivation which treated people bad. Thus Marx's real contention with capitalism is that it has 'outlived its usefulness' although we are not told what that is, it is pretty obvious that it no longer serves the spirit of 'progress' as defined by the dominant order.
Eventually the downtrodden would realise that the sytem is the real problem, not themselves or the fate of the stars, in effect becoming the realisation of Hegel's master and slave where the dominant classes cannot exist without the subservient class. From this will occur the clash leading to the end of the idea of one class dominating another and therfore a classless society of which Marx had little to say about.
I'm sure many will find some extremely relevant parrallels in the above, but again what we've seen is something endemic to civilisation itself and nothing to do with capitalism or preceding social and economic orders. Thus the socialist dream, which is to maintain civilisation in a more efficient manner, cannot achieve its goals of freedom for freedom is in fact detrimental to civilisation (and when 'spirit' realises this it will dispense of this concept), which in all its history has required the very concept of division of labour and 'classes' as its entire base of existence, direction to ensure resources are 'properly' used (the main reason for the backlash against capitalism today - ordinary people invoke their 'right' to use resources in a manner they deem beneficial to themselves) but a more thorough critique will have to wait for another day. Marx, inspite of his critiques of capitalism had little to say about the biggest capitalists of his day - the Rothschilds which is not surprising when one studies the links between Marxist philosophy and conspiratorial research. At sme point I'd like to cover the links of the secret society networks with socialist movements, revolutions and their financing by capitalists as well as to give a further analysis of this essay. I'm sure long term researchers are aware of the aforementioned links, my own analysis would be to interpret the above in terms of how it benefits the hidden hand.
04-09-2011, 03:48 AM
(This post was last modified: 04-09-2011 03:53 AM by R.R.)
R.R
Senior Member


Posts: 700
Joined: Aug 2007
RE: Users Recommended Reading & Book Overviews (Your own written reviews only)
This is a repost of a thread I started here:
http://concen.org/forum/showthread.php?tid=39211
It follows a similar method of delivery and mentions various books so it would make sense to have it here aswell, although eugenic specific comments, I'd kindly ask, should be posted in the above thread. I'll repost any future articles that mention books in here.
Lately I've noticed a fair few articles being reported in the mainstream media on the topic of eugenics. It seems to be an example of pushing through certain agendas while most (who follow the news) are distracted by the goings on in the middle-east, which is also overshadowing the disaster in Japan and covering up the radiation issues. Briefly the articles in question are:
http://blogs.telegraph.co.uk/news/jamesd...-eugenics/
http://www.guardian.co.uk/society/2011/a...government
http://www.telegraph.co.uk/science/scien...e-sex.html
http://www.telegraph.co.uk/earth/environ...23a225%2C0
http://www.bbc.co.uk/news/health-12537912
http://www.sciencedaily.com/releases/201...114859.htm
Quickly covering the above, we are seeing greater calls for genetic screening, climate change and environmental groups calling for reduction in birth-rates, studies showing links between behaviour and television 'role-models' at the same time period as increases in pre-18 year old pregnancies, which incidentally have finally begun to decline.
From these then we'll take a closer look at eugenics itself to see what the ambition is of those who'd benefit from it. This will be a more pessimistic look at eugenics for if history has taught us anything, it is that eugenics would undoubtedly become enforced through a central body linked to government who will factor in their own requirements before taking into account any issues raised by the public. Governments, especially those who are more sympathetic to the centrally planned approach, would most likely use eugenic concepts as a way of bringing about a more efficient labour force from the general population. Besides it would not make sense for a government to create an army of superhumans because the inevitable insurrections would mean an overthrow of those already in power. We can thus say confidently that any state enforced eugenics will not have the publics best interests in mind which is also the case with any other attempts at 'improving the species' such as transhumanism. There will always remain an aspect which requires control, if simply to keep the peace if nothing else. This does not however apply to those forces behind government, who have in fact practiced eugenics in various forms throughout their histories which we'll cover at some point in this thread.
Eugenics, it seems, is deeply rooted in the transition between hunter-gatherer society and agricultural society, alongside division of labour and increased specialisation. This is simple enough to grasp, afterall eugenics, the alleged science of improving a species, is routinely used by farmers to improve yields from both animal and plant life. From this we can say that eugenics has, at its core, the desire to improve work related efficiency especially in light of a state mandated system employed on the public. Human history from that transition point has always been workers against managers in various ways, most revolutions and rebellions down through history have been about this, in short slaves demanding some rights from
whoever is giving them orders. This must always be kept in mind. Societal managers will always want maximum productivity with minimum expenditure and it is not always for profit either. Eugenics is generally promoted as a way of eliminating genetic disorders which impact upon ones life, but if we analyse that, the impacts are more on ability to enter the workforce and to not be a burden on tax payer money and other resources through healthcare - it again links back to productivity, for
these defects are eliminated, what then? Society will expect you to enter the workforce for that is how the system is setup. You are a human resource afterall and resources are expected to be used to create something more useful to the managerial class. Coupled with that is the reminder of the enormous number of intelligent people who have been shunned by their own societies over the centuries suggesting that brain or intelligence improvements are not exactly at the top of the agenda and
perhaps the opposite is true - further promotion of mass stupidity. Lets have a look then at the proposed future fantasies of those who have advocated large scale eugenics: (I also strongly encourage anyone else to contribute to the thread with some quotes or research articles about this subject and its proposed use by the new world order).
Lets take a look at Dr. Roderic Gorney's
'The Human Agenda'
(1979 edition) which also contains a foreword by Alvin Toffler.
He devotes a few pages to eugenics starting with a discussion on negative eugenics (elimination of undesirable traits) moving swiftly to positive eugenics (promotion of desired traits) by quoting the late Herman Muller:
'For any group of people who have a rational
attitude toward matters of reproduction, and
who also have a genuine sense of of their own
responsibility to the next and subsequent
generations, the means exist right now of
achieving a much greater, speedier, and more
significant genetic improvement of the
population, by the use of selection, than
could be effected by the most sophisticated
methods of treatment of the genetic material
that might be available in the 21st century.'
P.215
Continuing, Gorney adds:
'He proposes by selective breeding not only
to eliminate the defects we encounter now by
reducing the present genetic load, but also
to increase the number of people with 'superior'
qualities. One way to accomplish this would
be to establish sperm (and eventually egg)
banks in which the reproductive cells of
individuals with exceptional health, intelligence
or special talent could be preserved. These
could then be used by people who want to produce
children with better endowment than would result
from their own genes.'
P.215
Gorney goes on to say that some objections have been made by others who suggest that people would on the whole be unwilling to go through this. He again quotes Muller who basically says that if the public were given this opportunity, they would gradually accept it especially once the positive results become evident, 'nothing succeeds like success' he says which will create further adherents. Interestingly a similar thing did in fact occur, as documented in David Plotz's book
'The Genius Factory: Unravelling the Mysteries of the Nobel Prize Sperm Bank'
(2005).
The book tells the story of Robert Grahams' attempt to create a sperm bank full of nobel prize winning donors, many of them remained anonymous. Here's a quick quote:
'Graham said he was trying to save mankind from
genetic catastrophe. In modern America, the
millionaire complained, cradle to grave social
welfare programs paid incompetents and imbeciles
to reproduce. As a result 'retrograde humans' were
swamping the intelligent minority. This 'dysgenic'
crisis would soon cause the evolutionary regression
of mankind, as well as global communism. How could
we save ourselves? Graham had the answer. Our best
specimens - and 'specimens' is just the kind of word
Graham would use to describe people - must have more
children.'
P.4
Which is apparently UFC commentator Joe Rogans' hypotheses of ancient Egypt (dullards outbreeding the elites), which is briefly discussed here (along with video of the remarks):
http://concen.org/forum/showthread.php?t...#pid215358
Continuing with Gorneys' book, he goes on to talk about the program of positive eugenics:
'But naturally, such a program poses a potential
threat to our values more fundamentally than
negative eugenics. It opens the door to the
frightening abuses of compulsion outlined in
Aldous Huxley's Brave New World, such as the
creation of special classes best fitted to be
servants to others who are rulers. With good
reason we might fear the consequences of such
a system conducted according to the mad
assumption of racists. And there isthe serious
problem of determining which human qualities
are desirable, especially for future
generations who will live in profoundly
different circumstances. But these sobering
considerations will not prevent the introduction
of both negative and positive eugenic measures
as both knowledge of techniques and general
demand for genetic improvement increase. In fact,
at least in regard to negative eugenics, the
process is already underway.'
P.215-216
Amusingly he quotes Walter Landauers' article in Science called 'Aristogenics' during a subsequent discussion on implementing various eugenics efforts:
'The members of the House of Lords would under
this scheme be allowed polygamous marriages,
while knights would be asked to provide semen
to a bank of superior genotypes. Women (married
women for the time being) will presumably be
urged to use the bank by drawing freely on the
account of their choice.'
P. 216
If nothing else, it highlights occupational considerations in the decision making of desirable traits which is of greater importance to a centrally planned state and in fact seems largely to be the intention of reverting back to pre-industrial revolution social order combined with modern scientific knowledge. There are obvious parrallels between social order, occupation and dictatorial type society in a study of the Hindu caste system which we'll cover later.
Getting back to Gorney, he discusses future applications of eugenics, primarily the elimination of 'all genetic defects' and mentions a meeting between scientists (National Aeronautics and Space Administration) discussing serious proposals of seeding 'the planet Mars with artificially created lifeforms' which I suppose is nothing out of the ordinary for Sitchinites! Of interest to deeper researchers, Gorney briefly discusses hermaphroditism and the psychological changes in society that would occur, even joking (via a hint) that it would bring new meaning to the term 'motherfucker' in context of hermaphroditic self-reproduction which then leads him to mention the possibility of alterations in humans where, for example, fish-like gills could be developed at the embryonic stage, where structures exist that could be used to create a human subspecies better adapted for underwater work. Going further, he then mentions cloning as a possibility for the continued use of unique individuals and discusses it in a way which reminds me of the movie 'The Boys From Brazil'. Clones could also be used as a spare-parts factory.
These remarks are interesting because they are mentioned in the book
'Futureman: Brave New World or Genetic Nightmare'
(1984) by Brian Stableford.
Within the book are numerous pictures of artist conceptions of modified, genetically engineered humans such as the underwater type mentioned by Gorney. The book also has a foreword written by science fiction writer Isaac Asimov, some of his novels have been turned into Hollywood movies such as 'Bicentennial Man' and 'I Robot'. With these ideas of cloning and self-reproduction in mind, lets see what former advisor to French President Francois Mitterrand and first President of the European Bank for Reconstruction and Development has to say in his book
'A Brief History of the Future'
(2009 English language edition):
Speaking of what Attali calls the first planetary empire (the first attempt at world government) which will come after the collapse of the American empire, Attali predicts:
'Sexuality will be the kingdom of pleasure,
reproduction that of machines.
Hypersurveillance, self-surveillance and then
self-repair will provide what is needed for
it. After repairing diseased organs they will
want to produce them, then create replacement
bodies. First they will produce lineages of
stem cells without destroying the embryo,
which will make genetic therapy ethically
acceptable, and then reproductive cloning.
Finally, they will manufacture the human
being like a made-to-measure artifact, in an
artificial uterus, which will allow the brain
to further develop with charateristics chosen
in advance. The human being will thus have
become a commercial object'.
P.208-209
This proposal will lead to a war of resistance and will not be fulfilled until the second attempt at world government or as Attali calls it 'Planetary Democracy'. Finishing off, Bertrand Russell in
'The Scientific Outlook'
(2009 reprint of the 1949 second edition) speculates on this proposed future:
'The world of the future will contain a
governing class, probably not hereditary, but
more analogous to the Catholic Church. And this
governing class, as it a acquires increasing
knowledge and confidence, will interfere more
and more with the life of the individual, and
will learn more and more the technique of
causing this interference to be tolerated.....
an oligarchy is unlikely to consider the true
interests of its slaves.'
P.167
The Church for most of its history only picked its governers from prominent families, so in point of fact, it would likely be hereditary, although probably selecting from a larger group of families as opposed to a few, but they'll likely practice the eugenic methods discussed previously. On the future world government:
'The society of experts will control
propaganda and education. It will teach
loyalty to the world government, and make
nationalism high treason. The government,
being an oligarchy, will instil submissiveness
into the great bulk of the population,
confining initiative and the habit of command
to its own members. It is possible that it
may invent ingenious ways of concealing its
own power, leaving the forms of democracy
intact, and allowing the plutocrats and
politicians to imagine they are cleverly
controlling these forms.'
P.175
In my opinion, such a hidden group has been around for a longtime, even in Russells' day.
'Education in a scientific society may, I think,
be best conceived after the analogy of the
education provided by the Jesuits. The Jesuits
provided one sort of education for the boys who
were to become ordinary men of the world, and
another for for those who were to become members
of the Society of Jesus'.
P.181
Considering the power the Jesuits had over governments in the past, we must ask how did they decide who was to be given each type of education? This is fundamental to ask for it gives a clue as to the eugenic selections of such groups and the future world government. It is more likely that instead of 'legitimate genetic superiority' as criteria, these selections where used to legitimise the ruling groups' existing prejudices, thus allowing power to remain amongst a 'controllable' segment. After discussing the various educational methds for the ruled and the rulers, Russell says:
'I think it may be assumed, however, that there
would be a very strong tendency for the
governing class to become hereditary, and that
after a few generations not many children would
be moved from either class into the other. This
is especially likely to be the case if
embryological methods of improving the breed
are applied to the governing class, but not
to the others. In this way the gulf between
the two classes as regards the native
intelligence may become continually wider and
wider'.
P.186
Perhaps to speed up this process, methods would also be formulated to weaken the general public but we'll discuss that later, although a good place to start would be F. William Engdahl's
'Seeds of Destruction: The Hidden Agenda of Genetic Manipulation'
(2007).
Continuing with Russell, he basically says that in time, the rulers and the ruled will become 'almost seperate species' (P.188) which reminds me of H.G. Wells' 'The Time Machine' with the morlocks and eloi, troglodytic civilisation, prior technology and.....getting a bit too ahead of myself. Our final quote is again from Russell:
'Perhaps by means of injections and drugs and
chemicals the population could be induced to
bear whatever its scientific masters may decide
to be for its good. New forms ofdrunkenness
involving no subsequent headache may be
discovered, and new forms of intoxication may
be invented so delicious that for their sakes men
are willing to pass their sober hours in misery.
All these are possibilities in a world governed
by knowledge without love, and power without
delight. The man drunk with power is destitute
of wisdom, and so long as he rules the world, the
world will be a place devoid of beauty and of joy'.
P.193-194
To be continued.....
04-10-2011, 11:41 AM
R.R
Senior Member


Posts: 700
Joined: Aug 2007
RE: Users Recommended Reading & Book Overviews (Your own written reviews only)
Taking into consideration the material covered so far - social hierarchy, eugenics, priesthoods and dictatorial systems of control, we are led nicely to a topic which combines most of what we've covered - the Hindu caste system. We'll look at S.V. Ketkar's
'History of Caste in India'
(1909).
This book is even more relevant for future discussions because it brings in elements that are found within occult philosophy and gives us an introduction to the underlying themes of occultism which will become clearer when we discuss them in future. In ancient times, mystery schools were not as 'hidden' as they are today, and were well known to the majority population. It was the philosophies and rituals that were kept hidden from the uninitiated and in some cases the members, but generally it was widely understood that the mystery schools contained most, if not all, the members of public office, the bureaucracy, the ruling monarchs and anyone else of government importance. In some ways this is denied as being the case today, but once checked, the secret societies of today, who continue the mystery school tradition, have a largely unacknowledged role in the shaping of the modern world in most history books alongside an incredible number of famous and important historical personalities. To better understand this phenomenon, it would be a good idea to see how some of the concepts which have shaped the mystery school teachings were used in societal situations for it gives us some important understandings to the psychology of modern elites. Most researchers who have delved into the occult aspects of the new world order will find great value in a study of Hinduism.
Of the book, Ketkar says:
I do not pretend to write for those who
believe that the caste system must be
good because it was introduced by our
forefathers and because our forefathers
were wiser than we are and that we are
in the wrong if we think it bad. Nor do I
write for those who believe that the great
sages who gave the law in the past ages
were omniscient and that a frail mortal of
today ought not to criticise their writings.
But I write this book for those who, with
best respect to those sages, are prepared
to admit that those sages were men, and
that they were liable as men to err, and
that, if they have erred, it is neither a sin
or impossibility to correct them.'
P.3-4
Continuing:
....caste is a development of at least
three thousand years, and all the social
manners and customs of the Hindus are so
modelled and interrelated to fit the caste
system. The more highly organized a system,
the harder it is to change, and the caste
system is no exception to this rule. We find
revolts against this sytem from the very
earliest period up to today, and most of them
succeeded only in multiplying the evils.'
P.5
Ketkar informs us that this books particular emphasis is on the third century A.D, after the rise of the priesthood (bringing with it the Vedic age), and after the emergance of Buddhism. His primary reason for this period is for a greater focus on the, at that time, fairly recently composed 'Laws of Manu' (Manu is the Hindu equivalent of Noah - the 'chosen' flood survivor and subsequent progenitor of post-diluvian humanity) which he feels were not properly understood by western scholars in his day. Ketkar defines caste as:
'A caste is a social group having two
characteristics: (1) membership is
confined to those who are born of
members and includes all persons so
born; (2) the members are forbidden by
an inexorable social law to marry outside
the group. Each one of such groups has
a special name by which it is called.'
P.15
Ketkar tells us that there are many castes and each of them are further subdivided into subcastes with varying principles.
These three thousand castes with their
subcastes put together make Hindu society.
There is no intermarriage, and very little of
social intercourse in its proper sense. The
only uniting tie between these sharply
differentiated bodies is a certain amount of
common tradition and common language for
a number of them, and for all a common
religion which consists in being disciples of
the Brahmins.'
P.16
Ketkar says that there does exist 'caste-patriotism among all castes' and emphasises that these societal divisions did not occur from splitting or segmenting a single existing people, rather different peoples and tribes were amalgamated into the Hindu system. Of these divisions:
The principles of division were class,
occupation, religious denomination or
brotherhood, nationality, locality,
allegiance to a trade-guild, school of
Vedic literature and many others.'
P.16
We are thus beginning to see emerge similar concepts as mentioned by Gaetano Mosca; castes are essentially a division of labour dictated by a priesthood conforming to the system dicussed by Mosca during the implementation of what is called civilization. Even further:
....castes are a hierarchy. Brahmins
are at the top, while there are some
castes which are untouchable and are
at the bottom. Though there are castes
of innumerable gradations, it should be
remembered that it is practically impossible
for individuals to change their caste.'
P.17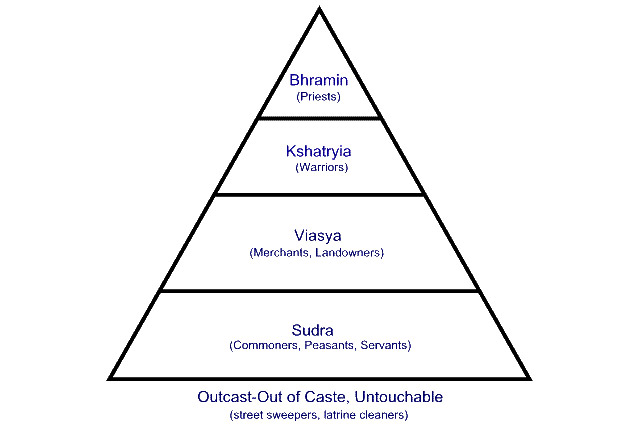 Of particular interest is the use of the term 'twice-born' to describe the dominant minority in the pyramidical social system of Hinduism. This is a first clue to the idea of 'occult forces' behind society for I'm sure you have heard of being 'born-again' which usually happens after you have gone through a 'death and rebirth' ceremony which is an incredibly common theme amongst the various mystery traditions....
The theoretical concept of caste is explained thus:
'Hindus believe that all men in the world
are divided into four castes: Brahmanas
(priests), Kshatriyas (warriors), Vaishyas
(common people) and the Shudras
(servants).....The caste system does not
decide the position of Hindus only; it decides
the positions of non-Hindus in society.....
Caste is due to the occupation which a man's
forefathers were in.....Though no man can
raise his caste, he can degrade it by neglect
of the ceremonials or by connection with the
'low and barbarous'.'
P.20
Over the next few pages, Ketkar shows some examples of Brahmanic supremacy beginning with caste precedence being decided by the Brahmins:
'How is this precedence manifested? As
Brahmin is the head of society holiness is
the standard. A caste is pure or impure as
much as it is high or low. This purity is not
the outside purity, which is apparent to
the 'bodily eye', but is some mystic, innate
purity. If the pure and impure are bought
together, the pure become impure. For this
reason the holy and the pure castes should
keep as little connection with impure castes
as possible. The purer the substance, the
more easier it is soiled. So a caste should
define its relation with another caste, in so
far as the latter is pure or impure.'
P.23
Some things never change, according to the Hindu system, the twice-born castes are the most 'pure' and important and they happen to be the priesthood (today scientists giving the public myths), the warriors (the army) and the merchants (big business) which needless to say are the most 'important' things in the modern psychopathic world. Interestingly:
'One interesting feature in the hierarchy
of caste is the preeminent position which
the priests hold.....At present I only remind
the readers that this supremacy of the
priest is not confined to India. The
extravagant claims which the priest makes
are always coexistent with the primitive
character of the people. In ancient Persia,
as well as ancient Egypt, the priest was
always at the top. In Europe, till the nations
were emancipated from the temporal control
of the Pope, the clergy was always superior
to temporal authority.'
In time I hope to show how up until the industrial revoluton, the vast majority of 'progressive' societies that make the history books were ran in a very similar way - pyramidical social hierarchies, enforced by religion, the priests of which actually belonged to 'secret' orders which united the priests of many nations behind the scenes (who were 'advisors' to kings and governments thus allowing this international priesthood to manipulate the world). These social structures managed society almost despotically, implemented similar caste type rules and effectively arranged the marriages of the common people. These social orders are important to study because the new world order plan is to revert back to them for the future. Also Ketkar notes how amongst the castes intermarriage was forbidden which then basically manifested racism, which is ample food for thought, especially for those of a supremacist bent; race was never important (apart from as a tool of division) as can be seen by the clear collusion between the various wealthy elites of modern times be they white, Jewish, middle-eastern, Indian or Chinese - the criteria has always been the ability to rise to, and then retain socially significant positions and consolidate power - survival of the fittest, so to speak and modern evolutionary theory (the exoteric equivalent of the esoteric occult doctrines) are more and more declaring the 'myth of race' and this takes deeper significance when we realise that 'caste' applied to 'all men'. Continuing with the theoretical aspect and now the social use, Ketkar says (of dharma - the law,or natural order of things which dictates a persons' duties - analagous to the 'logos'):
'How was dharma maintained?....There
was in general an understanding among
the people, that dharma would be
maintained not only by the kings, but
also by the gods. The masses thus
obeyed a large number of injunctions
of dharma to avoid terrors of the future
life. The transgressor would go to one
or more of twenty-one hells or
would be condemned to be bon in the
womb of lower animals or barbarians. Not
only himself but his ancestors or their manes
and descendants also would suffer.
Adversity and diseases would harass them
who adhered to conduct not approved of by
dharma as retribution for their sins. A theory
was already current (Karma - R.R) that
whatever a man enjoyed or suffered was a
result of his own actions. His bad actions
would bear him bitter fruit, whether they
were done openly or concealed either in
that birth or in the one next preceding. Not
only was he dissuaded from bad life by the
terrors of possible retribution but he was also
persuaded into meritorious life by promises of
birth in a family of a Brahmana or of a king,
promises of absolution, of heaven, of expiation
of sins of himself and also of his ancestors.'
P60-61
Basically similar stuff to Vatican controlled Europe where the priests dictated what was acceptable to god and thus controlled society through fear and ignorance. In Indian society, existing social conditions were explained away as being punishment or reward for conduct in a previous life (karma), conduct dictated by following dharma. In this way their society was 'just' (which is something that will be discussed later). It was essentially a clever piece of mind-control for the poorer people would gladly conform to dharma in an attempt to have a better life in a future incarnation, all the while dharma was in fact dictated by the priests. They thus set acceptable (to them) social manners and customs which meant they effectively ruled society. It worked for a while but reincarnation also carried with it seeds of rebellion, Ketkar shares a story:
'Shakara, the king's brother-in-law,
asked his slave to kill the damsel
Vasantasena. The slave refused the
order flatly in the following words: 'Beat
me if you will. Kill me if you will. I cannot
do what ought not to be done. Fate has
already punished me with servitude, for
the misdeeds of a former life, and I will
not incur the penalty of being born again
a slave.'
P.115
Once the masses realised the rulers were giving them erroneous information (not necessarily in India) they would inevitably either revolt or embark upon behaviour that was more likely to fulfill their hopes of improved life. Either way the authority of the priesthood would be undermined. Thus we see in the pagan worlds (which shared most of its basic tenets with Hinduism) the elimination of old religions which worked as social manipulators to be replaced by religions which were infact grown out of the old but were pretty clear that reincarnation wasn't true - the monotheistic faiths which have a long history of destroying polytheistic faiths. Christianitys' pagan roots are generally not in doubt and Christianity (and Judaism) had early but later removed beliefs in reincarnation. Multiple lives on Earth were replaced by a one-shot judgement and entry to heaven or hell but essentially the system stayed the same with priests intertwined with monarchs as the ruling powers across the civilized world - caste slowly morphing to class on the road to feudalism. However Christianity too contained rebellious seeds where the masses too learnt of the Vaticans' manipulation of the Biblical message resulting in protestantism. These seeds are still there as it is primarily the religious who are in opposition to these old families known as the new world order and partially why there is such an effort to destroy the religions - they are not going to be useful for the future social manipulators. Atheism is enough for those who are academics, it denies such 'conspiracies' can occur and maintains the rulers. It will probably be replaced by something akin to Hinduism though (New Age mixed with evolution or a mystical version of intelligent design), which has also been known as the 'perennial philosophy' for good reason.....
We'll skip ahead, mainly to concentrate philosophically on caste. Ketkar expands by telling us the author of Manu's Laws believed that the initial four castes were created as a means to maintain society (or hierarchical pyramidic civilization through division of labour). People were pre-destined to live the life they would have. Intermixing was prohibited as it would most likely result in a pre-civilized lifestyle.
'The dharma writers wanted order in
the society. If people who are meant
for servitude be allowed to give it up,
then there would be no servants left,
and who then would perform the functions?
Shudras will begin to rule, who are
unfit to rule, and this social order would
be completely destroyed. They quite
thoroughly believed that castes and
varna are natural things associated with
specific qualities. A Shudra cannot be of
noble quality; servitude is his nature.....
the theory of karma, three gunas and
transmigration of soul. All these three
theories, as they applied them, justified
the entire system.'
P.113
Expanding, karma creates the person, of the three gunas (qualities or substances - goodness, activity and darkness) one predominates and the person becomes distinguished with that quality, the mixture of karma and guna lead to transmigration where your next life is judged accordingly. With this in mind, the whole system was considered one of divine justice for this whole process will eventually lead to human betterment:
The mere statement of their belief
in this matter sounds like a satire to a
person who is unacquainted with their
system of thought. They did not hold
that should not have a chance to
better his condition. They only denied
him such a chance in that particular
life which is afterall a small portion of
human existence.....I know for certain
that such ideas and hopes regarding
happiness in the next birth cheer the
mind and control it'
P.114-115
Ketkar goes on to mention that karma and transmigration of the soul worked along with ideas of purity and pollution in formulating the caste system which lead to the various prohibitions to the many castes with regards what they can and cannot do occupationally, such as low castes being unable to serve food to the priests or being a vegetarian meant a more purer existence. This was also transferred to location with some being holier than others and led to many superstitions arising for almost everything. Ketkar ends his book discussing the various discriminations that arise from such a system but I'm sure you can figure them out.
In conclusion we see concepts within occultism and mystery traditions as firmly upholding ideas of elitism and superiority. Karma and transmigration are important concepts within many wisdom traditions. At the same time we have also seen how instilling these ideas can create very subservient people and thus in culmination we can see why the secret societies have been so effective. I'm not passing judgement on the veracity of said concepts, only analysing them from the point of view of controlling other humans mainly because these concepts seem to have clearly defined social structures embedded within them. Linking these concepts with previous discussions, such a system is exactly what is dreamed of by the new world order; implementation of what they believe is the 'natural order of things' with them at the top of all societal decision making roles with a subservient population that doesn't rebel. India's history is one of constant foreign occupation and one may want to ask what psychological effect did their religion have on the masses to make them continually accept foreign rulers? Are said concepts emasculating? Do they render a mass of people susceptible to tyranny?
At some point I'd like to cover Hindu myth which sheds considerable light on esoteric philosophy and comparetive religion/philosophy.....
04-18-2011, 09:48 AM
R.R
Senior Member


Posts: 700
Joined: Aug 2007
RE: Users Recommended Reading & Book Overviews (Your own written reviews only)
Just thought I'd add some thoughts to parts of this highly recommended essay:
http://ranprieur.com/essays/civFAQ.html
Critique of Civilization FAQ
by Ran Prieur
April 8, 2005
(revised October 2006)
Quote:

What do you mean, "critique of civilization"?



Mostly I mean putting human civilization in context, seeing it from the perspective of the world that surrounds it, instead of through the lens of its own mythology. For example, we're taught to think of human prehistory as a temporary, transitional stage destined to "improve" into a world like our own. In fact, we have lived as forager-hunters for at least 100 times as long as we've been tilling the soil, and it's our own age that shows every sign of being temporary, unstable, and short. The critique of civilization is a reframing, after which "primitive" people seem like the human norm, and civilization seems like a brief failed experiment.

Another example: suppose I broke into your house, killed your family, locked you in a cage, threw out all your stuff, redecorated according to my tastes, and called it "growth" because I used to have one house and now have two, or called it "development" because I replaced your stuff with my own. That's exactly what civilization does, to nature, to nonhumans, to nature-based humans, even to humans in other branches of civilization.
Civilization certainly carries its own mythology, for instance when you read many different speculations about the future, especially doomsday scenarios, the real issue of concern to most writers is not humanity but civilization itself. Its mythology is generally one of having found 'the way' to live and thus it should be followed by all of our kind. This is a very important concept for if we look at the greatest civilizing force in humanity's history, it is religion and religion has always followed this pattern of demanding other humans follow their dictates. While this is often confused as a problem inherent in religion, it can in fact be seen in virtually every social movement in modern times especially amongst studies of globalization. Whether Marxism, capitalism, socialism, the Venus Project or other secular utopian concepts, we see ideologies that demand the planet follow their dictates and amongst this, an implication that they all are the next phase in human evolution, which continues the mythos of civilization which haunts us today - continuous growth. This concept is an outgrowth of what civilization has achieved, namely higher material living standards where the divide between rich and poor increases with every generation throughout history, spawning its crown jewell of justification - the theory of evolution. Conceptually we are looking at what amounts to an idea of linear progressive time which basically says the later something is, the better it is.
All of war stems from the demands of civilization; battling for resources in order to create or discover something that advances civilization (not for base necessities such as food, these must be conquered first and foremost before civilization can truly emerge), the drive to modernise foreign lands in order to exploit them better and many other conventional theories not to mention the concepts not found in general history books such as war as a social control mechanism which ensures the masses keep working which is essential to the upkeep of infrastructure that is managed by a bureaucracy and thus maintains the organised society that civilization demands. Civilization, in fact, maintains peace through war slowly evolving into global civilization and then, it is hoped, a space colonizing civilization simply because linear progression suggests it by a subtle implementaion of determinism. Which basically means civilized humanity, if the fantasies of its advocates come to fruition, has much more conspiring, killing and colonizing to look forward too which in some ways exposes civilizations true lack of 'progression'; why does it demand to seek the same experiences constantly just with different backgrounds? As humans the same experiences of love, hate, anger, accomplishment etc will be felt whether on a ship sailing the Indian Ocean in the 16th century or on the Starship Enterprise in the 27th. Insanity is doing the same things expecting different results. All through history it is the same thing - a force that feels superior imposing it's will on others. The future will be no different, not because there is apparently something naturally violent in man, but because it is the modus operandi of civilization. Civilization is parasitic in nature, always needing a new fix, always sucking off the energy of others, incorporating more things into its tenticles which it discards once something more efficient is found and exploited like a new drug, yet instead of trying to wean itself off drugs, civilization grows ever more addicted to destructive behaviours replacing the real and natural world with one of illusion and fantasy lying to itself that it has found truth like a psychedelic user in the drive to find new experiences in a neverending search for meaning.
Quote:

It's not really that bad, is it?



The deserts of central and southwest Asia and the Mediterranean used to be forests. Ancient empires cut them down to burn the wood to smelt metal for weapons, and to build ships, which they used to conquer their neighbors. This has been the pattern of every "successful" civilization in history: to transform the life of the Earth into larger human populations that must conquer and deplete more land to survive, spreading like a cancer over thousands of miles, destroying every habitat and culture in their path, until they go totally mad, exhaust their landbase, and crash.
A universe littered with civilized humans is a disgusting thought, the transportable beehives is the destiny of civilized man, setting up civilizations on various extraterrestrial worlds with a governmental elite watching over millions of slaves on each world who exploit the natural resources that eventually cut the journey from Earth to Pluto by 15% which gives some sense of direction for intergalactic travel. Which has been a constant of civilized history - exploitation leading to improved technology which allows an elite to expand their power.
Quote:

Can you define "civilization"?



I don't think it's necessary or even helpful to make an airtight definition. I follow William Kötke in using "civilization" interchangeably with "empire." I define it loosely as a self-reinforcing societal pattern of depletion of the land, accumulation of wealth, conquest, repression, central control, and insulation and disconnection from life, with all of these habits allied to mental, cultural, and physical artifacts.

For example, the plow is a physical artifact that enables the cultural habit of grain farming to take biomass from the soil and convert it into more humans and into stores of grain, which enable the cultural artifact of "wealth," which enables some people to tell others what to do and build the cultural artifact of "command," backed up by physical artifacts like swords and guns and cultural roles like soldiers and police, who reinforce the whole pattern by conquering and holding more land for the plow and more people for the roles of farmer and owner and soldier. Also, farming enables people to lose their awareness of wild nature and still survive -- in fact, it links their survival to viewing wild nature as an enemy, which feeds back and supports their habit of exterminating nature.

Or, the car is a physical artifact whose manufacture and use require the land to be torn up for mining (after being conquered), polluted with industrial waste products, and covered with pavement, and the car feeds back into this system by insulating and disconnecting people behind its metal walls and blurring speeds, so they lose touch with their neighbors and with the world they're destroying. Also cars enable us to put more distance between the places we have to go, forcing us to have cars to get there, and thus to do thousands of hours of commanded labor to be permitted to own them.
Civilization interchangeable with empire? That certainly explains a lot of historical data and modern events. The interconnectedness of all things civilized also feeds this monster - it can only get bigger if allowed to continue.
Quote:

Sure, everyone knows cars are bad. But what about all the good stuff in civilization, like our medical advances?



Most of industrial medicine exists to treat diseases and injuries that are caused by industrial civilization in the first place, like heart disease and cancer and car crashes, which are rare or nonexistent in nature. And mostly it fails to treat them, and only succeeds in prolonging sickness to increase the power of the medical system and allow it to more completely colonize our lives.
Not only that but people aren't content with just prolonged life - it has to conform to a youthful disposition. 30 is the new 20, soon it will be more, throughout the 1900's we've seen more ugly old haggard celebrities and elitists attempt all sorts of methods to maintain youthfulness, which admittedly is nothing new, but in conjuction with technology will truly allow the fulfillment of the Peter Pan wish - and children are the easiest to control.
Quote:

Didn't primitive people live only 30 years, and have lots of health problems?



Non-civilized people observed in historical times tend to be healthier than civilized people, and quite long-lived. As for prehistoric people, we can only look at their skeletons. Here's what Jared Diamond wrote in The Worst Mistake in the History of the Human Race:



At Dickson Mounds, located near the confluence of the Spoon and Illinois rivers, archaeologists have excavated some 800 skeletons that paint a picture of the health changes that occurred when a hunter-gatherer culture gave way to intensive maize farming around AD 1150... Compared to the hunter-gatherers who preceded them, the farmers had a nearly 50 percent increase in [tooth] enamel defects indicative of malnutrition, a fourfold increase in iron-deficiency anemia (evidenced by a bone condition called porotic hyperostosis), a threefold rise in bone lesions reflecting infectious disease in general, and an increase in degenerative conditions of the spine, probably reflecting a lot of hard physical labor.
Mr. Diamond has just explained another constant of civilization's history; the lower rung of society (the majority) work the hardest, live the worst and are generally unhealthy. There is nothing new in practice with civilization, whatever deceptions you find out about in todays's world, were occurring all through civilization's history, you just have to factor in material changes. Philosphically and psychologically it remains the same. Dwell on that the next time advocates of the 'perennial philosophy' use ancient social customs as evidence for the truths of such concepts. Occultism has always lingered amongst those that are the guiding hands of civilization.
Quote:

Still, on the whole, don't we live better than primitive people? Didn't they constantly struggle for existence and fight each other a lot?



It's true that people in emotionally healthy subcultures in elite nations have it better in many ways than people in the nastiest tribes. But some observed nature-based societies look like utopia compared to civilization -- the political structure is egalitarian and non-coercive, fighting is rarely deadly, the people are strong and happy, and they spend only a few hours a day in the meaningful activities of survival, and the rest of their time playing and slacking off.
Why boast about modern conditions? They will be laughed at in 10 years from now much like the 3rd world and developing world are considered jokes by most in civilized lands, just like the same people laugh at the social conditions of various points in history and how, with the speed of technology, people laugh at the methods of something so recent as dial-up internet, chunky mobile phones, the original Playstation or 500mhz processors never mind chuckling at the days of pompous aristocracies. Material standards will always change but they seem to have an inverse correlation with quality of human relationships - which is something never factored into futurology, although that is to be expected for most futurology is propaganda for the future of civilization.
Quote:

What about the Aztecs or the Mayans or the Incas, who had strict hierarchy and human sacrifice and military conquest to support increasing populations?



I classify them as civilizations because they had repressive centralized systems linked to "growth" economies. It's true that there's not a clear division between civilized and primitive. I suspect that some North American tribes were well on their way to complex top-down government and depletion of the land. But the point is, humans are capable of the whole range, from killing nature to supporting it, from runaway increase to balance, from repression to peaceful anarchy. Even if only one tribe lived at the nice end of all those scales, it would be evidence that something like that is possible for all of us. In fact many did, and could again.
We may be forced to live like that again although the elites of today would find sanctuary in their many safehavens, re-emerging after a catastrophe only to be hellbent on restarting civilization again. This may have happened long ago especially when history records civilization as being an almost overnight phenomenon.....
Quote:

I read that murder rates are higher among primitive people.



Sure, if you only count it as murder when one person hits another person with an axe! Highly complex societies have the luxury of more powerful and subtle murders. I consider all cancer deaths to be homicides -- or suicides if the victims are also willing participants in the crimes. Cancer was rare in pre-industrial times and even rarer in pre-civilized times. You get it from a combination of emotional distress and exposure to toxic environmental factors, and the people who make and enable the decisions to create those factors are the murderers. Heart disease is suicide-homicide by the corporations that profit from trans fats and other heart-disease-causing foods, and their stockholders. Lung cancer is suicide-homicide by tobacco companies that standardize the nicotine dose and add even more addictive substances to increase their profits. Every car crash death is a homicide by the various interests that set us up to have no choice but to drive around in cars all day.

If there are going to be murders, I'd rather have them out in the open and honest. If you get killed in a tribal war, you're probably suffering less at your moment of death than industrialized people suffer every day, because you can see the story that you're part of.
Artificially induced deathrates are essential to civilization, much like modern talk of depopulation - technology will be able to perform so many tasks that most of us are simply not needed.
Quote:

Aren't you romanticizing primitive people? They're not perfect, you know.



There's no such thing as "perfection." That's a fantasy of increase-based society that makes us think the world in front of us is never good enough, so that we have to keep reaching for more wealth and control. The nonexistent techno-utopia is "perfect." I'm just observing what's been documented by civilization's own anthropologists, and noticing that, while imperfect, it's preferable to "civilized" life.
Most do-gooders point their fingers at the wrong culprits - most of our problems arise from this ideal of improving the world - thus the biggest harm has been done by those with good intentions who, perhaps to be fair, unknowingly work towards and extend the very causes of our problems.
Quote:

But you seem happy to me. You should be thankful you live in America.



That's like telling a serial killer he should be thankful he gets to drink the blood of his victims, instead of telling him to quit killing. People in elite nations are rewarded with cheap pleasures in exchange for consenting to a system that kills and robs people in poorer nations and nonhumans everywhere. And they're still not satisfied. They chase status and money and distract themselves with hedonism and toys to try to cover up the emptiness of their existence. The only reason my existence feels meaningful is I've begun to see through the whole sham and I'm exploring ways to do something about it. I'll feel thankful I live in America when the American Empire has broken down into thousands of autonomous nature-based communities and we can ride horses on the ruined freeways.
This needs repeating:
People in elite nations are rewarded with cheap pleasures in exchange for consenting to a system that kills and robs people in poorer nations and nonhumans everywhere. And they're still not satisfied. They chase status and money and distract themselves with hedonism and toys to try to cover up the emptiness of their existence. The only reason my existence feels meaningful is I've begun to see through the whole sham and I'm exploring ways to do something about it.
Quote:

So you want us all to go back to the stone age?



The word "back" is a trick. It implies a magical absolute direction of change. Suppose you go to your job, and when you get ready to leave, your boss says, "So you want to go back to your house? Don't you know you can never go back? You can only go forward, to working for me even more, ha ha ha!" Really, all motion is forward, and forward motion can go in any direction we choose, including to places we've been before.
Thats very true, the future is not written irrespective of how many religious nuts, occultists, determinists, New Agers and doom-mongers say so. Remember there have been many revisions to judgement day, the world was supposed to end by an ice age then global dimming then global warming, a computer crash in the year 2000, several thousand prophecies, nuclear warfare, the ozone layer and I'm sure you know many more. Keep in mind though, that all of these were causes by civilization and the propaganda exploitation of them also allowed the 'progress' of civilization generally through the creation of new laws or agencies that helped to speed up territorial amalgamation under more centralised governmental sytems - this is primarily why forces connected to governments such as the intelligence services create these problems themselves and also because government has always justified its existence by claiming to protect people from a threat that they wouldn't ordinarily be able to deal with themselves - no threats to society means no government, thus those that benefit from the governmental system conspire to maintain its existence.
Quote:

So you want us all to go forward to the stone age?



The term "stone age" is another trick, if it's interpreted as a temporary stage in a progression that logically had to lead to the age we're in now. There's no biological reason to suppose this. Sharks have barely changed in the last 100 million years, and we consider them successful for finding a place they fit and staying there. Humans fit with nature for one to two million years, and then less than ten thousand years ago some of us tried something different that's obviously not working. Ten thousand years out of a million is like 36 seconds out of an hour.
Quote:

But civilized also means polite, considerate, peaceful, broad-minded, cultured, learned, and so on. Are you against all that?



That use of the word "civilized" is a trick. To destroy life, to conquer, to imprison, to torture, are typical behaviors of civilization and less common in other societies. The Arawaks brought gifts to Columbus and he hacked up their children to feed to dogs. Which culture was "civilized"? The behavior that we call "civilized" is common only at the centers of civilization, among the sheltered elite. And even our greatest thinkers can barely match the typical forager-hunter, who has knowledge and understanding of thousands of plant and animal species, where they grow, how they interrelate, what they're good for. The native view of the spirit world behind the physical world, whether or not you think it's true, is more deep and complex than the cold doctrines and abstractions of western religion.

Every primitive human knows how to improvise a shelter and find wild edibles. Not only do civilized people lack primitive skills, we even lack civilized skills -- most of us can't even program a VCR or change the oil in a car. We are the most pathetic and powerless humans who have ever lived. This is good news! As wonderful as you think your apartment and your TV shows are, that world is a padded cell compared to the rest of the universe.
So true.
Quote:

Couldn't we build a good civilization, one that had a lot of modern technologies but was peaceful and environmentally sustainable?



Maybe. But our familiar "technologies" were developed in the context of conquest and central control and runaway exploitation and the numbness to make it all tolerable. We have the ones we have because they fed back into these habits, and they would continue to do so. Even if we had cars powered by fusion plants, they would still daze us with their speed and enable us to live far apart, when we need to slow to a walking pace to know nature, and live close together to know our neighbors. We need tools allied to sharing, not isolation, and energy sources that do not require central administration, and energy in small enough quantities that we have to get our hands dirty and be intimate with what we're doing.

Tom Brown once asked Stalking Wolf why the cold didn't bother him. Stalking Wolf answered, "Because it's real." The same things that make primitive life uncomfortable make it more alive. In a society that protects us from that aliveness, and that also denies us the thrill of escalating "progress," how will we enjoy life enough to keep that society going?
I think we have to ponder the point about the things we use and the context for which they were developed in. I personally feel civilization can work mainly because those that look into civilizational critiques leave out the occult history of the world. That is not to necessarily say that demons control the world but that a philosophy has controlled the world for thousands of years which is basically the secret doctrine of the secret societies who claim to have a heavy connection to the origins of civilization and point to religious practices as being modifications of their own methods - namely as an exoteric system of mass unification while the initiatic societies held more secret or esoteric knowledge which was basically the ability to run, control and manage a society. Also for a different and more 'fairer' civilization to work, we'd need to re-evaluate the concept of growth - I think any future model will be of slow or limited growth and development although you never know - releasing the shackles of vaccines and terrible food and the forced slavery known as work may allow for faster development than ever before mainly because much of what we could learn about is filtered by the world's most powerful people. Remember, not necessarily by demons......
Quote:I've read (and written) plenty of speculations about how civilization got started, and the hypothesis that humans have been possessed by life-hating occult entities is not only the most meaningful, but one of the more plausible.
http://www.ranprieur.com/essays/changevery.html
User(s) browsing this thread: 1 Guest(s)