"Hitler was a great man and the Gestapo were fabulous police" ~David Irving IMG INT
12-01-2011, 07:37 PM
(This post was last modified: 10-25-2012 02:18 AM by Negentropic.)
RE: Hitler was a great man and the Gestapo were fabulous police David Irving claims
Quote:

Parents of boy named Adolf Hitler won't receive custody of newborn son





Child welfare officials took custody of couple's boy just hours after he was born




BY Philip Caulfield

NEW YORK DAILY NEWS

Tuesday, November 22 2011, 3:26 PM

http://www.nydailynews.com/news/national...e-1.981331




Rich Schultz/AP





Heath Campbell, left, with his wife, Deborah, and son Adolf Hitler Campbell. The couple lost custody of their new baby, Hons, just hours after the boy was born.


The notorious New Jersey couple who gave their children Nazi-inspired names won't receive custody of their newborn son, a court ruled.

Child welfare agents took custody of little Hons Campbell just hours after he was delivered to parents Heath and Deborah Campbell last Thursday.

A New Jersey judge ruled on Monday that baby Hons would stay in the state's care.

The couple's three other children - Adolf Hitler, JoyceLynn Aryan Nation and Honszlynn Hinler Jeannie - were taken into custody in 2009.

Last year, an appeals court ruled the couple suffered physical and psychological disabilities that put the children at risk. The court did not specify the nature of the disabilities.

But the Campbells have insisted that their children were taken because of their provocative names, and nothing more.

"They kidnapped my kid," Heath Campbell said outside a court on Monday, according to a Philadelphia FOX station. "I've been sleeping with his little blanket from the hospital."

"They look at you because of what you wear. So what? I'm German. Who cares? Is that right to judge someone?" he said.
Quote:

Baby Hitler Parents Lose Custody of All Three of Their Kids




http://www.foxnews.com/us/2011/10/26/bab...-no-abuse/

Parents who named two of their children "Adolf Hitler" and "Aryan Nation" lost custody of all three of their children Thursday, even though they say a New Jersey appeals court found no evidence of abuse, ruling the children have been taken away without cause, MyFoxPhilly reports.

"Actually, the judge and DYFS told us that there was no evidence of abuse and that it was the names. They were taken over the children's names," Heath Campbell told NBC 10 Tuesday.

However, the appeals court ruled last year that sufficient evidence of abuse or neglect existed because of domestic violence in the home, and removed the children from their Philipsburg, N.J.home.

In protest, Heath and Deborah Campbell picketed with three other people outside of child services offices in Flemington, N.J., Tuesday, saying that the state has no right to keep their children away from them now that the court allegedly ruled that the kids were taken away without cause, NBC 10 reports.

The case originated after the local ShopRite refused to decorate a birthday cake for the son, Adolf Hitler Campbell, and reported the incident. Adolf and siblings JoyceLynn Aryan Nation and Honszlynn Hinler Jeannie have been in foster care since then.

In January 2009, the Campbells told MyFoxPhilly that Adolf Hitler Campbell is just like any other 3-year-old boy.

"It's not like he's growing up to be a killer or nothing like that," Deborah Campbell said.

"I went to just to get a cake... it was a circus of racism," Heath Campbell added.

At the time both parents acknowledge the hate behind their children's names. But say that was not their intention.

"This is America, they say it's free, you have the right to name your child whatever you want to name your child, no matter what," Heath Campbell said.

The parents say that a judge will decide by early December if the kids will eventually come home.
Quote:

Should the parents who named their son 'Adolf Hitler' face child abuse charges?


by Art Posted December 16, 2008

http://images.sodahead.com/polls/0002104...large.jpeg

Holland Township man names son after Adolf Hitler

"In a living room decorated with war books, German combat knives and swastikas, a 2-year-old boy, blond and blue-eyed, played with a plastic dinner set.

The boy, asked his name, put down a tiny plate and ran behind his father's leg. He flashed a shy smile but wouldn't answer. Heath Campbell, 35, the boy's father, encouraged him.

"Say Adolf," said Campbell, a Holocaust denier who has three children named for Nazism.

Again, the boy wouldn't answer. It wasn't the first time the name caused hesitation.

Adolf Hitler Campbell -- it's indeed the name on his birth certificate -- turns 3 today, and the Campbell family believes the boy has been mistreated. A local supermarket refused to make a birthday cake with "Adolf Hitler" on it.

The ShopRite in Greenwich Township has also refused to make a cake bearing the name of Campbell's daughter, JoyceLynn Aryan Nation Campbell, who turns 2 in February.

Honszlynn Hinler Jeannie Campbell, a girl named for Schutzstaffel head Heinrich Himmler, turns 1 in April.

"ShopRite can't even make a cake for a 3-year-old," said Deborah Campbell, 25, who is Heath's wife of three years and the mother of the children. "That's sad."

A director for the Anti-Defamation League in Philadelphia applauded the supermarket's decision. An Allentown psychologist said the names would cause problems for the children later in life.

A cake case Karen Meleta, a ShopRite spokeswoman, said the grocer tries to meet customer requests but rejects those deemed inappropriate. "We believe the request to inscribe a birthday wish to Adolf Hitler is inappropriate," she said.

The grocer offered to make a cake with enough room for the Campbells to write their own inscription. But the Campbells refused, saying they would have a cake made at the Wal-Mart in Lower Nazareth Township. The Campbells say Wal-Mart made cakes for Adolf's first two birthdays.

A spokeswoman for Wal-Mart said the store won't put anything illegal or profane on a cake but thinks it's important to respect the views of customers and employees.

"Our No. 1 priority in decorating cakes is to serve the customer to the best of our ability," Anna Taylor, the spokeswoman, said from Bentonville, Ark.

If the Campbells have a legal case over the refusal, it would be that the family was denied service because of race, ethnicity or religion, said Shannon Powers, of the Pennsylvania Human Relations Commission, a state agency that enforces anti-discrimination laws.

The Campbells, she said, would have to prove ShopRite didn't make a reasonable attempt to provide service it provides others. She said the offer to make a cake with room for an inscription would probably count as a reasonable attempt.

"It sounds like they (the supermarket) don't want to offend other patrons or do something offensive to their own sensibilities. If that's the motivation, that's totally different from discrimination," Powers said.

'They're just names'

The Campbells have swastikas in each room of their home, the rented half of a one-story duplex just outside Milford, a borough in Hunterdon County. They say they aren't racists but believe races shouldn't mix.

The Campbells said they wanted their children to have unique names and didn't expect the names to cause problems. Despite the cake refusal, the Campbells said they don't expect the names to cause problems later, such as when the children start school."
Maybe they should have this guy raise the stolen kids:
or the parents of this future head of industry:
Hitler had only one goal with regard to his relations with other nations. That goal was peace.
On May 17, 1933, Hitler addressed the Reichstag about his intentions:
"Germany will be perfectly ready to disband her entire military establishment and destroy the small amount of arms remaining to her, if the neighboring countries will do the same thing with equal thoroughness. Germany is entirely ready to renounce aggressive weapons of every sort if the armed nations, on their part, will destroy their aggressive weapons within a specified period, and if their use is forbidden by an international convention. Germany is at all times prepared to renounce offensive weapons if the rest of the world does the same. Germany is prepared to agree to any solemn pact of non-aggression because she does not think of attacking anybody but only of acquiring security."
Quote:

Programme of the NSDAP, 24 February 1920




The

25 points of the NSDAP Program

were composed by Adolf Hitler and Anton Drexler. They were publically presented on 24 February 1920

"to a crowd of almost two thousand and every single point was accepted amid jubilant approval."

(Mein Kampf, Volume II, Chapter I) Hitler explained their purpose in the fifth chapter of the second volume of Mein Kampf:

The program of the new movement was summed up in a few guiding principles, twenty-five in all. They were devised to give, primarily to the man of the people, a rough picture of the movement's aims. They are in a sense a

political creed,

which on the one hand recruits for the movement and on the other is suited to unite and weld together by a commonly recognized obligation those who have been recruited.

Hitler was intent on having a community of mutual interest that desired mutual success instead of one that was divided over the control of money or differing values.

THE COMMON INTEREST BEFORE SELF-INTEREST -
THAT IS THE SPIRIT OF THE PROGRAM. BREAKING OF THE THRALDOM OF INTEREST - THAT IS THE KERNEL OF NATIONAL SOCIALISM.

In these straightforward statements of intent, Hitler translated his ideology into a plan of action which would prove its popularity with the German people throughout the coming years. For many, the abruptness of its departure from the tradition of politics as practiced in the western world was as much of a shock as its liberal nature and foresight of the emerging problems of western democracy.




The Programme of the German Workers' Party is designed to be of limited duration. The leaders have no intention, once the aims announced in it have been achieved, of establishing fresh ones, merely in order to increase, artificially, the discontent of the masses and so ensure the continued existence of the Party.



"1. We demand the union of all Germany in a Greater Germany on the basis of the right of national self-determination.

2. We demand equality of rights for the German people in its dealings with other nations, and the revocation of the peace treaties of Versailles and Saint-Germain.

3. We demand land and territory (colonies) to feed our people and to settle our surplus population.
4. Only members of the nation may be citizens of the State. Only those of German blood, whatever be their creed, may be members of the nation. Accordingly, no Jew may be a member of the nation.

5. Non-citizens may live in Germany only as guests and must be subject to laws for aliens.

6. The right to vote on the State's government and legislation shall be enjoyed by the citizens of the State alone. We demand therefore that all official appointments, of whatever kind, whether in the Reich, in the states or in the smaller localities, shall be held by none but citizens.

We oppose the corrupting parliamentary custom of filling posts merely in accordance with party considerations, and without reference to character or abilities.

7. We demand that the State shall make it its primary duty to provide a livelihood for its citizens. If it should prove impossible to feed the entire population, foreign nationals (non-citizens) must be deported from the Reich.

8. All non-German immigration must be prevented. We demand that all non-Germans who entered Germany after 2 August 1914 shall be required to leave the Reich forthwith.

9. All citizens shall have equal rights and duties.

10. It must be the first duty of every citizen to perform physical or mental work. The activities of the individual must not clash with the general interest, but must proceed within the framework of the community and be for the general good.



We demand therefore:



11. The abolition of incomes unearned by work.



The breaking of the slavery of interest



12. In view of the enormous sacrifices of life and property demanded of a nation by any war, personal enrichment from war must be regarded as a crime against the nation. We demand therefore the ruthless confiscation of all war profits.

13. We demand the nationalization of all businesses which have been formed into corporations (trusts).

14. We demand profit-sharing in large industrial enterprises.

15. We demand the extensive development of insurance for old age.

16. We demand the creation and maintenance of a healthy middle class, the immediate communalizing of big department stores, and their lease at a cheap rate to small traders, and that the utmost consideration shall be shown to all small traders in the placing of State and municiple orders.

17. We demand a land reform suitable to our national requirements, the passing of a law for the expropriation of land for communal purposes without compensation; the abolition of ground rent, and the prohibition of all speculation in land. *

18. We demand the ruthless prosecution of those whose activities are injurious to the common interest. Common criminals, usurers, profiteers, etc., must be punished with death, whatever their creed or race.

19. We demand that Roman Law, which serves a materialistic world order, be replaced by a German common law.

20. The State must consider a thorough reconstruction of our national system of education (with the aim of opening up to every able and hard-working German the possibility of higher education and of thus obtaining advancement). The curricula of all educational establishments must be brought into line with the requirements of practical life. The aim of the school must be to give the pupil, beginning with the first sign of intelligence, a grasp of the nation of the State (through the study of civic affairs). We demand the education of gifted children of poor parents, whatever their class or occupation, at the expense of the State.

21. The State must ensure that the nation's health standards are raised by protecting mothers and infants, by prohibiting child labor, by promoting physical strength through legislation providing for compulsory gymnastics and sports, and by the extensive support of clubs engaged in the physical training of youth.

22. We demand the abolition of the mercenary army and the foundation of a people's army.

23. We demand legal warfare on deliberate political mendacity and its dissemination in the press. To facilitate the creation of a German national press we demand:

(a) that all editors of, and contributors to newspapers appearing in the German language must be members of the nation;
(b) that no non-German newspapers may appear without the express permission of the State. They must not be printed in the German language;
© that non-Germans shall be prohibited by law from participating financially in or influencing German newspapers, and that the penalty for contravening such a law shall be the suppression of any such newspaper, and the immediate deportation of the non-Germans involved.

The publishing of papers which are not conducive to the national welfare must be forbidden. We demand the legal prosecution of all those tendencies in art and literature which corrupt our national life, and the suppression of cultural events which violate this demand.

24. We demand freedom for all religious denominations in the State, provided they do not threaten its existence nor offend the moral feelings of the German race.

The Party, as such, stands for positive Christianity, but does not commit itself to any particular denomination. It combats the Jewish-materialistic spirit within and without us, and is convinced that our nation can achieve permanent health only from within on the basis of the principle:

The common interest before self-interest.



25. To put the whole of this programme into effect, we demand the creation of a strong central state power for the Reich; the unconditional authority of the political central Parliament over the entire Reich and its organizations; and the formation of Corporations based on estate and occupation for the purpose of carrying out the general legislation passed by the Reich in the various German states.

The leaders of the Party promise to work ruthlessly -- if need be to sacrifice their very lives -- to translate this programme into action.


* On April 13, 1928, Adolf Hitler clarified section seventeen in the programme in order to stop political mischaracterizations: "Because of the mendacious interpretations on the part of our opponents of Point 17 of the programme of the NSDAP, the following explanation is necessary: Since the NSDAP is fundamentally based on

the principle of private property,

it is obvious that the expression "confiscation without compensation" refers merely to

the creation of possible legal means of confiscating when necessary, land illegally acquired, or not administered in accordance with the national welfare. It is therefore directed in the first instance against the Jewish companies which speculate in land.




http://www.hitler.org/writings/programme/
Quote:Below are words from

Denis Sefton Delmer,

British chief propagandist after the capitulation of Germany in 1945 to the then German expert on International law Professor Grimm:



"We won this war with atrocity propaganda and now we will start more than ever! We will continue this atrocity propaganda, we will increase it until nobody will accept one good word from the Germans anymore, until everything is destroyed which might have upheld them sympathies in other countries, and until they will be so confused that they don't know what to do anymore. When this is reached, when they begin to pollute their own nest, and this not reluctantly but with hasty willingness to obey the winners, only then the victory is complete. It will never be definite. The reeducation demands thorough, steadfast nurture like an English lawn. Only one moment of inattention and the weed will break through, this ineradicable weed of historic truth."



Delmer was the head of "black propaganda," meaning forged documents. He managed not only groups of people working in this type of work, but also managed the relevant radio stations. He was a personal friend of the British Information Minister. In June, 1944, the Information Ministry sent out an official directive to all the higher-echelon civil servants and managers of the public media, instructing them that with the Red Army sweeping into western Europe, they would have to expect incredible cruelty from which they could distract world attention only through a strengthened atrocity propaganda campaign against Germany.

Sefton Delmer was the head functionary who carried out this work for the British government. His main method was to lie as exactly as possible so that the lies couldn't be uncovered right away. After the end of the war in occupied Germany, Delmer co-ordinated the "black propaganda" campaign with the French, the Soviets and the Americans. These co- ordinated lies and inventions could not be recognized as such right away. Delmer's work in occupied Germany lasted until 1947.

During that period he and his staff forged a wealth of German documents which reached official files.



He described this work to a large extent in his own book. Udo Walendy testified that

most of these forged documents had the Germans committing a large number of war crimes when no such crimes were committed at all.

Delmer provided the documents to the British Ministry of Information which in turn sent them to the Nuremberg trial

as actual official documents.

The International Military Tribunal, pursuant to the London Agreement, did not check whether the documents were true or false, but simply entered them as evidence of "generally-known facts."

Because they were considered authenticated official documents, they had now been introduced into history books.



In this situation, Walendy testified, even officially published documents had to be analyzed to determine whether or not they were forgeries.

The propaganda master succeeded in his mission of true lies to enforce a guilt complex upon the German people post WW2, which in part still exists to this very day.


http://heretical.com/walendy/sdelmer.html

http://whale.to/b/delmer.html

http://forums.skadi.net/showthread.php?p=1182984
There is no end to the depths of depravity that anti-German black propaganda can sink to:
Quote:http://www.amazon.com/Ass-Goblins-Auschw...ss+goblins




Ass Goblins of Auschwitz

Cameron Pierce

(Author)

[Paperback]

Publication Date: October 5, 2009

It's Monty Python meets Nazi exploitation in a surreal nightmare as can only be imagined by Bizarro author Cameron Pierce.

In a land where black snow falls in the shape of swastikas, there exists a nightmarish prison camp known as Auschwitz. It is run by a fascist, flatulent race of aliens called the Ass Goblins, who travel in apple-shaped spaceships to abduct children from the neighboring world of Kidland. Prisoners 999 and 1001 are conjoined twin brothers forced to endure the sadistic tortures of these ass-shaped monsters. To survive, they must eat kid skin and work all day constructing bicycles and sex dolls out of dead children.

While the Ass Goblins become drunk on cider made from fermented children, the twins plot their escape. But it won't be easy. They must overcome toilet toads, cockrats, ass dolls, and the surgical experiments that are slowly mutating them into goblin-child hybrids.

Forget everything you know about Auschwitz...you're about to be Shit Slaughtered.
Famous Hollywood star Clara Bow modeling swastika fashions in the 1920's
Hitler's cross - a cafe in Mumbai, India, complete with swastika logo was the brainchild of Puneet Sabhlok, a novice restaurateur, who said he wanted a catchy café name to sell his $3 to $4 plates of crostini tonno, pear & ricotta salad and pannacotta. So he went with Hitler's Cross. "Hitler is a catchy name. Everyone knows Hitler," he explained in an interview. After intense pressure from the ADL, German & Israeli diplomats, and India's Jewish community, the cafe's name was changed to "The Cross".
Hilarious ! He even put the apostrophe in the wrong place on his big sign !
Top 10 Bizarre Restaurants
http://listverse.com/2009/07/24/top-10-b...staurants/
01-04-2012, 02:05 PM
(This post was last modified: 01-04-2012 02:18 PM by SirBustaBear.)
RE: Hitler was a great man and the Gestapo were fabulous police David Irving claims
It is very revealing to see that even people from the extreme right wing have to admit that Irving has been deliberately lying after being confronted with the facts being presented in the book
"Lying about Hitler – History, Holocaust, and the David Irving trial"
by Richard J. Evans. This is illustrated by the following review taken from Amazon regarding that book. The reviewer lists another example showing clearly and in detail how David Irving is distorting historical facts to fit his agenda to portray Hitler as a figure of light. It is totally devastating for the self proclaimed "one-and-only-really-objective historian" Irving and leaves him with egg all over his face. No wonder he has been trying to stop the publication of this book in the UK.
Quote:However, he [Evans] also proves rather conclusively that

Irving has deliberately lied in several of his books

, whether through distortion of historical facts or flat-out invention. It might be worth it to detail one example.

When I first read Irving's original 2 volume magnum opus, "Hitler's War", in the mid 90s, the one thing that really caught my attention was Irving's assertion that Hitler had actually ordered Himmler _not_ to liquidate the Jews. Irving's thesis was that the SS actually massacred the Jews on their own initiative, contrary to Hitler's direct orders and express wish to simply expel them after the war. In his introduction, Irving writes, "...the incontrovertible evidence is that Hitler ordered on November 30th 1941 that there was to be 'no liquidation' of the Jews." The relevant passage of the books reads:

"On November 30th, he (Himmler) was summoned to the Wolf's lair for a secret conference with Hitler, at which the fate of Berlin's Jews was clearly raised. At 1:30 p.m. Himmler was obligated to telephone from Hitler's bunker to Heydrich the explicit order that Jews were not to be liquidated; and the next day Himmler telephoned SS overall General Oswald Pohl, overall chief of the concentration camp system, with the order: 'Jews are to stay where they are.'"

Needless to say, I sat up and took notice. What a historian! What a discovery! Hitler actually wanted to protect the Jews from his bloodthirsty subordinates! Unfortunately, Irving's account is not at all accurate.

First of all, the relevant phrase in Himmler's notes was, "Judentransport aus Berlin. Keine Liquidierung" which means "Jew transport from Berlin. No Liquidation." It should be obvious to anyone, even without the fluency in German which Mr. Irving has, that the phrase refers to a single, specific transport of Jews from Berlin. Somehow,

Irving extrapolated that order into a general prohibition against the liquidation of all Jews

. Even more damning to his case, Irving had correctly translated the word "judentransport" as singular in a 1974 letter, so what was the justification for the mistranslation 3 years later?

Such an extrapolation is even more bizarre considering the two lines which preceded the mention of the Jew transport,

which Irving chose to completely ignore

. They are: "Verhaftung Dr. Jekelius/ Angebl [ich] Sohn Molotows" which mean "Arrest Dr. Jekelius. Presumably Molotov's son." This means that is was believed that one of the prisoners on that transport from Berlin was believed to be Soviet Foreign Minister Molotov's son, who would conceivably be a valuable bargaining chip for the Nazis, and who would have been automatically liquidated on his transport's arrival at its destination, unless some higher-up ordered his removal.

In addition, Himmler made this phone call an hour before he even met with Hitler, so it was misleading to say he was "obligated" by Hitler to spare this trainload of Jews, let alone Jews in general. The next part of this passage was the order that "Jews are to stay where they are." The relevant order says, "Verwaltungsfuhrer des SS haben zu bleiben" which actually means, "Administrative leaders of the SS are to stay where they are". There was no mention of Jews anywhere in Himmler's log that day. Irving says these were mistakes.

For an expert in his field, who is fluent in German, these seem like the mistakes of someone who is either deliberately falsifying the historical record or who is so blinded by a desire to exculpate Hitler from all wrongdoing

that he can't tell when he is extracting totally baseless interpretations from a document.

Evans looks into several other instances in Irving's work, such as the Dresden death toll, that couldn't have been anything but deliberate lies.

http://www.amazon.com/Lying-About-Hitler...NVGLFQY8O8
And another one which is summing it up quite well:
Quote:None of the arguments advanced by Irving's supporters to defend his theories stand up to the intellectual beating Evan's has served up in Lying about Hitler. Contrary to his cheerleaders' claims,

Irving is not a great revisionist historian who seeks only to discover the truth

about Hitler; he's an ideologue who parades his fallacious arguments continuously--despite the voluminous evidence to the contrary.

http://www.amazon.com/Lying-About-Hitler...NVGLFQY8O8
01-08-2012, 05:58 AM
(This post was last modified: 01-08-2012 05:59 AM by nwo2012.)
nwo2012
Senior Member


Posts: 578
Joined: Dec 2010
RE: Hitler was a great man and the Gestapo were fabulous police David Irving claims
SBB has to dig up a thread to sprout more rhetoric (is that a definition of troll?). No need to read anything you have posted beyond
Quote:he one thing that really caught my attention was Irving's assertion that Hitler had actually ordered Himmler _not_ to liquidate the Jews. Irving's thesis was that the SS actually massacred the Jews on their own initiative, contrary to Hitler's direct orders and express wish to simply expel them after the war.
What, the imaginary massacre? Get a life!
01-08-2012, 01:34 PM
(This post was last modified: 01-08-2012 05:43 PM by SirBustaBear.)
RE: Hitler was a great man and the Gestapo were fabulous police David Irving claims
(01-08-2012 05:58 AM)

nwo2012 Wrote: SBB has to dig up a thread to sprout more rhetoric (is that a definition of troll?)
Usually I try to constructively focus on facts, arguments and real information. Not on lame attempts to insult like you did numerous times before. Should I name some examples? Maybe you are the one who is the troll here?
But those diversion tactics like ad hominem attacks once people find themselves unable to disprove the facts given are all too well known by now.
You should take example in this guy, the reviewer. He says he once admired David Irving until he learned the facts and came to the inevitable conclusion that he is a liar.
(01-08-2012 05:58 AM)

nwo2012 Wrote: What, the imaginary massacre? Get a life!
Are you able to read at all? Maybe you should pay more attention to your constant, unavoidable reflexes on certain trigger words. You should take note that this was
Irving's
thesis, the guy you maybe want to defend here. Or maybe not, as that would surprise me, as unlike you Irving "only" tried to shift the blame for it in the first edition of the book mentioned (
Hitler's war
, 1977), not completely deny it. Later on of course he tried to marginalize the Holocaust and to raise "more drastic" doubt about it and heavily edited the new edition (1991) of his book.
Or to put it in a way that even a child would understand: if the Holocaust did happen or did not happen was IN NO WAY the issue of my two last posts. The issue was if David Irving is distorting historical facts to fit his agenda.
(01-08-2012 05:58 AM)

nwo2012 Wrote: No need to read anything you have posted beyond
Yes, it already became obvious you are in a state of denial and would not recognize truth even if it punched you violently in the face.
01-10-2012, 01:24 AM
nwo2012
Senior Member


Posts: 578
Joined: Dec 2010
RE: Hitler was a great man and the Gestapo were fabulous police David Irving claims
No I had a Jewish grandparent who loved through it and never told us the Jewish lies.
Also I have many Polish relatives and friends who lived through those times and they also know what was true and what was purely hearsay.

All your evidence is just hearsay. Wait didnt one of your leading holocaust experts admit at the Zundel trial that there was no proven evidence for gas chambers and it was purely hearsay?

You are the one in denial my friend, not me. I am not trying to insult you as I feel rather sorry for you to be honest.
But whatever helps you sleep at night I guess.
01-10-2012, 10:20 AM
(This post was last modified: 01-10-2012 01:27 PM by SirBustaBear.)
RE: Hitler was a great man and the Gestapo were fabulous police David Irving claims
(01-10-2012 01:24 AM)

nwo2012 Wrote: [blah, blah]… holocaust … [blah, blah]
You should not try to sidetrack again. It's unbelievable, you seem to be unable to reflect about your huge intellectual deficiencies in a discussion. You don't get it, do you? Let's sum it up yet again:
you completely dismissed a post simply because it contained a thesis by David Irving himself
. Your state of denial is really staggering and beyond belief. There's not the slightest trace of logic in your "reasoning".
And again for you, maybe you get it this time (I have not much hope though): I was clearly NOT talking about the factuality of the Holocaust at all. Is that all you can talk about? Am I talking to a bot here? Read my lips: the factuality of the Holocaust is not and never was the topic here as it is in no way needed for proving that David Irving is lying.
(01-10-2012 01:24 AM)

nwo2012 Wrote: All your evidence is just hearsay
No it's not. The evidence – meaning the one mentioned about Irving's distortion of historical facts – is openly documented both in his own books and things like logs and diaries by leading Nazis like Himmler –
the documents Irving

himself

refers to
when writing his books, his so called first level sources that allegedly only he deals with as a historian.
Everyone
can look it up and see the obvious discrepancies. The evidence clearly shows how Irving is twisting meaning to fit the desired outcome. By times he even completely makes up some interpretation. If you are going to claim that these documents Irving is refering to are pure fabrication you would effectively state that he is an even bigger liar. That's called logic, you know.
I feel really sorry for you. You don't happen to drink fluoridated water, do you?
01-11-2012, 05:21 AM
nwo2012
Senior Member


Posts: 578
Joined: Dec 2010
RE: Hitler was a great man and the Gestapo were fabulous police David Irving claims
Not at all all my water is distilled. Ok I'm man enough to admit that I missed the essence of your posts, a consequence of being away from home with just a tiny iPhone screen to read and constant interruptions by the kids.
Ok the evidence you site does indeed suggest Irving is lying in this instance.
And I'm also man enough to apologize if my posts appear to attack you but that was never my intention even if it may seem that way. I'm a bit hot headed at times.
01-11-2012, 09:32 PM
(This post was last modified: 01-11-2012 09:34 PM by Deathaniel.)
Deathaniel
Senior Drinking Riker Member


Posts: 816
Joined: Mar 2010
RE: Hitler was a great man and the Gestapo were fabulous police David Irving claims
AHHHHHH aint that sweet such a kodak moment. Surprised to see this thread back to life and what a waste of 15 mins reading the new posts.
And FACTS like the camps birth rate and amenities are all unpopular facts, ones mostly left out of the education about the war to students. In Gr 10 I did a paper on how Germany during ww2 did more films and had more advanced "cinema arts" and mentioned the cinema in Auschwitz. The teacher blew a gasket and i was suspended for 2 weeks. course this is Canada, and by being so harsh and the reactions i got it helped to put me on the path, as one mentioned in this thread, why so hostile about researching the truth, because it's not what they want folks to believe. so wither it's Irving or some other fuck lying to you, my advice is firm. If your smart enough to read the truth is evident and any who are too far one side or another is not to be trusted.
Most here know my beliefs hell this thread can be enough of a read to know i am a FAN of Hitler and Germany, The world would be a better place, but i Only feel so strongly because i have done my own research, and am smart enough to put puzzle pieces together. Most currently arn't
In my 3rd year of university i went to an alumni function and saw that teacher again, I bought him a drink and tried to talk to him (nothing regarding this topic) and he not only was hostile, but openly tried to make me seem like a villain on my introduction calling me one of the "rich kid nazi fucks" to which of the 5 or 6 so folks in the circle not one asked him why or chided him, yet when he left i told them the tale and 2 others had read similar accounts. By conversations end none thought i was out of line but that he had grossly overstepped in his grading and reaction, though one did say she would not have permitted the topic at all
One of the real reasons as stated above by a few others why we're are not taught the facts about the war, is not just politically correctness of not hating any one group of people and villianizing them. But that The strategy and government model worked and worked very well. Heaven forbid if another were to come who could push the bankers and lawyers out into the streets and return prosperity to the regular citizen!!!
---
Remember Knowledge is the only thing THEY can't take from you, and Knowledge is Know how, and Know how is Power!!!

Live long and Prosper!!!! Have a plan beyond words, and worry not of why the storm is coming as to how you're going to survive in it!!!!

Deathanyl @gmail!!!!!!
01-11-2012, 11:30 PM
RE: Hitler was a great man and the Gestapo were fabulous police David Irving claims
The above post is unfortunately laughable. Peeps spending time on the internet seeking out "facts" which sit well with their own confirmation biases is a perennial problem which fatigues many important backwaters on the internet. Like a pernicious malaise of mental acuity.

"One of the real reasons as stated above by a few others why we're are not taught the facts about the war, is not just politically correctness of not hating any one group of people and villianizing them. But that The strategy and government model worked and worked very well."

Even relatively simple verifiable facts, such as that pre WWII Germany's economic miracle was not a miracle but actually money conditionally pumped in by banking houses, seems to elude run of the mill hitlerites.
01-12-2012, 04:23 AM
nwo2012
Senior Member


Posts: 578
Joined: Dec 2010
RE: Hitler was a great man and the Gestapo were fabulous police David Irving claims
(01-11-2012 09:32 PM)

Deathaniel Wrote: AHHHHHH aint that sweet such a kodak moment. Surprised to see this thread back to life and what a waste of 15 mins reading the new posts.

And FACTS like the camps birth rate and amenities are all unpopular facts, ones mostly left out of the education about the war to students. In Gr 10 I did a paper on how Germany during ww2 did more films and had more advanced "cinema arts" and mentioned the cinema in Auschwitz. The teacher blew a gasket and i was suspended for 2 weeks. course this is Canada, and by being so harsh and the reactions i got it helped to put me on the path, as one mentioned in this thread, why so hostile about researching the truth, because it's not what they want folks to believe. so wither it's Irving or some other fuck lying to you, my advice is firm. If your smart enough to read the truth is evident and any who are too far one side or another is not to be trusted.

Most here know my beliefs hell this thread can be enough of a read to know i am a FAN of Hitler and Germany, The world would be a better place, but i Only feel so strongly because i have done my own research, and am smart enough to put puzzle pieces together. Most currently arn't

In my 3rd year of university i went to an alumni function and saw that teacher again, I bought him a drink and tried to talk to him (nothing regarding this topic) and he not only was hostile, but openly tried to make me seem like a villain on my introduction calling me one of the "rich kid nazi fucks" to which of the 5 or 6 so folks in the circle not one asked him why or chided him, yet when he left i told them the tale and 2 others had read similar accounts. By conversations end none thought i was out of line but that he had grossly overstepped in his grading and reaction, though one did say she would not have permitted the topic at all

One of the real reasons as stated above by a few others why we're are not taught the facts about the war, is not just politically correctness of not hating any one group of people and villianizing them. But that The strategy and government model worked and worked very well. Heaven forbid if another were to come who could push the bankers and lawyers out into the streets and return prosperity to the regular citizen!!!
But then nobody was talking to you or asked you to read the posts between myself and SBB so basically GTFO. lol. Just kidding.
01-13-2012, 03:12 AM
(This post was last modified: 10-19-2012 10:22 AM by Negentropic.)
RE: Hitler was a great man and the Gestapo were fabulous police David Irving claims
NEW YORK POST

June 16, 1999
________________________________________
Entertainment

STANLEY KUBRICK, SELF-HATING JEW

By ROD DREHER
THE late
Stanley Kubrick once remarked that "Hitler was right about almost everything,"
and insisted that any trace of Jewishness be expunged from the "Eyes Wide Shut" script that author Frederic Raphael was writing for him.
Kubrick also trashed "Schindler's List," dismissed "Gone With the Wind" as "a terrible movie," and disclosed a preoccupation with actor Kirk Douglas' potent sexual prowess.
These revelations are found in the pages of Eyes Wide Open: A Memoir of Stanley Kubrick, Raphael's account of his strained two-year working relationship with the reclusive, New York-born Jewish director, who lived in self-imposed exile in a high-security English countryside hermitage.
Kubrick died on March 7 this year at age 70. "Eyes Wide Shut" is set to open July 16. The book is to be published June 30 by Ballantine.
Raphael, a prolific novelist and Oscar-winning screenwriter, paints a solemn and quizzical, if ultimately sympathetic, portrait of the legendary director of such films as "Dr. Strangelove," "A Clockwork Orange," and "2001: A Space Odyssey."
The Kubrick that emerges is the classic eccentric artist as tyrannical taskmaster, obsessing over minute details and seemingly indifferent to the needs and opinions of those who serve him.
Yet, as exasperating as working for Kubrick apparently was for him, Raphael ruefully admits that it was worth it just to have been creatively involved with the man many regarded as the world's greatest living director.
In the summer of 1994, Kubrick sent Raphael, then living in France, a novel to read and judge suitable for screen adaptation. It was "Traumnovelle," or "Dream Novella," a turn-of-the-century erotic fiction by Arthur Schnitzler.
But in a mark of Kubrick's weird and secretive nature, he refused to tell Raphael the identity of the work's author (Raphael guessed).
The novella by Schnitzler, who also wrote the play on which the Nicole Kidman stage vehicle "The Blue Room" was based, concerns the kinky, extramarital adventures of a Viennese Jew and his wife.
Kubrick wanted to shift the narrative to modern-day New York.
Raphael decided he was up to the task, and visited Kubrick at his English country estate. Upon returning to France, Raphael noted the director's "strangely passive curiosity," and told his wife that one visit with the inscrutable Kubrick could give a (male) screenwriter a good impression of what it was like to be a woman: "You don't know exactly what he wants, but you know he wants he doesn't know what and hopes you can supply it. He has virtually no ideas at all."
Kubrick's bizarre relationship to his own ethnicity deeply troubled Raphael, a fellow Jew. While demanding an almost slavish fidelity to the Schnitzler novella, described by Raphael as being "impregnated with Jewishness," Kubrick nevertheless instructed Raphael to expunge all Jewishness from his adaptation.
Raphael speculates that understanding Kubrick the Jew is fundamental to understanding the man. He speculates that Kubrick's penchant for secrecy and paranoia came from an outsider's fear of being found out and hounded by "those people," i.e., Gentiles. For Raphael, Kubrick is "the sedentary wandering Jew, rootlessly rooted within his own defenses."
Raphael puzzles over Kubrick's cryptic praise for Hitler, unable to decide if Kubrick was jesting.
"Jewishness is not something that will unite us," Raphael scribbles in his notebook. "On the contrary, it will license him to deal consciencelessly with me. Jews are often real Jews only with each other."
And Kubrick was downright acidic on the subject of "Schindler's List."
"That was about success, wasn't it?" he reportedly said. "The Holocaust is about six million people who get killed. "Schindler's List' was about six hundred people who don't."
http://www.fpp.co.uk/online/99/06/Kubrick150699.html
http://www.nypostonline.com/entertainment/9316.htm\
Kubrick 'Memoir' shocks Spielberg
By Army Archerd
http://www.variety.com/article/VR1117503222
GOOD MORNING: Steven Spielberg is among those shocked by screenwriter Frederic Raphael's description of Stanley Kubrick in his upcoming book, "Eyes Wide Open: A Memoir of Stanley Kubrick."
Spielberg reminds that he knew Kubrick far longer and better than Raphael (who gets second position to Kubrick on the screenplay of "Eyes"). "Stanley Kubrick, Self-hating Jew," blared the N.Y. Post Wednesday on Rod Dreier's story of Raphael and his book. Spielberg, after reading the piece, said, "I didn't recognize the voice of Stanley in that article" which also said Kubrick trashed "Schindler's List."
Spielberg had long (three-hour) telephone conversations regularly with Kubrick over the years and they confided in each other. And when Spielberg was in London he and Kubrick would always get together.
His death was a tremendous to blow to Spielberg who flew over to attend his funeral Further, the remarks of Raphael are in the hands of an attorney in London, and L.A. attorney Louis Blau, counselor and friend to Kubrick from 1958 until the day he died - he spoke to him that morning - says, "Raphael's remarks about (Kubrick's) anti-Semitism and the holocaust are beyond contempt. His relationship with his mother, father, sister and close friends belie that (anti-Semitic) remark. Kubrick believed the Holocaust was the greatest disaster in history."
Blau further says, "Stanley's family, friends at WB [Warner Brothers] and elsewhere in England and the United States are incensed over Raphael's inaccurate, vicious and self-serving article in the June 14 New Yorker and subsequent remarks in the Post. One can only conclude Raphael's recent actions are the result of his realization that he lacked the vision to recognize the universality of Kubrick's 'Eyes Wide Shut.' "
-- Army Archerd in Just for Variety, June 18, 1999
Gertrude Stein's Complex Worldview

Nobel Peace Prize for Hitler?
By Mark Weber
http://www.ihr.org/jhr/v16/v16n5p22_Weber.html
Scholars of the life of Gertrude Stein were recently startled to learn that in 1938 the prominent Jewish-American writer had spearheaded a campaign urging the Nobel committee to award its Peace Prize to Adolf Hitler. This was disclosed by Gustav Hendrikksen, a former member of the Nobel committee and now professor emeritus of Bible studies at Sweden's Uppsala University, in Nativ, a political magazine published in Israel. (Reports about this appeared in the New York Jewish community weekly Forward, Feb. 2, June 14, and Oct. 25, 1996.)
Hendrikksen, an avowed friend of Israel who is now in his late 80s, recalled that the Nobel committee rejected Stein's proposal "politely but firmly, citing among their reasons the attitude of the Nazi regime toward the Jews."
In the decades before her death in 1946, Stein was a widely acclaimed literary icon. As monarch of the "lost generation" of American expatriates in Paris during the 1920s and 1930s, she cultivated and influenced such literary figures as Ernest Hemingway and F. Scott Fitzgerald, as well as such artists as Pablo Picasso and Henri Matisse. Her Paris home was a mecca for writers and artists. Stein's own "modernist" novels, memoirs, lectures and plays -- once celebrated as stylishly avant garde -- have not aged well. Today she is remembered almost as much for who she was as for what she wrote.
Born in Pennsylvania of a wealthy German-Jewish family, she was raised in the United States, and attended Radcliffe and Johns Hopkins universities. But it was during her years of expatriate living in France that she made her lasting mark.
'Hitler Ought to Have the Peace Prize'
Stein's seemingly paradoxical views about Hitler and fascism have never been a secret. As early as 1934, she told a reporter that Hitler should be awarded the Nobel peace prize. "I say that Hitler ought to have the peace prize, because he is removing all the elements of contest and of struggle from Germany. By driving out the Jews and the democratic and Left element, he is driving out everything that conduces to activity. That means peace ... By suppressing Jews ... he was ending struggle in Germany" (New York Times Magazine, May 6, 1934).
As astonishing at it may seem today, in 1938 many credited Hitler for his numerous efforts to secure lasting peace in Europe on the basis of equal rights of nations. After assuming power in 1933, he succeeded in quickly establishing friendly relations with Poland, Italy, Hungary, and several other European nations. Among his numerous initiatives to lessen tensions in Europe, the German leader offered detailed proposals for mutual reductions of armaments by the major powers.
In a 1940 essay, Stein wrote positively of the appointment of "collaborationist" Henri Philippe Petain as France's Chief of State, comparing him to George Washington. As late as 1941, she was urging the Atlantic Monthly to publish speeches by Marshal Petain, which she had translated into English. In spite of her background, Stein continued to live and write in France during the years of German occupation (1940-1944).
She also maintained a friendship with Bernard Fay, who headed France's national library, the Bibliotheque Nationale, during the Petain era. According to a new biography of Stein, Favored Strangers: Gertrude Stein and Her Family, by Linda Wagner-Martin, Fay and Stein often discussed "the Führer's qualities of greatness" in the years before the outbreak of war in 1939. Even after the war, when he was convicted as a collaborationist, Stein and her close companion Alice Toklas remained good friends with Fay and lobbied to free him from prison.
Conflicted Sense of Jewishness
Like many of this century's Jewish American intellectuals, Stein's relationship to her own Jewishness was complex and conflicted. She was sensitive to anti-Jewish sentiment, and sometimes expressed criticism of Hitler. In 1936 she wrote: "There is too much fathering going on just now and there is no doubt about it fathers are depressing. Everybody now-a-days is a father, there is father Mussolini and father Hitler and father Roosevelt and father Stalin and father Trotzky ..."
Estranged from the organized Jewish community, in part because of her eccentricity and lesbianism, she nevertheless retained an acute and proud sense of her Jewishness. According to Wagner-Martin, Stein once said, "all men of genius had Jewish blood," and even developed a theory that Abraham Lincoln was part Jewish.
During the first decade of this century, Stein became enamored of Austrian-Jewish psychologist and philosopher Otto Weininger, whose major work, Geschlecht und Charakter ("Sex and Character"), had tremendous influence on European thinking. Following its first publication in 1903, the book was quickly translated into various languages, and went through 30 editions. Weininger contrasted the masculine "Being" of Aryanism and Christianity with the feminine "non-Being" of Judaism. Jesus was the only Jew to overcome Judaism, he argued. Zionism, in Weininger's view, is the negation of Judaism, because it seeks to ennoble what cannot be ennobled. Whereas Judaism stands for the world dispersion of Jews, Zionism strives for their ingathering.
________________________________________
From The Journal of Historical Review, Sept-Oct. 1997 (Vol. 16, No. 5), pp. 22 ff.
Deanna Spingola / Veronica Clark - 05/ 25/ 2012
- More lies about National Socialism exposed for the invented frauds they are. Himmler's Posen Speech of 10/24/1943, buried on microfiche for 60-plus years, rediscovered and analyzed
http://www.spingola.com/vclark6_2012-05-25_16-00-17.mp3
Deanna Spingola / Veronica Clark - 06/ 01/ 2012
- The Mengele myths, the homosexuality myths in the NSDAP, Project Monarch NSDAP connection myths deconstructed
http://www.spingola.com/vclark6_2012-06-01_16-00-25.mp3
Spingola Speaks 05 / 17 / 2012 -- Deanna Spingola interviews Veronica Clark,
author of the books Black Nazis I & II, Hitler and Himmler Uncensored & Triumph of Diversity: A New Look at Hitler's Armed Forces
http://k005.kiwi6.com/hotlink/4avhjvt00g..._05_17.mp3
Spingola Speaks 04 / 27 / 2012 -- Deanna Spingola interviews Veronica Clark,
author of the books Black Nazis I & II, Hitler and Himmler Uncensored & Triumph of Diversity: A New Look at Hitler's Armed Forces
http://k004.kiwi6.com/hotlink/g0u4j813eg..._04_27.mp3
Spingola Speaks 04 / 06 / 2012 -- Deanna Spingola interviews Veronica Clark
, author of the books Black Nazis I & II, Hitler and Himmler Uncensored & Triumph of Diversity: A New Look at Hitler's Armed Forces
http://k003.kiwi6.com/hotlink/q3qj2lf0b2..._04_06.mp3
Deanna Spingola Special Broadcast: Thursday, 6/14/2012 : Veronica Clark
- the Myth of the NSDAP starting the Reichstag Fire as a 'False-Flag' operation deconstructed in detail and absolutely demolished once-&-for-all
http://www.spingola.com/vclark6_2012-06-14_16-02-56.mp3
Spingola Speaks 03 / 09 / 2012 -- Deanna Spingola interviews Veronica Clark
, author of the books Black Nazis I & II, Hitler and Himmler Uncensored & Triumph of Diversity: A New Look at Hitler's Armed Forces
http://k004.kiwi6.com/hotlink/137c1jpx45..._03_09.mp3
Charles Giuliani - The Truth Hertz - September 14, 2011 Interview with Veronica Clark of inconvenienthistory.com
http://mp3.oraclebroadcasting.com/Truth_...14_16k.mp3
Deanna Spingola / Veronica Clark - 06 / 21 / 2012

Kristallnacht - the myths and exaggerations vs. the historical reality
http://www.spingola.com/vclark6_2012-06-21_15-59-30.mp3
Demystification of the Birth and Funding of the NSDAP - Veronica Kuzniar Clark
http://www.inconvenienthistory.com/archi..._nsdap.php
Adolf Hitler's Armed Forces: A Triumph for Diversity? - Veronica Clark
http://www.inconvenienthistory.com/archi...forces.php
Non-Aryans and Jews in Hitler's Armed Forces, A photographic history:
http://www.scribd.com/doc/87390076/Nazi-...ive-Action
Chiang Wei-kuo (left), the adopted son of Generalissimo Chiang Kai-shek, served as a commander of a panzer division during the 1938 Anschluss
Deanna Spingola / Veronica Clark - The Gleiwitz Incident, part 1
http://www.spingola.com/vclark6_19_Jul_2..._58_51.mp3
Deanna Spingola / Veronica Clark - The Gleiwitz Incident, part 2
http://www.spingola.com/vclark6_2012-07-26_17-27-24.mp3
Deanna Spingola / Veronica Clark - The Gleiwitz Incident, part 3
http://www.spingola.com/vclark6_2012-08-01_17-03-04.mp3
Adolf Hitler with farm children on his tour of East Prussia
http://4.bp.blogspot.com/_AuPoOCVtSzM/S0...russia.jpg
Adolf Hitler with Emmy Sonnemann and Edda Göring 1940
http://3.bp.blogspot.com/_AuPoOCVtSzM/S0...g+1940.jpg
The launching of the Volkswagen Beetle
http://1.bp.blogspot.com/_AuPoOCVtSzM/S0...Beetle.jpg
National Socialist girls youth group - notice that they are not wearing bras
02-13-2012, 08:43 PM
420trvlr
Old dog learning new tricks


Posts: 37
Joined: Apr 2009
RE: Hitler was a great man and the Gestapo were fabulous police David Irving claims
Might I remind you, that tyrants are tyrants, most often, when they disagree with whom ever is writing the history.
---


'Those who would sacrifice freedom for security, deserve neither freedom nor security.' - Ben Franklin
'We need a revolution every 20 yrs., just to keep the bastards honest.' - T. Jefferson
None are more hopelessly enslaved, than those who falsely believe they are free! - Johann Wolfgang von Goethe
To the one who consents, no injustice is done.


Free America!
04-09-2012, 11:00 AM
(This post was last modified: 10-19-2012 11:54 AM by Negentropic.)
RE: Hitler was a great man and the Gestapo were fabulous police David Irving claims
Quote:The above post is unfortunately laughable. Peeps spending time on the internet seeking out "facts" which sit well with their own confirmation biases is a perennial problem which fatigues many important backwaters on the internet. Like a pernicious malaise of mental acuity.

"One of the real reasons as stated above by a few others why we're are not taught the facts about the war, is not just politically correctness of not hating any one group of people and villianizing them. But that The strategy and government model worked and worked very well."

Even relatively simple verifiable facts, such as that pre WWII Germany's economic miracle was not a miracle but actually money conditionally pumped in by banking houses, seems to elude run of the mill hitlerites.
How is that? Money pumped in by Jew 'banking houses'?
You mean the Rothschilds that were booted the fuck right out of Germany ?
What the hell? Even mainstream biographies admit this.
Quote:Niall Ferguson's biography of the Rothschild family, The House of Rothschild: Volume 2: The World's Banker: 1849-1999 (Penguin, 2000), although sympathetic to Jewry and the Rothschilds, outlines the reality of the National Socialists' war against this international criminal Jewish banking cabal. Ferguson writes:


"An altogether more ruthless coalition had come to power in Germany in 1933, dominated by the National Socialist German Workers' Party. Hostility to the Rothschilds' had been a feature of Nazi propaganda from the movement's infancy (see introduction to volume 1) despite the fact that the Frankfurt house had been wound up when Hitler was barely twelve years old. It was a hostility that soon translated into action.


continued here:

http://zioncrimefactory.com/2012/04/05/t...-the-boot/
Who's delusional here? What do you call INTEREST FREE MONEY issued by Hitler's government? How can any 'banking houses' kicked out of Germany with all their German money and art-collections seized collect on interest free money? Don't have any answer do you ?
What do you call a near doubling of the national income with ZERO inflation (there was only inflation after they were forced into war) and full employment achieved in just five years?
Do you call that a bar-mitzvah?
What do you call the invention of the Jet engine, the helicopter, the guided missile, nuclear fission, night vision technology, the first programmable computer, the first binary calculator, the laying down of 5 thousand miles of Autobahn, all done in just 5 years, if not an economic miracle ?
Futhermore, what do you call a country with interest-free currency, zero inflation and 5 thousand miles of newly built autobahn that can be traveled on to any part of Germany by anyone able to save 5 marks a week for a Volkswagen car designed by Ferdinand Porsche while at the same time producing a 720 horse power Mercedes race car that broke the land speed record at 268 MPH (see posts above) ?
You call it an economic miracle for sure, but you also call it a smack in the face of Judea's war-declared-on-Germany going as far back as 1933, since they hate nothing more than economic miracles they can't extort, exploit, or blackmail.
Quote:
Hitler's freedom from International Debt Slavery


By Poke The Eye.org and commentary by Ron

May 9, 2009, 04:03



Ron: Here is an article that reminds us of what should be obvious namely, that societies should create their own interest (usury) free money under publicly oversighted and strictly regulated conditions. Moreover, anyone counterfeiting, manipulating or cheating the money supply system should be imprisoned. Properly managed public money creation can eliminate taxation and unemployment and ensure prosperity and abundance for all.

The article MONEY: NOW & LATER - Part III (Germany)í posted here on 7 April 2009 gives additional information about how the international banksters ruined the economy and pillaged Germany during the years between 1919 and Hitlerís accession to power in March 1933. It also provides some additional information on how Hitler overcame Germany's bankster created money supply problems.

Incidentally this article rightly mentions the real reason that the bankster controlled UK and US sought war with Germany in WWII and why they committed genocidal crimes against the German people during and after that war. The reason? Hitler had defied the international banksters and issued his own sovereign money and credit. Not only could the banksters not tolerate that but they wanted to make an example of Germany to deter other countries from considering such a course. Similarly, Saddam Hussein's desire to avoid the yoke of a Crown controlled Central Bank in Iraq was no doubt a key reason for the genocidal treatment of that country by the US and UK in the last 18 years.

The current global money meltdown and growing economic depression results from private fiat money creation by banksters. This article is a timely reminder that the world needs to eliminate private money creation and usury and that it can be done. After stasis, banking will become a minor service industry with no ability to create money or charge interest (usury) in relation to loans. Banks will charge modest, realistic fees for the much reduced banking† services that may still be needed during the interim period before global society is able to dispense entirely with money as a tool for social interaction. So be it.


********************




History is written by the victors - W. Churchill

An interesting perspective on World War II, and the players involved.
Many people take joy in saying Wall Street and Jewish bankers ìfinanced Hitler.î There is plenty of documented evidence that Wall Street and Jewish bankers did indeed help finance Hitler at first, partly because it allowed the bankers to get rich (as I will describe below) and partly in order to control Stalin. However, when Germany broke free from the bankers, the bankers declared a world war against Germany.

When we look at all the facts, the charge that ìJews financed Hitlerî becomes irrelevant. Los Angeles Attorney Ellen Brown discusses this topic in her book Web of Debt
When Hitler came to power, Germany was hopelessly broke. The Treaty of Versailles had imposed crushing reparations on the German people, demanding that Germans repay every nationís costs of the war. These costs totaled three times the value of all the property in Germany. Private currency speculators caused the German mark to plummet, precipitating one of the worst runaway inflations in modern times. A wheelbarrow full of 100 billion-mark banknotes could not buy a loaf of bread. The national treasury was empty. Countless homes and farms were lost to speculators and to private banks. Germans lived in hovels. They were starving.

Nothing like this had ever happened before - the total destruction of the national currency, plus the wiping out of peopleís savings and businesses. On top of this came a global depression. Germany had no choice but to succumb to debt slavery under international bankers until 1933, when the National Socialists came to power.
At that point the German government thwarted the international banking cartels by issuing its own money. World Jewry responded by declaring a global boycott against Germany. Hitler began a national credit program by devising a plan of public works that included flood control, repair of public buildings and private residences, and construction of new roads, bridges, canals, and port facilities. All these were paid for with money that no longer came from the private international bankers.

The projected cost of these various programs was fixed at one billion units of the national currency. To pay for this, the German government (not the international bankers) issued bills of exchange, called Labor Treasury Certificates. In this way the National Socialists put millions of people to work, and paid them with Treasury Certificates. Under the National Socialists, Germanyís money wasnít backed by gold (which was owned by the international bankers). It was essentially a receipt for labor and materials delivered to the government. Hitler said, ìFor every mark issued, we required the equivalent of a markís worth of work done, or goods produced.î The government paid workers in Certificates. Workers spent those Certificates on other goods and services, thus creating more jobs for more people. In this way the German people climbed out of the crushing debt imposed on them by the international bankers.

Within two years, the unemployment problem had been solved, and Germany was back on its feet. It had a solid, stable currency, with no debt, and no inflation, at a time when millions of people in the United States and other Western countries (controlled by international bankers) were still out of work. Within five years, Germany went from the poorest nation in Europe to the richest. Germany even managed to restore foreign trade, despite the international bankersí denial of foreign credit to Germany, and despite the global boycott by Jewish-owned industries. Germany succeeded in this by exchanging equipment and commodities directly with other countries, using a barter system that cut the bankers out of the picture. Germany flourished, since barter eliminates national debt and trade deficits. (Venezuela does the same thing today when it trades oil for commodities, plus medical help, and so on. Hence the bankers are trying to squeeze Venezuela.)

Germanyís economic freedom was short-lived; but it left several monuments, including the famous Autobahn, the worldís first extensive superhighway. Hjalmar Schacht, a Rothschild agent who was temporarily head of the German central bank, summed it up thusÖ An American banker had commented, ìDr. Schacht, you should come to America. Weíve lots of money and thatís real banking.î Schacht replied, ìYou should come to Berlin. We donít have money. Thatís real banking.î (Schacht, the Rothschild agent, actually supported the private international bankers against Germany, and was rewarded by having all charges against him dropped at the Nuremberg trials.)

This economic freedom made Hitler extremely popular with the German people. Germany was rescued from English economic theory, which says that all currency must be borrowed against the gold owned by a private and secretive banking cartel ó such as the Federal Reserve, or the Central Bank of Europe ó rather than issued by the government for the benefit of the people. Canadian researcher Dr. Henry Makow (who is Jewish himself) says the main reason why the bankers arranged for a world war against Germany was that Hitler sidestepped the bankers by creating his own money, thereby freeing the German people. Worse, this freedom and prosperity threatened to spread to other nations. Hitler had to be stopped!

Makow quotes from the 1938 interrogation of C. G. Rakovsky, one of the founders of Soviet Bolshevism and a Trotsky intimate. Rakovsky was tried in show trials in the USSR under Stalin. According to Rakovsky, Hitler was at first funded by the international bankers, through the bankersí agent Hjalmar Schacht. The bankers financed Hitler in order to control Stalin, who had usurped power from their agent Trotsky. Then Hitler became an even bigger threat than Stalin when Hitler started printing his own money. (Stalin came to power in 1922, which was eleven years before Hitler came to power.)


Rakovsky said:


ìHitler took over the privilege of manufacturing money, and not only physical moneys, but also financial ones. He took over the machinery of falsification and put it to work for the benefit of the people. Can you possibly imagine what would have come if this had infected a number of other states?î (Henry Makow, ìHitler Did Not Want War,î March 21, 2004).


Economist Henry C K Liu writes of Germanyís remarkable transformation:

The Nazis came to power in 1933 when the German economy was in total collapse, with ruinous war-reparation obligations and zero prospects for foreign investment or credit. Through an independent monetary policy of sovereign credit and a full-employment public-works program, the Third Reich was able to turn a bankrupt Germany, stripped of overseas colonies, into the strongest economy in Europe within four years, even before armament spending began.î (Henry C. K. Liu, ìNazism and the German Economic Miracle, Asia Times (May 24, 2005).

In Billions for the Bankers, Debts for the People (1984), Sheldon Emry commented:

Germany issued debt-free and interest-free money from 1935 on, which accounts for Germanyís startling rise from the depression to a world power in five years. The German government financed its entire operations from 1935 to 1945 without gold, and without debt. It took the entire Capitalist and Communist world to destroy the German revolution, and bring Europe back under the heel of the Bankers.

These facts do not appear in any textbooks today. What does appear is the disastrous runaway inflation suffered in 1923 by the Weimar Republic, which governed Germany from 1919 to 1933. Todayís textbooks use this inflation to twist truth into its opposite. They cite the radical devaluation of the German mark as an example of what goes wrong when governments print their own money, rather than borrow it from private cartels.

In reality, the Weimar financial crisis began with the impossible reparations payments imposed at the Treaty of Versailles. Hjalmar Schacht [who was never a Nazi Party member either and now it appears clear why that was the case] ñ the Rothschild agent who was currency commissioner for the Republic ó opposed letting the German government print its own money

ìThe Treaty of Versailles is a model of ingenious measures for the economic destruction of Germany. Germany could not find any way of holding its head above the water, other than by the inflationary expedient of printing bank notes.î

Schacht echoes the textbook lie that Weimar inflation was caused when the German government printed its own money. However, in his 1967 book The Magic of Money, Schacht let the cat out of the bag by revealing that it was the PRIVATELY-OWNED Reich bank, not the German government, that was pumping new currency into the economy. Thus, the PRIVATE BANK caused the Weimar hyper-inflation.

Like the U.S. Federal Reserve, the Reich bank was overseen by appointed government officials, but was operated for private gain. What drove the wartime inflation into hyperinflation was speculation by foreign investors, who sold the mark short, betting on its decreasing value. In the manipulative device known as the short sale, speculators borrow something they donít own, sell it, and then ìcoverî by buying it back at the lower price.

Speculation in the German mark was made possible because the PRIVATELY OWNED Reich bank (not yet under Nazi control) made massive amounts of currency available for borrowing. This currency, like U.S. currency today, was created with accounting entries on the bankís books. Then the funny-money was lent at compound interest. When the Reich bank could not keep up with the voracious demand for marks, other private banks were allowed to create marks out of nothing, and to lend them at interest. The result was runaway debt and inflation.

Thus, according to Schacht himself, the German government did not cause the Weimar hyperinflation. On the contrary, the government (under the National Socialists) got hyperinflation under control. The National Socialists put the Reich bank under strict government regulation, and took prompt corrective measures to eliminate foreign speculation. One of those measures was to eliminate easy access to funny-money loans from private banks. Then Hitler got Germany back on its feet by having the public government issue Treasury Certificates.

Schacht , the Rothschild agent, disapproved of this government fiat money, and wound up getting fired as head of the Reich bank when he refused to issue it. Nonetheless, he acknowledged in his later memoirs that allowing the government to issue the money it needed did not produce the price inflation predicted by classical economic theory, which says that currency must be borrowed from private cartels.

What causes hyper-inflation is uncontrolled speculation. When speculation is coupled with debt (owed to private banking cartels) the result is disaster. On the other hand, when a government issues currency in carefully measured ways, it causes supply and demand to increase together, leaving prices unaffected. Hence there is no inflation, no debt, no unemployment, and no need for income taxes.

Naturally this terrifies the bankers, since it eliminates their powers. It also terrifies the internationalists, since their control of banking allows them to buy the media, the government, and everything else.



http://www.poketheeye.org/?p=210
The Heretics' Hour: Painting & Music in the Third Reich
October 25, 2011
http://reasonradionetwork.com/downloads/...111024.mp3
Wilhelm Kriessmann and Rodney Martin join Carolyn Yeager for a discussion of the thriving and varied art and music life of National Socialist Germany. Dr. Kriessmann was in Austria during the 1930s, and stationed in Berlin during the wartime years of the 1940s, able to experience much of the culture that was available. Topics include:
• The attributes of Modernism following WWI;
• German art, degenerate art and foreign art;
• The styles and themes of National Socialist-approved painting;
• Music was everywhere, ranging from opera to German jazz to folk songs;
• Wagner, Bruckner, Strauss, Pfitzner and Furtwaengler;
• Art was highly supported and continued to be right through the war years;
• Joseph Goebbels "diaries" still controversial.
The Heretics' Hour: Culture of the Third Reich
October 10, 2011
http://reasonradionetwork.com/downloads/...111010.mp3
Rodney Martin shares his expertise on German films of the National Socialist period. Topics include:
• How the films reflect real life during the Adolf Hitler regime;
• The creative freedom and lack of censorship the filmmakers enjoyed;
• How German films compare to Hollywood films;
• Where these films can be found, if they survived Allied destruction;
• General myths and lies about culture in National Socialist Germany
The French 'resistance' is 99% myth.
The 'resistance' amounted to less than 1% of the population, mostly Jews and communists.
The Germans were so 'resisted' by the French that 200,000 children were born to German & French couples in just those few years. The punishment for any soldier convicted of rape was execution.
Hitler had every brothel in the city inspected for disease before he let his soldiers go there. He did this for the brothel at Auschwitz too, by the way. All the hookers there were inspected for disease also.
Hitler went around Paris standing in a convertible Benz & no one took a shot at him. Can you imagine an U.S. president or Netanyahu standing in a car & driving through Iraq or Gaza with no protection from snipers ?
more stuff on the French 'resistance' archived here:
http://concen.org/forum/showthread.php?tid=37947
Quote:

From a review of "The War Between The Generals" by David Irving



http://ihr.org/jhr/v05/v05p397_Lutton.html

As time goes on and the archives open more of their files to the scrutiny of researchers, we will be revising our view of the German occupation of France and conditions there following "liberation." John Eisenhower, the General's son, reported: "I saw absolutely no evidence of German abuse of the population... The attitude of the French was sobering indeed. Instead of bursting with enthusiasm they seemed not only indifferent but sullen. There was considerable cause for wondering whether these people wished to be " 'liberated.'" General Eisenhower's British aide conceded that "The people looked well-fed and the children healthy and well-dressed." And Sir Alan Brooke, the British Army Chief of Staff, observed: "The French population did not seem in any way pleased to see us arrive as a victorious army to liberate France. They had been quite content as they were and we were bringing war and desolation to their country." Referring to the French town of Carentan, Montgomery wrote to Brooke: "I see SHAEF communique said yesterday that the town had been liberated. Actually, it has been completely flattened and there is hardly a house intact; all the civilians have fled. It is a queer sort of liberation." Irving explains that "French folk saw only the Allied battleships and bombers and tanks pounding their towns into ruins. In a reflexive act of self-preservation, many of them seized arms to aid Rommel's army against the death-dealing newcomers."
French civilians receive food, French POWs work, and Hitler greets German troops in France during WWII.
http://www.criticalpast.com/video/656750...ibute-food
Pétain Meeting Chancellor Adolf Hitler, signing the Armistice
Pétain meeting with the 'resistance'
http://www.jourdan.ens.fr/~mariot/hopfic...0micro.jpg
http://www.jourdan.ens.fr/~mariot/hopfic...i%2044.jpg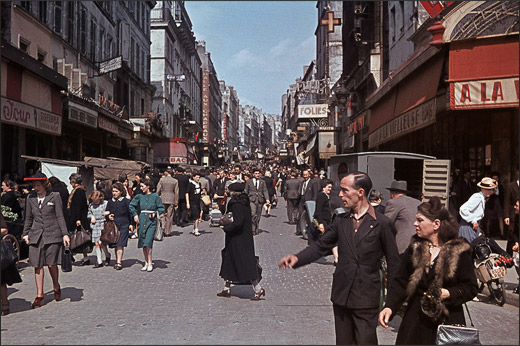 04-11-2012, 09:44 AM
(This post was last modified: 10-19-2012 12:10 PM by Negentropic.)
RE: Hitler was a great man and the Gestapo were fabulous police David Irving claims
Quote:"At the present time there is probably no man on whom the attention of the whole world is concentrated so intensely as on the Leader. And yet there is no man whose unique quality is so difficult to describe.

Everyone who knows the close inner bond between Hitler and his men will understand that for us followers it is axiomatic that the Leader must possess any quality attributed to him in its highest perfection. Just as the Roman Catholic considers the Pope infallible in all matters concerning religion and morals, so do we National Socialists believe with the same inner conviction that for us the Leader is in all political and other matters concerning the national and social interests of the people simply infallible.

Wherein lies the secret of this enormous influence which he has on his followers? Does it lie in his goodness as a man, in his strength of character or in his unique modesty? Does it lie in his political genius, his gift of seeing what direction things are going to take, in his great bravery, or in his unbending loyalty to his followers? I think that, whatever quality one may have in mind, one must nevertheless come to the conclusion that it is not the sum of all these virtues ; it is something mystical, inexpressible, almost incomprehensible which this unique man possesses, and he who cannot feel it instinctively will not be able to grasp it at all. For we love Adolf Hitler, because we believe deeply and unswervingly that God has sent him to us to save Germany." --- And it is a blessing for Germany that in Hitler we have the rare combination of a keen logical thinker, a really profound philosopher and an iron-willed man of action, tenacious to the highest degree. How seldom are the gifts of genius combined with the will to action. In Hitler this synthesis is complete." ---


"If Adolf Hitler has appointed anyone to an official position that man will not be dismissed unless he has been guilty of treachery or shown himself completely incompetent. In the most generous way the Leader has always forgiven the mistakes of his subordinates. How often has he smilingly passed over mistakes and when pressed nevertheless to dismiss whoever was responsible, has often answered 'Every man has his weak points and everyone makes mistakes, but before all, I value men who have the strength to act at all. They may make mistakes, they may act wrongly, but the essential thing is that they should be able to act at all.' Each individual follower has the wonderful feeling of security, that no intrigues, no gossip, no scandal can injure his reputation with the Leader. The pure character of Adolf Hitler is impervious to such talk; he simply does not hear it. Adolf Hitler is also so great that he could never be jealous of the ability and talents of his collaborators or of their prestige with the people. On the contrary, he is always pleased anew when he has found a collaborator from whom he can expect exceptional achievements. It is one of his qualities as a leader that he knows how to put the right men in the right places.



Hitler does not wish for any personal dictatorship. He does not want to be enthroned in lonely majesty above his collaborators; he does not want to be feared by them; he despises flatterers and place-seekers.

Adolf Hitler's ideal, which he has often stated, has always been to have a band of capable and determined men at whose head there must necessarily be a leader. In this connection he often spoke of 'King Arthur's Round Table.' Adolf Hitler never needs to be elected as chairman, leader or president of a cabinet, commission or popular assembly. Wherever he is, he is the Leader; his authority is a matter of course; in a wonderful way he always manages to bind his men to him, whether they be Ministers or simple Storm Troopers. His unique personal charm holds everyone in its spell.

He allows his collaborators the greatest freedom in their own spheres of work and duty.

There they are completely independent, and if at any time he really has to intervene, if he wants something to be done differently, then he does it in such a way that the person concerned never feels offended; on the contrary, he feels even more closely bound to the Leader than before.

The men who surround Hitler are fighters who have grown up in the struggle of the last fifteen years, steeled by all the hardships which they have had to suffer. They are rough, blunt men, but they are complete in themselves, each one of them doing his utmost in his own sphere, each one of them filled with the sole aim of serving his country and his Leader. It may be that in particular questions there are different opinions, but as regards the great aim all are united, and here again it is above all the commanding personality of the Leader and the love for him which makes of all these men one mind and one will. It has always been Hitler's ambition carefully to seek out the best man for every important post; nothing then pleases him more than the fact that he has not been disappointed in his choice."


"lf one wished to make the attempt to describe Adolf Hitler, what sort of man he is, and how he works, one would have to write a whole book."–

Quotes from Germany Reborn, 1934, by General Hermann Göring.


Quote:What does the board meeting of a Nazi 'Murder, Inc.' look like? Milch saw it in session that afternoon and described it to this author: Himmler was slowly reeling off names from sweaty and tattered lists. Göring and Reichenau, the army's deputy chief of staff, were nodding or shaking their heads. Körner was carrying their duly considered 'nominations' outside – with the addition of one ominous word, Vollzugsmeldung ('Report back!'). Rudolf Diels? Göring shook his head. Bernhard von Bülow? He vetoed that name as well. Somebody in this all-male company jested that they should nominate Baroness Viktoria von Dirksen while they could. At the mention of this, one of the more tedious females around the Führer, everybody heaved with nervous laughter.

It is not hard to recognize the 'Oscars' that Göring himself awarded, or at least nodded to. Who else had any score to settle with Erich Klausener, whom Göring had sacked as head of the Prussian Police Department in February 1933? Who, other than Göring, would have ordered the pickax murder of seventy-one-year-old ex-dictator Gustav von Kahr and Munich journalist Fritz Gerlich? Kahr had betrayed the 1923 beer hall putsch. Gerlich had claimed that Göring broke his word of honor to escape; Göring had sued him for libel and lost. Now both those old scores were settled, permanently.

At ten p.m. the day's bloody business came to an end. Himmler nonchalantly ordered all SS documents relating to the purge destroyed. Göring took Milch and Körner out to Tempelhof Airport in his black Mercedes saloon, to await Hitler's return from Bavaria. As they waited, a Junkers 52 from Bremen touched down, and Karl Ernst, the Berlin SA commander, was led in manacles out of its corrugated fuselage. He had been aboard a ship about to sail from Bremen. Years later, still incorrigible, Göring would continue to maintain that Ernst had been 'trying to abscond with eighty thousand Reichsmarks.' In truth, the unfortunate man had just set out on a belated honeymoon voyage with his wife. Now the baffled SA Gruppenführer was hustled away to a brief and merciless ceremony at Göring's old military academy at Lichterfelde. Facing an SS firing squad was not a good start to anybody's honeymoon.

Hitler's plane landed, and he emerged, deathly pale and grim-faced. He nervously complimented Göring on the honor guard, of four hundred handpicked air-force troops drawn up on the tarmac, wearing their still-secret Luftwaffe uniform. 'The men are a good racial selection,' he commented.

At the Chancellery he told Göring that he had ordered the execution of all Röhm's senior henchmen but proposed to spare his longtime friend Röhm, for old times' sake. Göring gagged on this sentimentality. All the next day, Sunday, July 1, he and Himmler badgered Hitler to carry through the purge to its ruthless and logical conclusion.When Darré arrived at Göring's ministry that Sunday afternoon, he foundGöring and Himmler still arguing with Hitler. Once, Hitler insisted on being put through by phone to Röhm's former deputy, Krausser (he had consulted this distinguished cavalry officer two nights before). Too late – on Göring's orders, Krausser had received his 'Oscar' at Lichterfelde a few hours earlier. By the time Milch arrived at the ministry, from a leisurely sporting afternoon spent at Berlin's Karlshorst racetrack, the argument was over and Röhm, too, had been shot to death in his Munich prison cell.

Eighty-four people were known to have been liquidated in the purge. 'Of course,' Göring airily conceded later, 'in the general excitement some mistakes were made.' There was the unknown musician Willi Schmidt, gunned down in mistake for Willi Schmid. And there was the air-force Pour le Mérite holder Daniel Gerth, on whom Göring took compassion. This SA lieutenant was driven off, like all the others, to Lichterfelde . . . propped up before the SS firing squad . . . reprieved on Göring's orders . . . then shot an hour later.

Tabula rasa, a clean sweep. Hitler was out of his league in such company. It dawned only slowly on their private staffs that Göring and Himmler had duped their Führer completely, in order to settle private scores. Brückner was present as Himmler read out the final tally. Hitler was speechless with grief at some of the victims' names.

With his accumulated enemies thus largely neutralized, Göring recommendedthat the killings should stop. He would later suggest that he had to plead with Hitler all that Sunday:

Finally I hurried around to the Führer and begged him to put an
end to the shootings, as there was a danger of the thing getting out
of hand. The executions then halted, even though this meant that
two of the Führer's worst enemies – [Werner] von Alvensleben and
[Dr. Leon Count] von Moulin-Eckart [Röhm's adjutant] – escaped
with their lives.

A remorseful Hitler, bilious after the bloodletting, ordered proper compensation paid for the 'mistakes' and pensions for all next-of-kin. As for Göring, his gargantuan appetite was unaffected. On Monday evening he organized a celebratory crab feast and invited his fellow 'managers' Blomberg, Himmler, Körner, and Milch to crack claws with him.

---- Goering, A Biography by David Irving

Pages 148-149

http://fpp.co.uk/books/Goering/Goering_2010.pdf
Reinhard Heydrich & family
Reinhard Heydrich mit seiner Frau Lina und seinem Sohn Klaus.
Hitler expresses condolences to Heydrich's sons at State Funeral, June 9, 1942 in Berlin (All illustrations are from David Irving's forthcoming Himmler biography)
German peasants crowd around Adolf Hitler's car to get a good view of their leader as he drives into Berchtesgaden September 9 1934 to give a speech in connection with the convention of the National Socialist Party
Adolf Hitler shakes hands with figure skating champion Sonja Henie of Norway following her exhibition at the Sports Palace in Berlin Germany Feb 22 1934.
"The authority of the State can never be an end in itself; for, if that were so, any kind of tyranny would be inviolable and sacred. If a government uses the instruments of power in its hands for the purpose of leading a people to ruin, then rebellion is not only the right but also the duty of every individual citizen."
~Adolf Hitler, Mein Kampf
Quote: ""I suspect that the vast majority of men in my neighborhood became involved with the Not-Sees for reasons that had little to do with ideology. Like most German men, they were better craftsmen, mechanics, tailors and butchers than students of politics. The German school system, which had reserved secondary and higher education for an intellectual elite, simply didn't prepare them for political and philosophical thinking.

Under Hitler, most of them had prospered beyond their wildest dreams; they had steady employment, tax deductions for multiple children, free health care, and many other formerly unheard-of benefits. They were convinced that a political party that had made good on its promise to wipe out unemployment, the scourge of the working class, deserved their support.

" -

~ excerpt from "Destined to Witness, Growing Up Black in Not-See Germany" (page 105) by Hans Massaquoi

~
04-24-2012, 07:25 AM
(This post was last modified: 11-15-2012 04:10 PM by Negentropic.)
RE: Hitler was a great man and the Gestapo were fabulous police David Irving claims
The Heretics' Hour: National Socialist Germany's Firsts in Science, Medicine, Health
February 27, 2012
http://reasonradionetwork.com/downloads/...120227.mp3
Rodney Martin joins Carolyn Yeager to survey some of the high achievements that were accomplished under the Third Reich.
Topics include:
• 300,000 patents and copyrights taken by the Allies without compensation from defeated Germany;
• A general emphasis on public health: preventive medicine;
• "War on Cancer," anti-smoking campaign, asbestos dangers discovered;
A 1941 anti-smoking ad. In English: "He does not devour it, it devours him. The Chainsmoker"
• Understanding and treating hypothermia;
• The development of the helicopter, rocketry, jet aircraft (first operational jet fighter and the first operational jet bomber) and stealth bombers;
• Developments of important synthetics, including fibers, fuels and buna rubber;
• Magnetic tape recording, cinematic innovations, and much more.
• National Socialist water purification programs, the re-engineering and perfection of the science of waste-water and sewage treatment
• National Socialist drinking water purification program
• First manned rocket flight
• The first ballistic missiles - Werner Von Braun
• Type XXI U-boat - first submarine designed to operate extensively, for long periods of time underwater
• Television broadcasting - 1936 Olympics was broadcast by television to television parlors
• Night vision technology
• The developoment of Methadone
• 3-D 35 mm films developed long before Hollywood
• Hanna Reitsch - female aviator who was awarded the Iron Cross by Adolf Hitler. Reitsch set over forty aviation altitude and endurance records during her career, both before and after World War II, and several of her international gliding records are still standing to this day.
Carolyn reads about the holocaust of Hamburg in The Fire: The Bombing of Germany 1940-1945 in the first half-hour.
1941 Hanna Reitsch Tests the Me-163 Rocket Plane in Peenemunde
http://www.youtube.com/watch?v=-yuRisGhrdA
messerschmitt me 163 flying!!
http://www.youtube.com/watch?v=W-n_jvDBxB0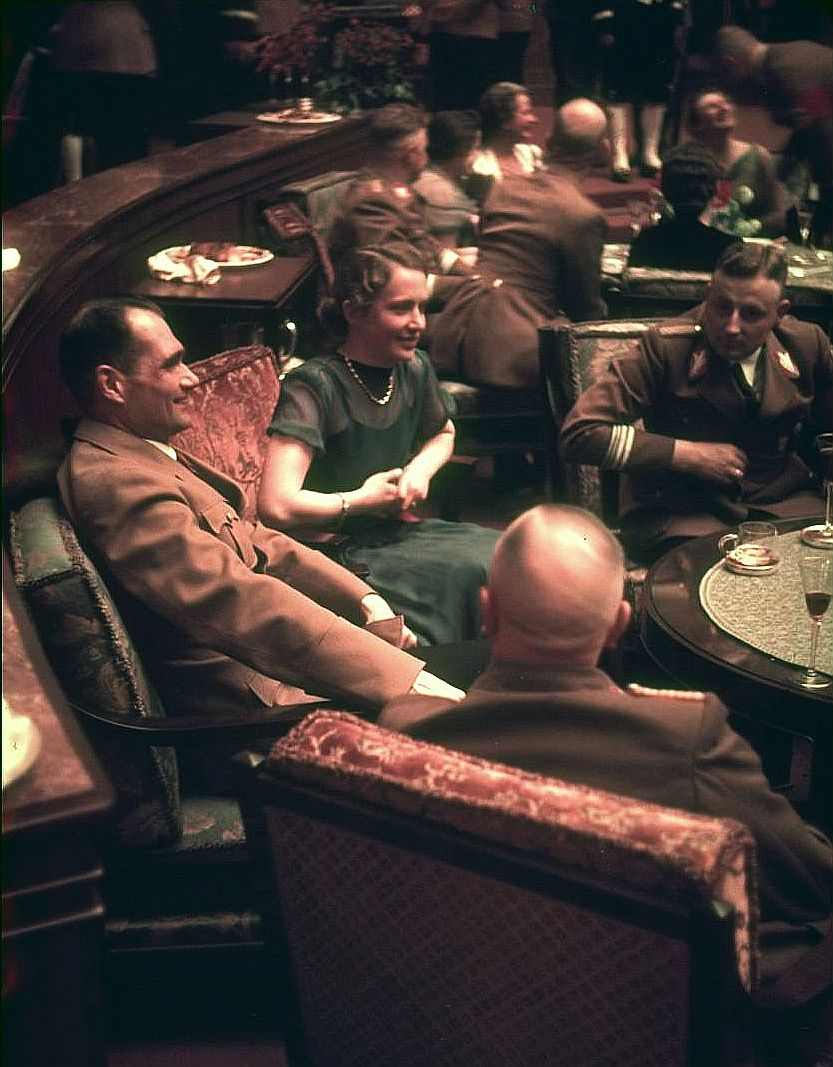 Rudolf Hess and test pilot Hanna Reitsch, Feb 1939
Adolf Hitler's speech on women
http://www.youtube.com/watch?v=zRlfbUr852o
Adolf Hitler inspecting the Mercedes-Benz Silberpfeil (Silver-Arrow)
Adolf Hitler, age 35, on his release from Landesberg Prison, on December 20, 1924. Hitler had been convicted of treason for his role in an attempted coup in 1923 called the Beer Hall Putsch. This photograph was taken shortly after he finished dictating "Mein Kampf" to deputy Rudolf Hess.
Thousands of young men flocked to hang upon the words of their leader, Reichsfuhrer Adolf Hitler, as he addressed the convention of the National Socialist Party in Nuremberg, Germany on Sept. 11, 1935.
German Chancellor Adolf Hitler consults a geographical survey map with his general staff including Heinrich Himmler (left) and Martin Bormann (right) at an undisclosed location in 1939.
Filmmaker Leni Riefenstahl looks through the lens of a large camera prior to filming the 1934 Nuremberg Rally in Germany. The footage would be composed into the 1935 film "Triumph of the Will", later hailed as one of the best propaganda films in history.
Hitler eats at the Front, 1940
Hess 1939
April 1945. Joseph Goebbels decorates Willi Hubner (12 years) with the Iron Cross second class.
A view taken from Dresden's town hall of the destroyed Old Town after the allied bombings between February 13 and 15, 1945. Some 3,600 aircraft dropped more than 3,900 tons of high-explosive bombs and incendiary devices on the German city. The resulting firestorm destroyed 15 square miles of the city center, and killed more than 135,000 civilians
Dresden Before the Destruction 1939
http://www.youtube.com/watch?v=-XMmLw2-4UI
Apocalypse 1945: The Destruction of Dresden by David Irving
can be read in its entirety here:
http://fpp.co.uk/books/Dresden/Apocalypse_2007.pdf
1945 Lost German Girl
http://www.youtube.com/watch?v=dQWv9KpDWEg
Expulsed German girl in despair, beaten (maybe raped), filmed on a country road near the Czech border.
This is a clip from the ROMANO-ARCHIVES' new website-"Unknown World War 2 in Color"-"WW2 Europe" section.
At:
http://www.webalice.it/romanoarchives/
Visit also:
http://romanoarchives.altervista.org/
Or:
http://digilander.libero.it/romanoarchives/
Austrian women who chose suicide rather than fall into the hands of the victors.
Compare that to the French 'resistance' and the 200,000 babies born to German / French couples during the German occupation of France:
From The Sunday Times
May 25, 2008
Paris during Nazi occupation was 'one big romp'
Matthew Campbell in Paris
http://concen.org/forum/showthread.php?tid=37947
Hitler with Richard Wagner's Granddaughters
German Chancellor Angela Merkel (l) and Katharina Wagner, Great Granddaughter of Hitler's favorite composer Richard Wagner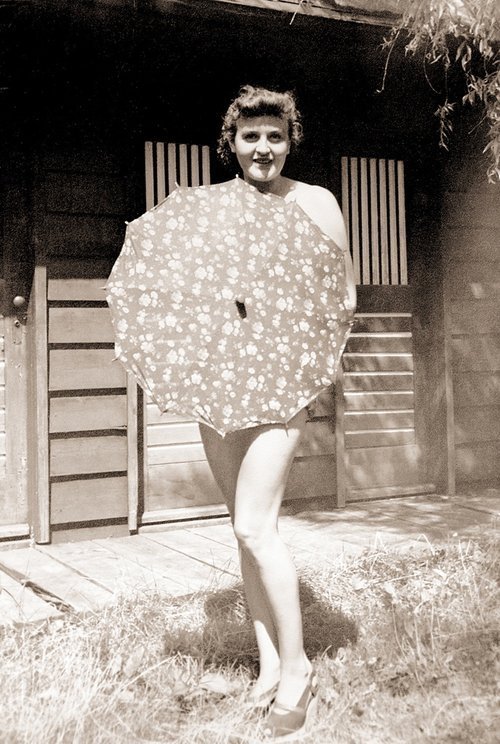 Behind the umbrella: Eva Braun in 1940
http://www.youtube.com/watch?v=WePTBgi9r...FE7BD4756F
Eva Braun's Home Movies -
http://berghof.greyfalcon.us/eva.htm
For best effect, WATCH SILENTLY, and let the pictures do the talking, instead of that black propagandist liar they have on the soundtrack making sure the narrative fits into the falsified and desecrated history - Most of the people are also identified by captions so you don't need that clown to know who is who. For background music, provide your own classical music. I would suggest the following two pieces:
Brahms - Michelangeli, Ballade Op.10 No 4 in B major
http://www.youtube.com/watch?v=KNqjr8Z_O2I
Ravel - Piano Concerto in G - II Adagio Assai / Arturo Benedetti Michelangeli
http://www.youtube.com/watch?v=RlBIOOLcWLM
Quote:

WITNESS TO HISTORY - by Michael Walsh - CHAPTER 4



HITLER, THE VOTE WINNER

75 Million Germans say "YES" to One Nation, One People, One Leader.


"No democratic Government in the world can submit itself to a popular vote in greater trust and with greater confidence than can the National Socialist Government of Germany." -- Adolf Hitler, 30th January, 1935.

The election on July, 31st, 1932 was a victory for the National Socialists. They polled 13,574,000 votes and with 38% of the total votes cast legitimately and democratically became the largest Party in the Reichstag with 230 seats. The Social Democrats had 133 seats and the Communists 89. On January 30th, Adolf Hitler was appointed Chancellor of Germany.

At the polls of March, 5th, the NSDAP polled 17,277,180 votes; an increase of 5.5 million bringing their voting percentage up to 44%, which when placed in coalition with the Nationalists led by Franz von Papen and Alfred Hugenberg who had polled 3,136,760 votes, showed an overwhelming majority of Germans had in free and open elections made their preference for German nationalism clear.

Immediately after his appointment as Chancellor, Adolf Hitler, in his first appeal to the German nation on February, 1st, 1933, asked to be allowed just four years in order to carry out the task of national reconstruction. He repeated the same request when a few days later, when at a speech in the Berlin Sportpalast, he said:

"During fourteen years the German nation has been at the mercy of decadent elements which have abused its confidence. During fourteen years those elements have done nothing but destroy, disintegrate and dissolve. Hence it is neither temerity nor presumption if, appearing before the nation today, I ask: German nation, give us four years time, after which you can arraign us before your tribunal and you can judge me!

"Allow me four years, and I swear to you, as truly as I have now undertaken my duties, I will depart. It is not for any reward or benefit that I have taken office, but only for your sake. It has been the greatest decision of my whole life.

"I cannot rid myself of my faith in my people, nor lose the conviction that this people will resuscitate again one day. I cannot be severed from the love of a people that I know to be my own. And I nourish the conviction that the hour will come when millions of men who now curse us will take their stand behind us to welcome the new Reich, our common creation born of a painful and laborious struggle and an arduous triumph -- a Reich which is the symbol of greatness, honour, strength, honesty and justice."

True to his word, on March 29th, 1936, the German nation was given as promised the opportunity to express their approval or disapproval of the National Socialist state.

It was an entirely free election without fear or intimidation with adequate provision made for monitoring by neutral observers.



THE OUTCOME

TOTAL QUALIFIED VOTES: 45,453,691

TOTAL VOTES CAST: 45,001,489 (99%)

VOTES 'NO' OR INVALID: 540,211



VOTES FOR HITLER'S NSDAP: 44,461,278 (98.8%)



Small wonder that of all the books written and documentaries produced on the Third Reich, none dare to publish facts such as these. As someone wisely said; 'history is the propaganda of the victors.'



GOVERNMENT BY THE PEOPLE



The National Socialist electoral system was not based on the parliamentary system but was nonetheless democratic. Of the parliamentary system of government, Hitler was scathing:

" . . . a turbulent mass of people, all gesticulating and bawling against one another, with a pathetic old man shaking his bell and making frantic efforts to call the House to a sense of dignity by friendly appeals, exhortations and grave warnings. I could not refrain from laughing." -- Adolf Hitler, Mein Kampf, p.53
"Several weeks later I paid a second visit. This time the house presented an entirely different picture, so much so that one could hardy recognise it as the same place. The hall was practically empty. They were sleeping in the other rooms below. Only a few deputies were in their places, yawning in each other's faces. One was speechifying. A Deputy Speaker was in the chair. When he looked round it was plain that he felt bored." -- Adolf Hitler, Mein Kampf, p.53


"As a contrast to this kind of democracy we have the German democracy, which is a true democracy; for here a leader is freely chosen and is obliged to accept full responsibility for all his actions and omissions. The problems to be dealt with are not put to the vote of the majority; but they are decided upon by the individual, and as a guarantee of responsibility for those decisions he pledges all he has in the world and even his life." -- Adolf Hitler, Mein Kampf, p.61

The National Socialist system of government was largely based on referenda in which the really important issues of the day were debated and voted upon by the German people. When, for instance, Adolf Hitler felt it necessary to prove the German nation's sincerity in its peaceful intentions, he called for an election combined with a plebiscite (referendum) that stated:

"It is not for my own sake that I asked for this national vote, but for the sake of the German people. It is not I who require such a vote of confidence to strengthen and sustain me; it is the German people who require a Chancellor supported by such confidence before the world. For I am nothing my fellow-countrymen, but your mouthpiece, and do not wish to be anything but the representative of your life and the defender of your vital interests." -- Adolf Hitler.


"The German Government and the German nation are united in the sincere wish to examine and solve dispassionately, be means of negotiations, all pending questions with all other nations, including Germany's former adversaries. The German Government and the German nation are prepared to conclude long term continental pacts of non-aggression with the object of securing peace, the economic prosperity, and the general reconstruction of Europe." Adolf Hitler

This general election and plebiscite took place on November 12th, 1933. Of a total of 43,491,575 votes recorded, 40,632,628 were cast in favour of the Government, this being a majority of 95%.



HITLER THE VOTE WINNER (THE SAAR REGION)



The Versailles Treaty deprived Germany of the Saar territory, falsely claiming as justification that the region was historically French and with a French population of 150,000. In fact, the French population was just 2,000. For every French citizen in the Saar, there were 250 Germans.

On January, 13th, 1935, two years after the election of Adolf Hitler, free elections observed by international observers were held in which the electorate were asked whether they wished to remain as French citizens or would prefer to become part of the Third Reich.

IN FAVOUR OF UNIFICATION WITH GERMANY: 477,119

THOSE FAVOURING NO CHANGE: 46,513

IN FAVOUR OF REMAINING FRENCH: 2,124

There was a

90.5% majority in favour of reunification with Germany.

Yet another election the propagandists choose to ignore for reasons transparent.



HITLER THE VOTE WINNER (AUSTRIA)



On March 13th, 1938, the Austrian Government enacted a constitutional law concerning a plebiscite for the reunion of Austria with the Third Reich. On 18th, March, 1938, Hitler dissolved the Reichstag and announced conformity with the plebiscite which was announced on April, 10th, 1938. The peoples of both nations were to be given the opportunity to decide for or against unification with Hitler's Germany.



AUSTRIA: THE RESULTS



ENTITLED TO VOTE: 4,474,138

ACTUAL VOTE: 4,460,778 (99.07%)

TOTAL VALID VOTES: 4,455,015



VOTES IN FAVOUR OF UNIFICATION: 4,443,208 (99.73%)



VOTES AGAINST UNIFICATION: 11,807

SPOILT PAPERS: 5,763



GERMANY: THE RESULTS



ENTITLED TO VOTE: 45,073,303

ACTUAL VOTE 44,872,702 (99.55%)

TOTAL VALID VOTES 44,803,096



VOTES IN FAVOUR OF UNIFICATION 44,362,667 (99.02%)



VOTES AGAINST UNIFICATION 440,429

SPOILT PAPERS 69,606



OBSERVATIONS:



"Most foreign observers present in Vienna that day accepted that the polling had been free from any open intimidations." (Gordon Brook-Shepherd. British writer)


"The crisis of March, 1938 (which led to the Anschluss) was provoked by Schuschnigg, the Austrian Chancellor, not by Hitler." (A.J.P. Taylor. British Historian)


"He (Chamberlain) had no difficulty in recognising where this injustice lay. There were six million Germans in Austria to whom national reunification was still forbidden by the Peace Treaties of 1919. Three million Germans in Czechoslovakia whose wishes had never been consulted; three hundred and fifty thousand people in Danzig who were notoriously German." (A.J.P. Taylor)


"The German Army was invading Austria, or rather was marching in to the general enthusiasm of the people." (A.J.P. Taylor)


"The pull of sentiment, language and history, reinforced by the material advantages offered by becoming part of a big nation, was strong enough to waken a genuine welcome when the frontier barriers went down and the German troops marched in garlanded with flowers . . . there was a widespread sense of relief, even amongst those who were far from being Nazis." (Alan Bullock. Historian)


"Chamberlain's conduct towards Germany . . . had never been dictated by a consciousness of military weakness but exclusively by the religious idea that Germany must have justice, and that the injustice of Versailles must be made good." (Prime Minister Chamberlain's Press Officer)


"It (Munich) was a triumph for all that was best and most enlightened in British life; a triumph for those who had preached equal justice between peoples, a triumph for those who had courageously denounced the harshness and the shortcomings of Versailles." (A.J.P. Taylor. The Origins of the Second World War)" Hitler had a plausible case to argue when he claimed that the Anschluss was only the application of the Wilsonian principle of self-determination." -- Alan Bullock



THE SUDETENLAND:



"The worst offence (of the Versailles Treaty) was the subjection of over three million Germans to Czech rule." (H.N. Brailsford. Leading Left-Wing Writer. 1920)


". .. in early 1939 the problem of Czechoslovakia -- the rump, polyglot state created at Versailles, comprising many central European ethnic populations -- continues to dominate European affairs. Hitler backs the aspirations for independence from the Czechs of the Slovaks, the biggest minority within the artificial Czech state." (Count Jerzy Potocki, Polish Ambassador)

Coincidentally, on the very day I include this relevant quotation (31st, January, 1993), 54 years on from the Fuhrer's recommendation, the Czech and Slovak people of their own free will took Hitler's advice and separated themselves from each other, amidst much rejoicing. During the same period (1939) Lord Halifax warned that Hitler intended to establish an independent Ukrainian state.

Is it not interesting that these paragons of the democratic process and signatories of the Atlantic Charter, who had set themselves up as the guarantors of small nations' independence, should have been so alarmed when that Czechs, Slovaks, Ukrainians and others too, opted for independence. How ironic also that this was Adolf Hitler's advice.

"There has never been a government in Germany which had a better right to claim that it represented the broad masses of the people than has the National Socialist Government. The elections held on November, 12th, 1933, when 95% of the valid votes recorded by the German people were given for Herr Hitler and his policy, proved that the German people unanimously back the German Government." Dr. Joseph Goebbels



THE ECONOMIC MIRACLE:



The following figures are typical of the increase in German production, progress and living standards between 1932 and 1937, and are taken from a three hour reported addressed by the German Chancellor.

"In 1932, before National Socialism acquired power, the German national income amounted to 45.2 milliard Reichsmarks. . . and in 1937 reached the round figure of 68 milliard Reichsmarks. In contrast to this increase in income the general cost of living index remained practically unchanged. In other words, while the national income increased by nearly 50% the increase in the general cost of living rose by only 4%."

Five years of National Socialist industrial and economic activity show that:

Paper manufacture has increased by 50%

The manufacture of diesel oil has increased by 66%

The production of coal has increased by 68%

The production of oil fuel has increased by 80%

The production of mineral oil has increased by 90%

The production of artificial silk has increased by 100%

The production of Kerosene has increased by 110%

The production of steel has increased by 167%

The production of lubricating oil has increased by 190%

"The production of petrol and other motor fuels increased by 470%. Aluminium production by 570% and the production of Zellwoille by 2,500%."


"We have been successful in increasing our foreign trade in imports from 4.2 to 5.5 milliard Reichsmarks and in exports from 4.9 milliard in 1933 to 5.9 milliard Reichsmarks in 1937."


"After the USA, Germany today is once more the leading steel producing country in the world." -- Adolf Hitler



THE FOLLOWING NUMBER OF VEHICLES WERE LICENSED:



1932 / 1937

56,400 motorcycles / 234,000 motorcycles

41,100 motor cars / 216,000 motor cars

7,000 commercial vehicles / 50,600 commercial vehicles

"Whereas in 1937 roughly five times as many motor vehicles were licensed as in 1932, the export of motor cars has increased eightfold as compared with the same year."


"In 1932 German inland shipping conveyed 73.5 million tons which increased to 130 million tons in 1937."


"German ocean shipping conveyed 36 million tons in 1932 and 61 million tons in 1937. The idle tonnage that was laid up along the rivers Elbe and Weser and along the German coast has completely disappeared."


"German shipbuilding yards had orders for 22,000 tons in 1932. At present they have orders on hand for a total tonnage of 1,120,000 tons for merchant shipping alone."



ROADS:



"For the maintenance and development of German roads, including the super highways, the following sums have been spent:


1932: 440 million Reichsmarks

1933: 708 million Reichsmarks

1935: 1325 million Reichsmarks

1937: 1450 million Reichsmarks

". . . the displacement of earth by far exceeds the building achievement of the Panama Canal."

"The following large bridges were built. 6 bridges over the Rhine, 4 over the Elbe, 2 over the Oder, 3 over the Danube, 1 over the Weser, and 1 over the Pregel. In addition, 3,400 further bridges were built in connection with the super highways."

"Every year a thousand kilometres of motor-roads will be opened until the greatest work in the history of mankind is completed." (Adolf Hitler)

"340,000 houses were built in 1937 -- twice the number built in 1932. Altogether 1,400,000 houses have been put on the housing market since the National Socialists acquired power.

"In 1932, only 19 out of every 1,000 people in Germany owned cars as compared with 41 in France and 37 in Great Britain; today, however, the figure for Germany is 35 in every 1,000 as compared with 51 per 1,000 in France and Great Britain.


"Total industrial production in Germany is today 144% greater than in 1932. Even the peak year of 1929 was exceeded as early as 1936, while today about 30% more industrial goods are produced than in 1929. The production of capital goods has risen much more strongly than has the production of consumption goods, being now four times as great as in 1932 and more than one and a half times as great as 1929.


"Progress in the field of domestic raw material production has been even greater. Iron ore production has risen from an average of 843,000 metric tons for the first three months of 1932 to 1,226,000 metric tons in the first three months of 1938. This means an increase of 45%. Furthermore there has been great progress in domestic oil production. In 1938, staple fibre production has reached 155,000 metric tons as compared with 5,400 metric tons in 1933 and 102,000 metric tons in 1937." (Adolf Hitler)


"In the sphere of economic life all action must be governed by one law; capital serves industry, and industry serves the people." -- Adolf Hitler

"German economic salvation has been brought about solely through the efforts of the German people and the experience they have gained. Countries abroad have contributed nothing to this." -- Adolf Hitler

"Germany's economic salvation was due solely to the nation's own efforts under its own leadership." - Adolf Hitler

"We have made it possible, without gold and without foreign exchange, to maintain the value of the German mark. Behind the German mark stands the German capacity for work, while some foreign countries, suffocated by gold, have been compelled to devalue their currencies." (Adolf Hitler)

"Today in May, 1938, the world around us suffers from the anxiety which the unemployment of millions brings with it. In Germany we begin to be anxious because we have not enough workmen." (Adolf Hitler)



CRUSH THE COMPETITION:



Germany's reduced dependency upon imports and its phenomenal increase in productivity and exports provided Germany with an economic and social advantage with which neither Britain, the USA and the USSR could compete. Furthermore, severe social deprivation, the effect of the Great Depression, social unrest and economic uncertainty in these countries were in contrast to Germany which was experiencing an economic and social miracle. Germany had to be destroyed.

Hitler was well aware that Britain and America would seek to resolve their problem by initiating a trade war that would destroy Germany and grab its markets.

"The war was not just a matter of the elimination of Fascism in Germany, but rather of obtaining German sales markets." (Winston Churchill. Fulton. March 1946)

http://www.sweetliberty.org/issues/wars/...ory/5.html
Spingola Speaks 2012.04.24
Deanna's guest:
Michael Walsh
talks about his new book, "The Third Reich had its Heroes Too"
http://k002.kiwi6.com/hotlink/zpi7ob2nq9..._04_24.mp3
Spingola Speaks 2012.03.29
Deanna's guest:
Michael Walsh
, the author of "The Triumph of Reason, the Thinking Man's Guide to Adolf Hitler, ""Witness to History," and "Behind Enemy Lines" talked about his latest article, "War against the Whites." He also discussed some of the chapters from his book, "Witness to History."
http://k003.kiwi6.com/hotlink/603303o2a7..._03_29.mp3
User(s) browsing this thread: 2 Guest(s)