Talkin' Bout A Revolution
03-07-2007, 03:22 PM
byrd
Banned

Posts: 1,742
Joined: Aug 2006
Talkin' Bout A Revolution
http://www.planetquo.com/Talkin-Bout-A-Revolution
a cpl write ups, all awesome. lots of links as well.
write ups:
War Crimes -Written by J. Bruce Campbell
What Is This Carnage Really About? -Written by David Icke
from davids piece:
Quote:I want to continue where I left off last week because after seven more days of constant propaganda over what is now a full blown war in the Middle East some balance and background is desperately required here.

We keep being told that the conflict was started by Hezbollah in Lebanon and Hamas in the Gaza Strip when a total of three Israeli soldiers were kidnapped. Bullshit. What is happening is the latest outbreak of hostilities that began when the Rothschild dynasty targeted what was then Arab Palestine to be what it called a 'Homeland for the Jews'.
id never heard him talk about this kinda shit before. was nice to see. its a great write up, pretty comprehensive, with lots of pics n everything! and some video clips too.
read on!!
03-07-2007, 03:34 PM
byrd
Banned

Posts: 1,742
Joined: Aug 2006
Talkin' Bout A Revolution
Quote:The Rothschild cabal could not care less about Jews. To them they are a means to an end of global control. The first leader of Israel, David Ben-Gurion, summed up this mind set when he said:

'If I knew that it was possible to save all the children of Germany by transporting them to England, and only half by transferring them to the Land of Israel, I would choose the latter, for before us lies not only the numbers of these children but the historical reckoning of the people of Israel.' (Quoted on pp 855-56 in Shabtai Teveth's Ben-Gurion)
this sums a lot up quite nicely.....
Quote:The 'Jewish homeland' was from the start a Rothschild fiefdom orchestrated through a global secret society network of interbreeding families known as the Illuminati. The goal of these families is domination of the planet through a world government dictatorship, a world army and a micro-chipped population, as I have been detailing in my books all these years.

This week the Israeli writer, Barry Chamish, told of a meeting with Evelyn Rothschild's grandson, who abandoned the family to be a Mormon. Chamish said he learned that just seven families are enjoying the 'fruits of the war'. The grandson had said of the Rothschilds: 'They created Israel as their personal toy. It makes them richer and gives them more control. It's not going to be destroyed.'

The Rothschilds funded the early European settlers in Israel, manipulated events in Germany that led to the horrific treatment of Jewish people and others, and then used that as the excuse to reach their long-term goal - a Rothschild-Illuminati stronghold in Palestine using the Jewish population as fodder to be used and abused as necessary. They called their plan 'Zionism'. This term is often used as a synonym for Jewish people when it is actually a political movement devised and promoted through the House of Rothschild and opposed by many Jews.

The most visible Zionist front in the United States today are the so-called 'neoconservatives' or 'neo-cons', that I highlighted last week in the first part of this expose.

The Rothschilds exploited as their 'justification' to seize Palestine the claim in the Old Testament that the Jews were God's Chosen People and that 'He' had gifted them the land of what was once called Israel. That's it, no more debate required. 'God' has spoken, it's in the Old Testament, and so we're moving in.

As Golda Meir, another Israeli Prime Minister, said in Le Monde in 1971: 'This country exists as the fulfillment of a promise made by God Himself. It would be ridiculous to ask it to account for its legitimacy.'

The invasion and subversion of an entire nation was based on texts in the Bible written by who knows who thousands of years ago after the Jewish captivity in the ancient Illuminati centre of Babylon in what is now Iraq. Pinch me, it can't be true. 'Ouch', yes it is.
03-07-2007, 04:38 PM
byrd
Banned

Posts: 1,742
Joined: Aug 2006
Talkin' Bout A Revolution
naming names.....
Quote:The Arabs were driven out of power or consequence in their own land by Zionist terrorist groups like Hagana, Irgun and the Stern Gang (also known as Lehi) who bombed and assassinated Arabs, fellow Jews and the British administrators who had control over Palestine under a mandate from the League of Nations and the Versailles Peace Conference. 'Palestine' was then the region we now call Israel, Jordan, the West Bank and Gaza Strip, formerly belonging to the Ottoman Empire.

This Zionist terrorism led to the imposition of the Jewish state in 1948 when 750,000 or more Arabic people were expelled from their own land.

Among the major players in these and other terrorist operations were Menachem Begin, Yitzhak Shamir and Ariel Sharon, butchers who became Israeli Prime Ministers and had the nerve to condemn Arab terrorism.
Begin and Shamir...terrorists who became Prime Ministers of Israel and condemned terrorism!
The Stern Gang was named by the British after its first commander, Avraham Stern, who later formed his own group, Irgun Zvai Leumi be-Yisrael (National Military Organization in Israel). An Internet article describes the motivation:
'...Stern believed that the Jewish population should focus its efforts on fighting the British
rather than supporting them in World War II; and that forceful methods were an effective means to achieve those goals. He differentiated between "enemies of the Jewish people" (e.g., the British) and "Jew haters", (e.g., the Nazis), believing that the former needed to be defeated, and the latter neutralized. To this end, he initiated contact with Nazi authorities offering an alliance with Germany in return for transferring Europe's Jews to Palestine and the establishment of a Jewish state therein.'
This has always been the true motivation of these manipulators and they have treated Jewish people as a whole as cattle to be exploited at will to this end.
03-07-2007, 04:40 PM
byrd
Banned

Posts: 1,742
Joined: Aug 2006
Talkin' Bout A Revolution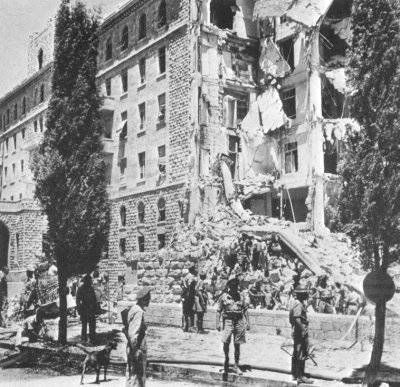 Quote:Irgun, led by later Prime Minister, Menachem Begin, was responsible for the bombing of the British headquarters at the King David Hotel in Jerusalem. It killed 91 Britons, Arabs and Jews, injuring many more, and this was only one of a stream of terrorist outrages and assassinations that ended in the creation of Israel. An article on the World Socialist Website, points out:

'It is not simply that Ariel Sharon and company are a bunch of hypocrites or political amnesiacs about the past. More importantly, the Irgun, led by Menachem Begin, the Stern Group and Lehi, its successor, went on to form the Herut party, forerunner of the Likud party, and the ultra right-wing Moledet party, which form the main coalition partners of Sharon's government.

The gang of former generals, ultra-nationalists and religious bigots that run Israel today are the political heirs of terrorists who furthermore had close connections with the fascists. In this, they mirrored some of the Arab nationalists in Palestine, Egypt and Iraq who allied themselves with Germany in order to rid themselves of British imperialism. These alliances led to a virtual civil war between the various wings of the Zionist movement during World War II.'



This is what people need urgently to realise. To challenge Israel is not to condemn Jewish people as a whole. It is to expose the fact that they are fodder in a game most do not begin to understand - a game controlled from the start by a leadership made up of terrorists. When we understand this, past and present events start to make far more sense.
User(s) browsing this thread: 1 Guest(s)