03-12-2007, 06:31 PM
wokensheep
Posting Freak


Posts: 2,695
Joined: Aug 2006
Is Google Watching You?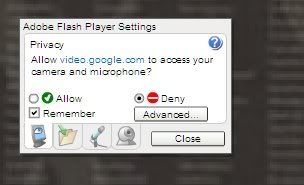 Right click on any google video to find out. make sure they aren't storing files on your computer either. youll need to repeat the process for youtube and other extensions of google video like this new google.uk video beta. anyone know what the deal is with this new google video.uk beta? why are they dividing it?
http://www.macromedia.com/support/document...gs_manager.html
information about the settings.
---

03-12-2007, 09:35 PM
byrd
Banned

Posts: 1,742
Joined: Aug 2006
Is Google Watching You?
wtf never heard of this before
03-14-2007, 09:29 PM
wokensheep
Posting Freak


Posts: 2,695
Joined: Aug 2006
Is Google Watching You?
its been that way, long before they started talking about doing it. i posted about it about a year ago. but not to many took notice. kind of cute the all seeing eye image on the computer monitor eh?
---

User(s) browsing this thread: 1 Guest(s)