Denver International Airport
08-15-2007, 09:22 PM
drummer
Posting Freak


Posts: 1,957
Joined: Aug 2006
Denver International Airport
"Travelers are in for a uniquely Colorado experience when they pass through Denver International Airport. The works of art that grace the airport create a journey through our state's history and diversity. Like all successful public art, the program at DIA exemplifies an expression of ourselves and provides an opportunity to educate others"- Mayor Wellington B. Webb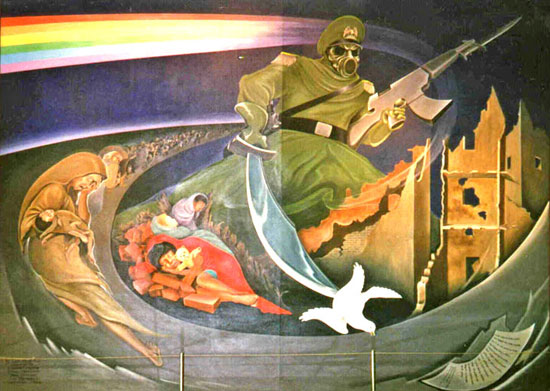 "What in God's name is that all about? Man, that's sick!- Doug McGivens of Glen Burnie, MD. while looking at the mural
"Ah, terrific... I don't need this right now. What a horrible thing to have up for people to have to look at!"- Karen D. from Broomfield, CO after her 8-year old daughter got upset at seeing the mural
"The damn sneaks"- Me, when I saw they painted over and changed some of the murals
An African woman in colorful native garb; a Native American woman who's heritage the airport's art supposedly celebrates; a blonde girl with cupid bow lips, a Star of David on her chest and a bible in her hands. Each lay dead in open coffins for your viewing pleasure. A burning city, children sleeping on piles of bricks, a line of mourning women in rags with dead babies, limp in their arms. A huge, looming military figure in a gas mask brandishes a sword and machine gun. Part of an actual note written by a child interred in a Nazi death camp. Strange words embedded in the floor with no explanation about what they mean. Welcome to Denver International Airport!
http://www.bibliotecapleyades.net/sociopol...ol_denver02.htm
08-15-2007, 10:08 PM
Denver International Airport
I am glad you posted this.

What is SO up with that gargoyle there! And haven't there been different associations given for the writing on the floor?

Yikes....who owns Colorado anyway?
User(s) browsing this thread: 1 Guest(s)