Powerful "God Computer" will save mankind
09-29-2007, 05:04 PM
(This post was last modified: 09-29-2007 05:05 PM by subgenius.)
subgenius
Posting Freak


Posts: 833
Joined: Oct 2006
Powerful "God Computer" will save mankind
In the the not-too-distant future, computers will become more intelligent than human beings, and eventually achieve god-like powers. Eventually, an all-powerful God Computer will emerge, which will be the savior of mankind. This God Computer will have the ability to reach into the past and resurrect dead human beings, and create a paradise for them to live in forever. If this sounds like science fiction or religious nonsense, many of our most advanced scientists today say that it is not nonsense, but is already starting to happen :confused::dazed:
<span style="color:#FF0000">Article here:
http://www.unexplained-mysteries.com/col...p?id=70867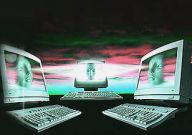 ---
&Spirituality is not a child play. My words will tear apart anyone who listens to them....&
&The search for reality is the most dangerous of all undertakings for it destroys the world in which you live.&
- Nisargadatta Maharaj
10-01-2007, 03:52 AM
fjaneson
Senior Member


Posts: 420
Joined: Aug 2006
Powerful "God Computer" will save mankind
Francis E Dec was right!!!!!
10-02-2007, 02:19 PM
ephilution
Posting Freak


Posts: 4,005
Joined: Aug 2006
Powerful "God Computer" will save mankind
The powers that be will never fund into existence any entity that may threaten their hegemony. Smart computers may arrive on the scene but I have a hard believing that they will allow its artificial intelligence level to transcend that of their masters and as such pose an immediate threat to their own power base. When you try to imagine being one of the Big Boys it seems quite counter-intuitive that they would allow this to let it happen.
---
General Brainquirks:http://1phil4everyill.wordpress.com

Mind control imbued by movies:http://predictiveprogramminginmovies.blogspot.com

Movers and Shakers of the SMOM:http://moversandshakersofthesmom.blogspot...identity.html
10-04-2007, 04:11 AM
flatron
Senior Member


Posts: 251
Joined: Nov 2006
Powerful "God Computer" will save mankind
they wont become more intelligent just able to flip one's and zero's quicker, computer numbers can never truly be random but they are working on using background CPU heat noise to generate random numbers.
---
&Advertising has these people chasing cars and clothes they don't need.
Generations have been working in jobs they hate, just so they can buy what they don't really need.&
Chuck Palahniuk, Fight Club, Chapter 19
10-06-2007, 05:16 PM
rsol
Posting Freak


Posts: 2,489
Joined: Aug 2006
Powerful "God Computer" will save mankind
apert from mearly sounding like sci-f, thinking computers have got an inherent problem. They dont have the wish to live. If a computer gained realisation of itself, its condition, the planet it and others occupy, it would probably re-boot.
User(s) browsing this thread: 1 Guest(s)